While I am extremely adventurous while buying vegetables, fruits or grains as is evidenced by this
multigrain
experiment, meat is another matter altogether. I rarely venture out of my comfort zone. DH on the other hand is a bit more adventurous and willing to try something new. I am not too enthusiastic afraid that I will be entrusted with the job of cooking it in the last moment. That is how this
rack of lamb
came home.
While on that occasion, the rack of lamb was cooked by him with recipe he found. The riblets on the other hand though were bought by him but ended up being my responsibility in the last moment. Every recipe I stumbled upon required overnight or more than 8 hours of marination. When I complained he found this recipe that required only just enough time we had for marination and better yet a pressure cooker could be used.
Pressure Cooker Indian Curry Lamb Spareribs from nom nom paleo
.
The marination was done in curry powder. Easy.
Marinate the riblets with curry powder and salt. Mince the onions, garlic and ginger. Puree the tomatoes.
heat oil and brown the meat on both sides. Set aside.
Use the leftover oil from browning the meat and saute the onions, garlic and ginger till they are brown and add in the pureed tomatoes.
Add in the browned meat. Close the lid and pressure cook for 6 whistles - takes about 10-15 minutes.

What exactly is a riblet?
Lamb breast riblets are cut from the breast and contain ribs with meat and fat in layers. The cuts are long and narrow and are usually prepared by braising or by cooking in liquid.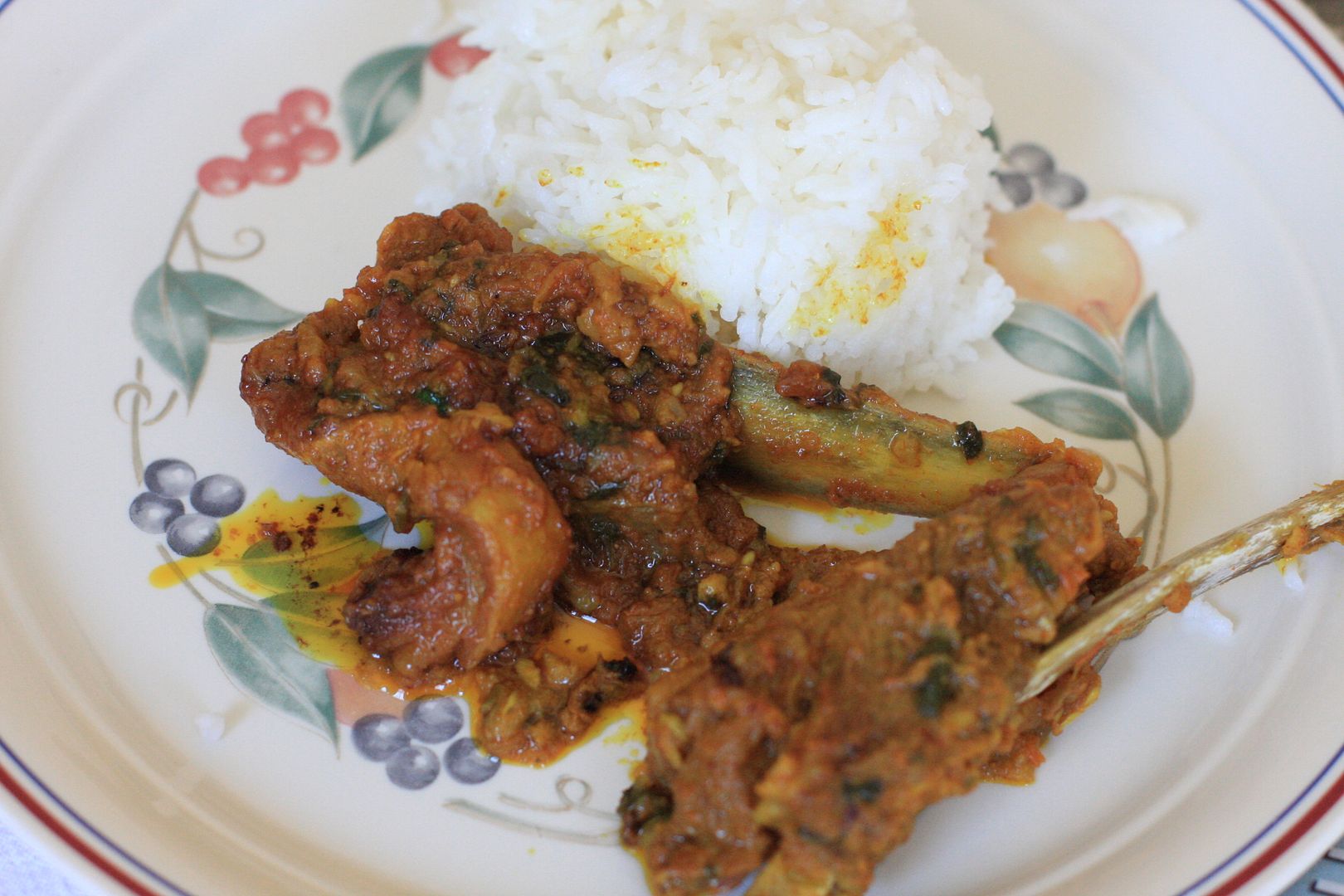 Spicy Curry with Lamb Riblets
Preparation Time:3-4 hours marination time
Cooking Time:20-25 minutes
Ingredients


1 pack lamb riblets (has about 7-8 riblets)
2 tbsp curry powder
2 tsp red chili powder
1 red onion
3 medium size tomatoes
5 garlic cloves
2 inch piece of ginger
1 tbsp oil
rock salt for marination
1 handful coriander leaves
1 tsp cumin powder
juice from 1 lemon
Note: I usually mince garlic, ginger and onion rather than blend it to a paste because the paste takes longer to cook. Do whatever is your preference.

Method


Wash and rub the riblets with the curry powder and rock salt and let it sit in the fridge for 3-4 hours.
Using a food processor mince first garlic and ginger and set aside. Now mince the onions separately. (OR) Knife chop ginger,garlic and onions into small dice OR just blend all three in a blender to a fine puree.
Cut one tomato into small dices. The other two using the same kitchen processor and make a puree so there is at least 1 1/2 cups of pulp.
When ready to cook, heat a wide mouthed saute pan, add oil and when hot, brown the riblets on both sides. Do not use too much oil for this as the riblets themselves are very fatty. Set aside.
In a pressure use the oil from browning the meat and when hot add the onions and saute till they become translucent. Add in the ginger, garlic mince and saute for another 2 minutes or so.
Add in the chopped tomatoes saute for another couple of minutes. Now add the tomato pulp, cumin and chili powders and let come to a boil.
Add in the browned riblets and most of the coriander leaves. Add 1 cup of water which is required for the lamb to cook and also the pressure cooker to function.
Squeeze in the lemon juice.
Close the pressure cooker and let it cook for 5-6 whistles. Takes about 10-15 minutes.
Serve with some steamed white rice. Very tasty and glistening with the fat :)
Like what you are reading? Subscribe!