What kind of parent are you? That sounds kind of harsh. Wait wait nobody said that to me yet. Not on my face at least. OK this is what happened last week. DD2 disobeyed DH. She did not do something that she had been asked to do regularly and was grounded. The punishment? she cannot read her favorite book that had kept her occupied night and day while everything else fell on the way side. She moped around a little bit and moved on to
read
other stuff. I intervened and asked him to go easy on her but he did not budge. Not that he is the punishing kind and rarely threatens with consequences but if he does he follows through. I on the other hand threaten dire consequences all the time but rarely if ever follow through. So they have learned that coming from me it is all bark and no bite. DD in a moment of utter honesty even told me why my threats don't matter much. Reverse positions I would have give in in a couple of hours and she would have been back to her favorite book and to doing what I asked her not to do. It is all my parents' fault. They rarely if ever punished me and I seemed to have taken a leaf out of their parenting manual but with a lot more yelling and screaming. Shame on me yes. A tiny part of me justifies my behavior saying what is the worst that can happen. These small mischiefs are is no big deal. DH tends to disagree.
There lies the parenting conundrum. We try our best to show an united front and not contradict one another when there is an argument. If we show disunity the kids are very smart and learn to pitch one against the other and end up doing whatever they want to do.
So which camp do you fall into? Stand firm or wobbly?
Now on to the recipe, Lamb is not something that we regularly and a rack of lamb more so. DH on the other hand is very fond of lamb and cooking a rack of lamb is something he has wanted for a while. This time on our visit to Whole Foods he picked one up. My only condition was it has to be spicy and he found the perfect recipe
here
. We decided on using some Indian spices to jazz it up a bit. To our surprise the grilled meat came out soft and juicy and tasty and it was the best we have tasted in a long time. The ones I have tasted at restaurants tend to be chewy and not that very good. It is very important to marinate the meat for at least 4 hours else the meat might not absorb all the spices.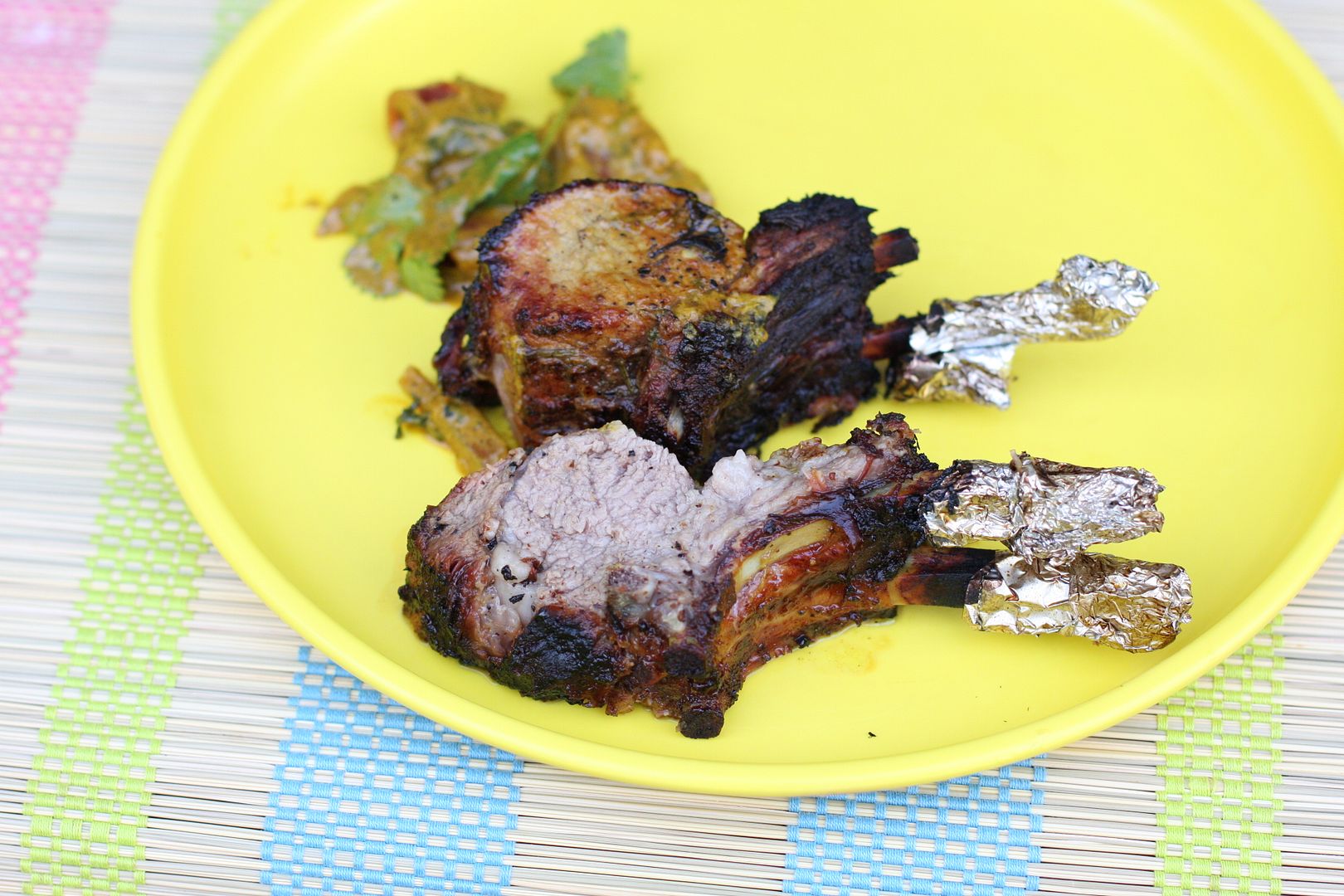 Spicy Grilled Rack of Lamb with Indian Spices Preparation Time:20 minutes + 8 hours marination Cooking Time:30 - 45 minutes Ingredients

For the marination
1/2 onion sliced
3 cloves of garlic chopped
1 tbsp of grated fresh ginger
3 tsp turmeric powder
1 tbsp red chili powder
1/2 inch stick of cinnamon
1/2 cup of whisked yogurt
1 tsp of pepper
1 tsp of cumin powder
handful of chopped coriander leaves
rock salt (regular salt will work as well)
1/2 tbsp lime juice
For the sauce
2 tsp olive oil
Marinade saved

Method

Wash and dry the lamb and apply turmeric over it and let it sit.
Mix together all the ingredients under the marination section in a wide mouthed pan and apply it over the lamb. Now transfer the contents to a Ziploc bag and let it sit in the refrigerator for at least 4 hours. We left it for over 8 hours.
Preheat your gas or charcoal grill to about 350F. Gently remove the lamb from the marinade and wrap the bones with aluminum foil. Save the marinade.
Place the rack of lamb on the grill, let grill on one side for 20 minutes, turn over and grill for another 15 minutes or so till done.
For the sauce, As the lamb is grilling, heat a sauce pan and add the olive oil and when hot add the saved marinade and in medium heat slowly bring to a boil and cook for 10-12 minutes.
Serve lamb with brown rice and the sauce on the side.