Growing eggplants were never easy when I started gardening. The bugs ate most of the plant and by the time they started flowering frost set in and took me a couple of summers if not three to actually have them growing and producing.
So even if I get a few eggplants from the garden fill me with pride. I got my first harvest of eggplants a couple of weeks ago and the next a few days ago.
This summer we tried a new vegetable - potatoes. I had a few potatoes sprouting and we or more precisely DD wanted to give growing potatoes a try. We followed directions of how to plant and when to harvest from DD's and now DD2's picture book
"How Groundhog's Garden grew".
It is a great book if you have kindergarten age kids who are interested in gardening. The second proud moment came when we harvested our potatoes yesterday. It goes without saying DD was the one who did all the harvesting, cleaning and was proud as a peacock.
Mystery creeper
To round out the garden update I have a mystery creeper which has taken over my neighbor's fence and keeps growing and growing.
I had 3 or 4 of these plants (seeds of unknown origin as usual) but dug out all but one as they were smothering all other plants in the vicinity. Now finally I see a flower and hoping to see what it turns out to be.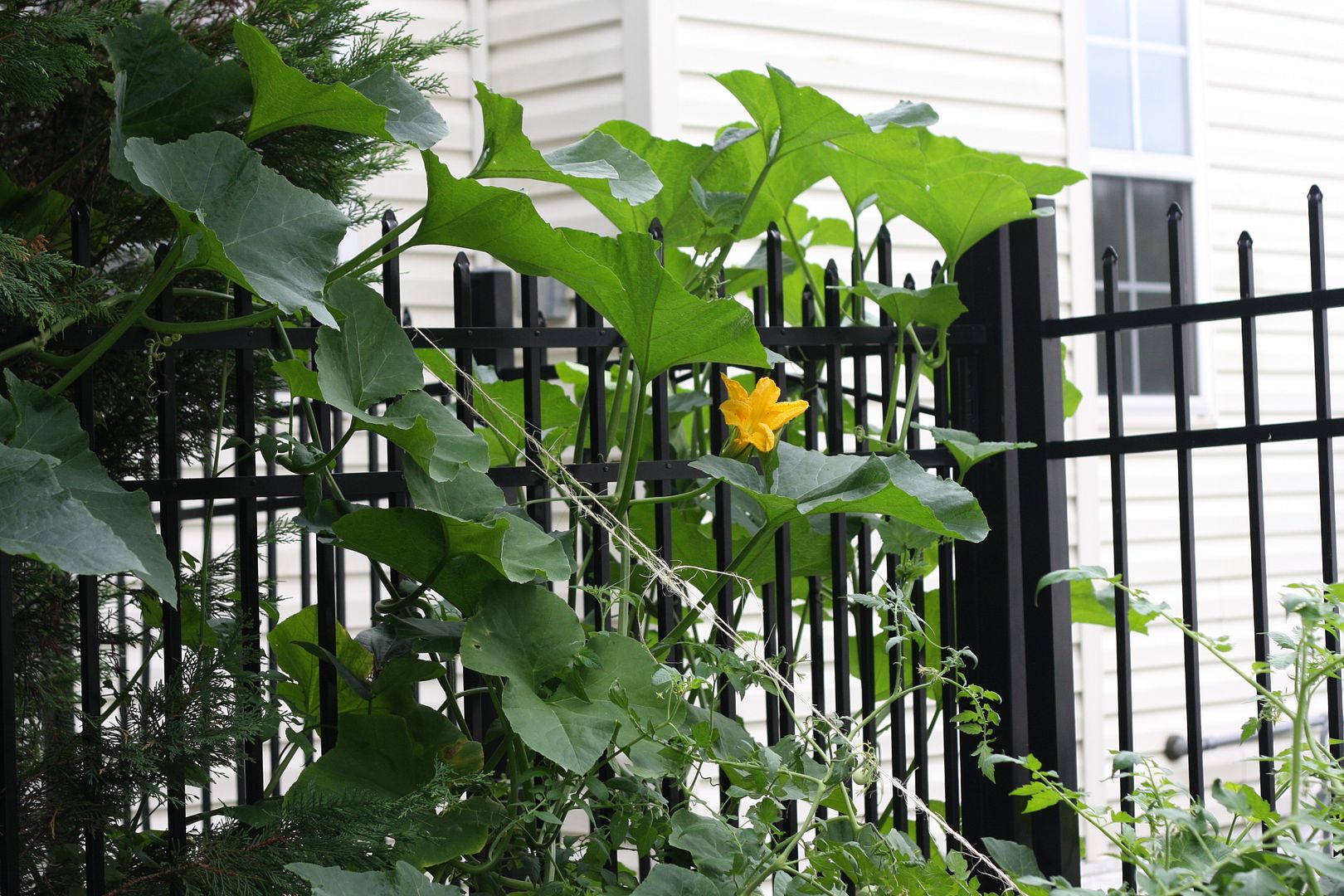 The flower looks very much like a squash flower. Any of you know what the vegetable is?
Mistaken identity
What I thought was a
bottle gourd (third picture)
turned out to be a butternut squash. It revealed itself when the outer skin turned pale orange.
Produce from the Garden
| | | | |
| --- | --- | --- | --- |
| Date | Vegetable | Quantity | Recipe |
| July 29, 2010 | Tomatoes | 8 | Tomato Rice |
| July 24, 2010 | Tomatoes | 60 | Tomato Thokku |
| July 29, 2010 | Tomatoes | 8 | Tomato Rice |
| August 2, 2010 | Tomatoes | 40 | Frozen whole |
| August 4 2010 | Tomatoes | 10 | Frozen whole |
| August 4, 2010 | Brinjals | 4 | Brinjals with dal |
| August 4, 2010 | Potatoes, bitter gourd (3) | 2 | Bitter gourd with potatoes |
| August 6-13, 2010 | Tomatoes,Green beans | 100, 25 | |
| August 13, 2010 | Brinjals | 40 | Brinjal Stir Fry |