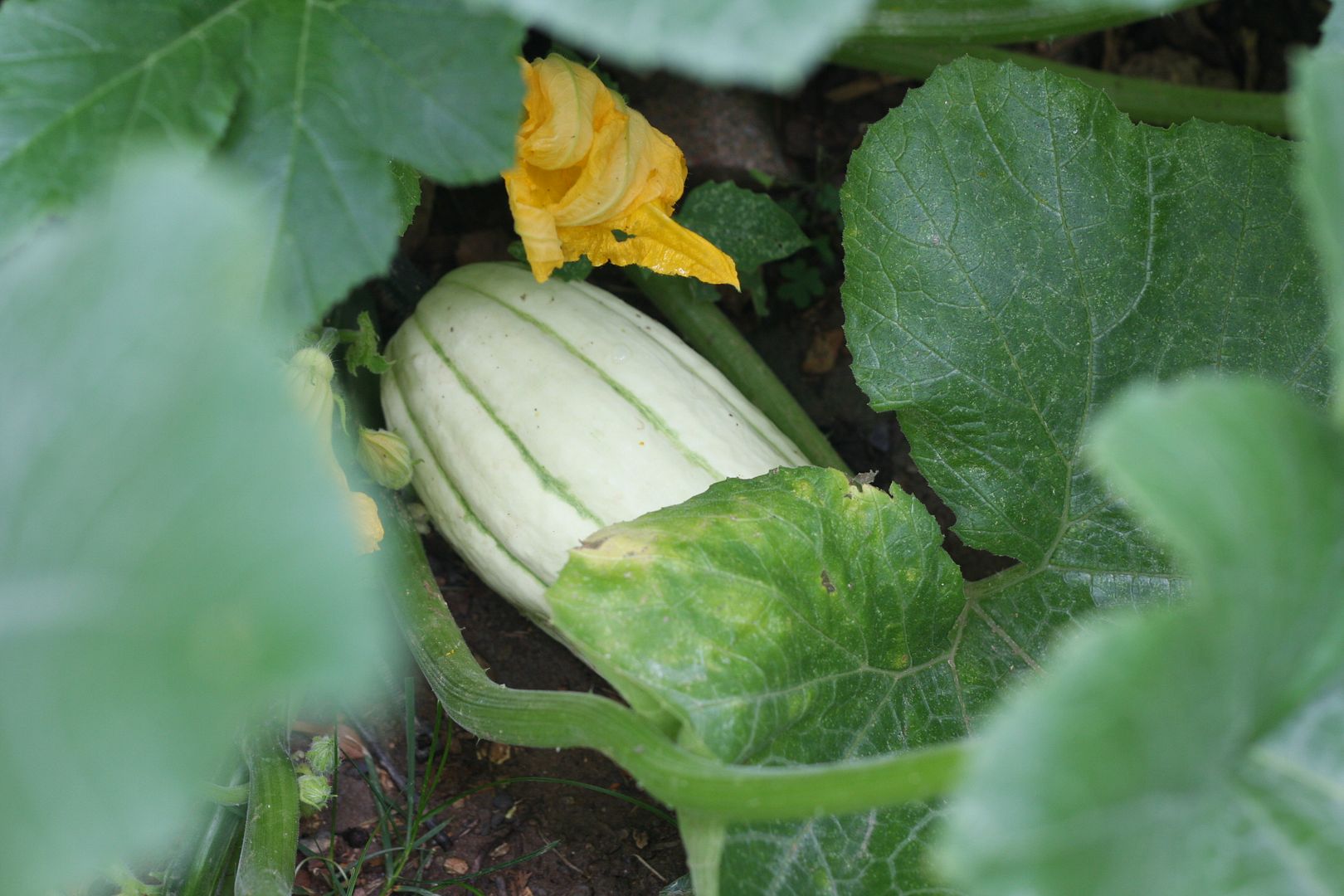 Does anyone know what kind of squash these are?
How does my garden grow
Over the years as we have played around growing different vegetables in the garden patch, we have come to realize that a few plants are easy to grow while others are a bit harder.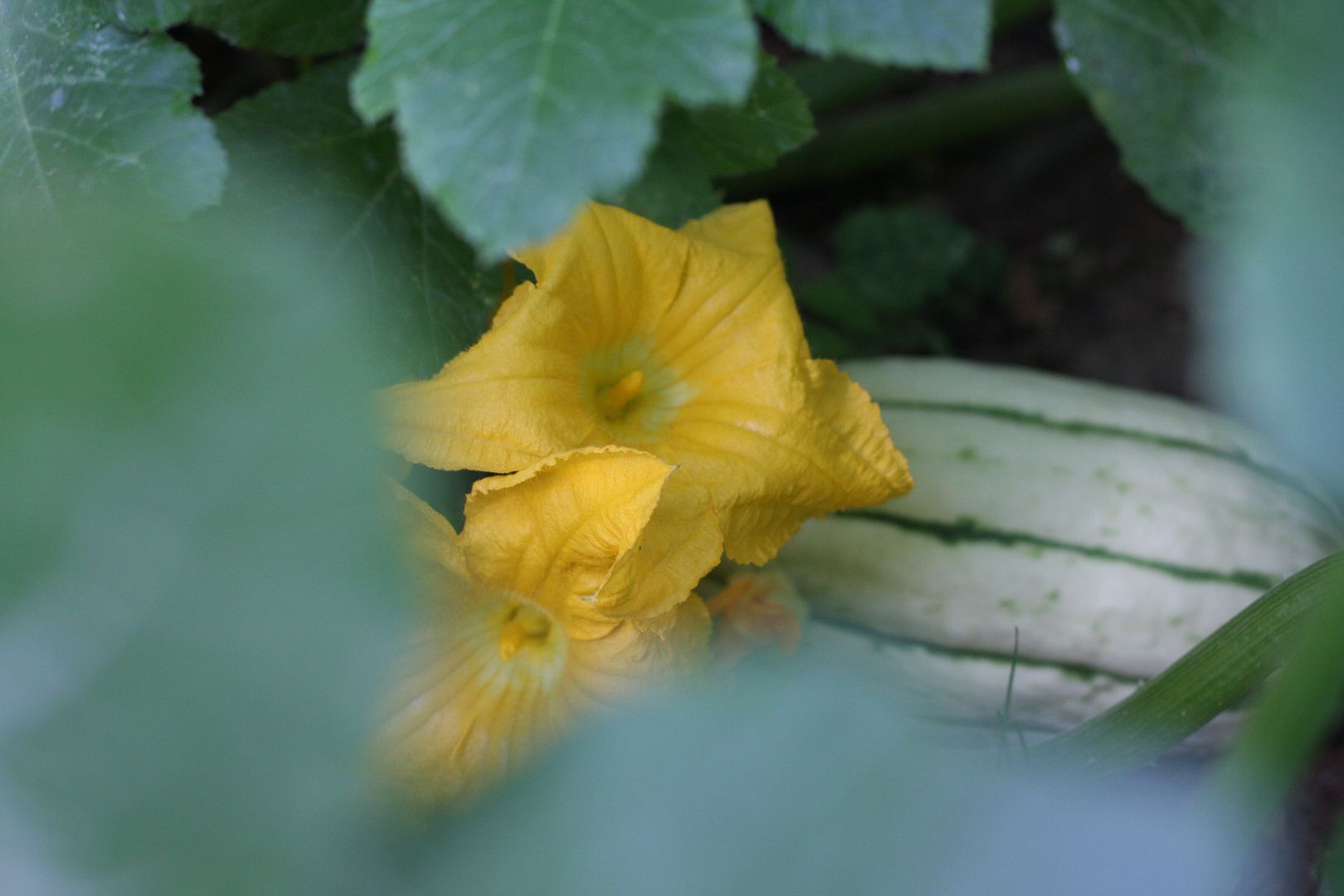 Flowers of the mystery squash
Preparing the soil
Growing plants in pots has worked better than growing them in the ground. In a pot you have control over the soil whereas in the ground, the soil has to be worked mixed in with compost to loosen up the thick clay soil which seems to be the feature in most areas around here. If you are blessed with good soil just work in some compost. A compost pile is easy to make if you have an area that can be dedicated to it. A hole in the ground near your garden patch is sufficient. Add all the vegetable scraps and any organic vegetable matter from your kitchen and the compost can be used in about 8-10 months.
Zucchinis
Zucchinis in fact have been the easiest to grow. They flower and fruit regularly. 2 plants are enough to provide fruit for the whole season. A spot that gets good sun and soil with good drainage is sufficient for these to grow. I am trying organic zucchinis this time which are not as prolific as the hybrid varieties. These do not lend themselves well to container growing. The branches fall out and tend to break. Ground seems to be the perfect for growing these.
Green beans and peas
Requires cool temperatures for the flowers to set. This requires that peas are started early (late winter) and the growing season ends by the end of June or the first few weeks of July. There should be 10 plants for beans and about 20 plants for peas for a decent harvest.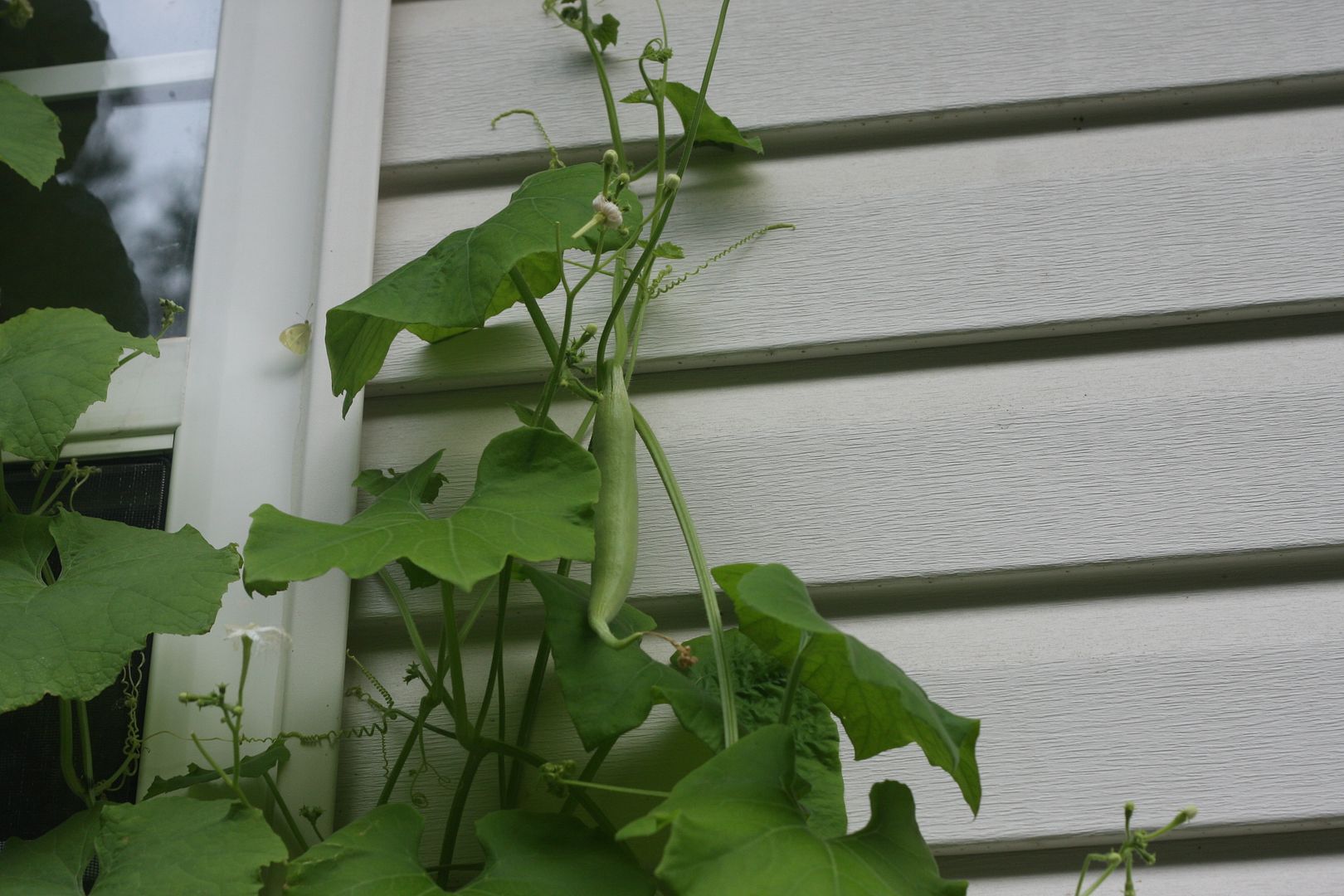 Tomatoes
Any novice gardener should start with tomatoes. They do not need any special attention and are very rewarding. A sunny spot is all they need. Containers or the ground work equally good.
Indian vegetables - bitter gourd, snake gourd and ridge gourd
Of all the gourd the bitter gourd has been the easiest to grow. To get the seeds to sprout is the hardest job of all. Soak them in water for 24-48 hours before putting them in the dirt and keep it moist in a sunny spot to sprout. Plenty of climbing space is required for them, especially the snake gourd and bitter gourd. We prefer growing them in containers
Brinjal or eggplants
They sprout and grow quickly but are beset by tiny beetles which feed on the leaves leaving them with tiny holes all over. They require heat and a lot of sunshine.
Growing them in containers has worked best for us.
Treatment for the bugs
Blend mint leaves extract the juice, add in dish washing liquid, red chili powder and spray the water over the leaves.
Chili plants
Chili plants like the tomato plants are no fuss and grow pretty much anywhere as long as they have good sunlight.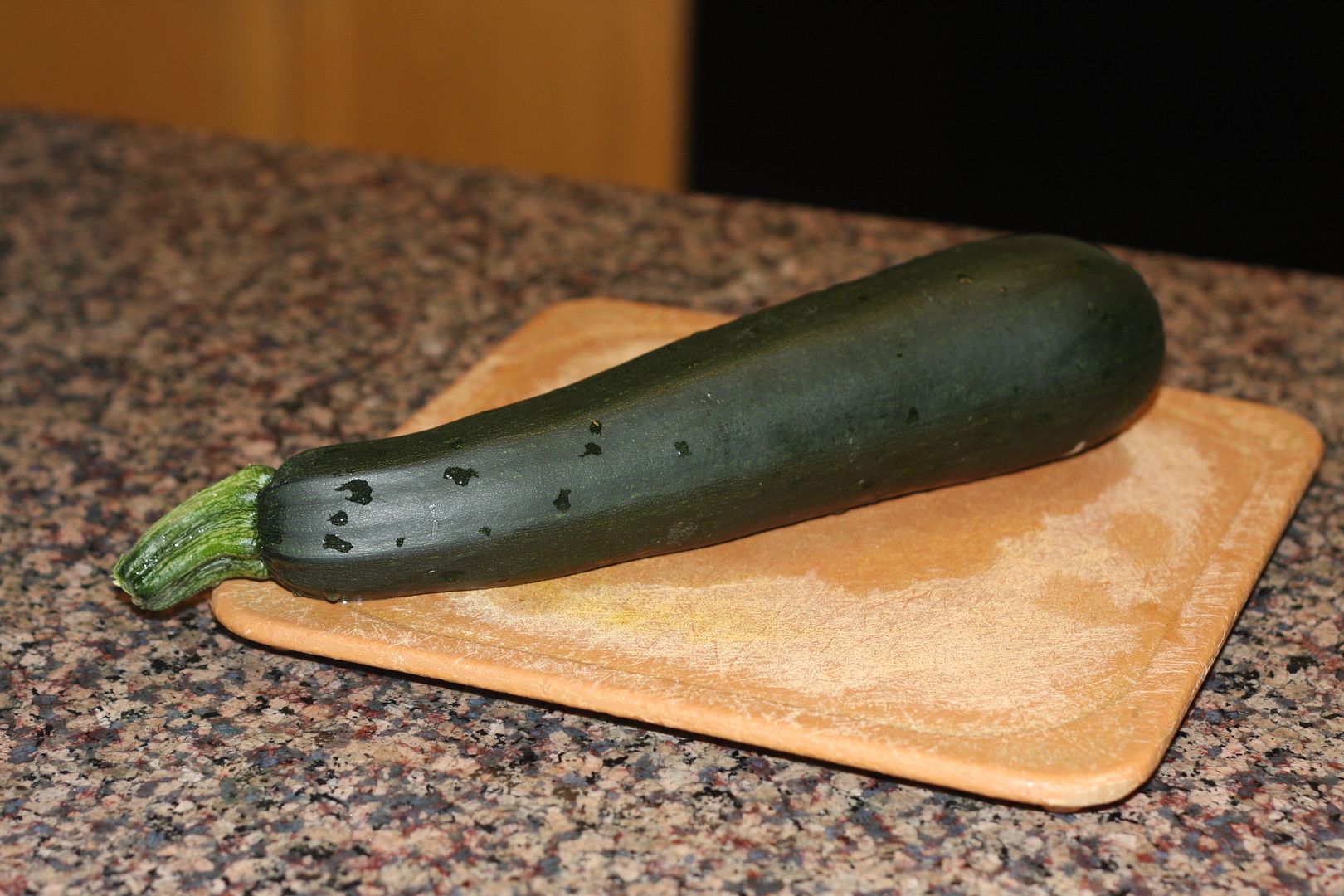 Fertilizers and nutrition
I use blood meal and occasionally some organic fertilizer. Keep an eye out for local farms which give away horse/cow manure for free. Add them into the soil before planting and spread them around the plants as they start growing. I also save all the water after rinsing out milk bottles, rice or dal and use them for the plants.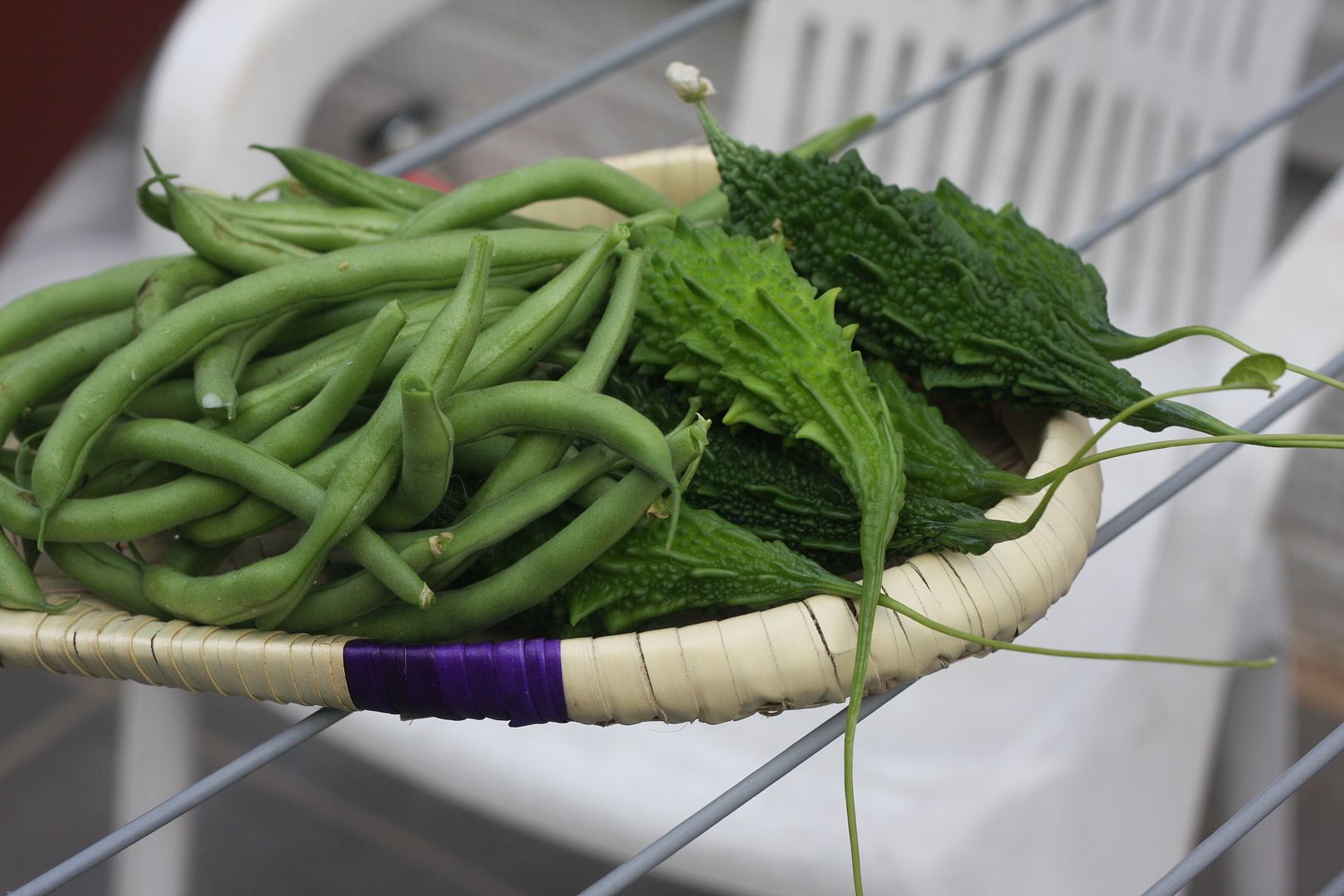 Produce from the Garden
| | | | |
| --- | --- | --- | --- |
| Date | Vegetable | Quantity | Recipe |
| June 29,2010 | Green beans | 16 Green beans | Korean squash with green beans and Channa dal |
| July 6,2010 | Swiss Chard | 4 cups of chopped greens | Chard Sambhar |
| July 7,2010 | Bitter Gourd | 6 gourds | Bitter Gourd with black channa |
| July 7 ,2010 | Green beans | 40 Green beans | Green beans kootu |