Hope all of you in the path of the blizzard have dugout of the snow. I for one am tired of the white mess and want it gone. Schools have been closed for the 4th day in a row. Though the kids are having fun, am worried that they are going to forget about how to go to school pretty soon. Our neighborhood has been lucky, the road has been cleared for at least a car to go by. There are neighborhoods which has not seen a snow plow so their snow misery
joy
continues.
In a town like DC which lives by scandals, even a snow event can't go by without a scandal. Looks like National airport lost its snow measuring tool a snow board apparently in the blizzard and whoever was responsible just came up with a number which was 10 inches lower than the snow totals in the other airports in the area. How is that for a snow scandal? Want to know more about the snow scandal, here is a
link
.
Enough of the snow story and to more interesting things like the recipe for the day,
I can't tell the number of times noodles have come to the rescue when I am on the hook for making a quick dinner. I occasionally buy chicken meatballs or chicken sausages which finds good use in either a noodle or pasta dish. In this cold weather a
ragout with chicken meatballs or sausage
is perhaps a great idea. If you are not into soups then the next best thing for a spicy kick are these Asian noodles with the chicken meatball or sausage providing the perfect accompaniment.
I like the curly Chuka Soba noodles for this kind of noodle dish but any noodles that catches your fancy is perfect. If you'd rather have a vegetarian noodle dish try this recipe for
Yakisoba Noodles
.
All you need to have on hand is an Asian stir fry sauce and hot sauce. I sometimes add soy sauce and sometimes don't if the stir fry sauce already has it which most do anyway. You can also add vegetables - bell pepper, broccoli, cabbage etc., I used Costco bought Sweet Basil Roasted Garlic Chicken meatballs.
If you'd rather make your own meatballs here is a
recipe
.
Chicken balls and vegetables cooked in the sauce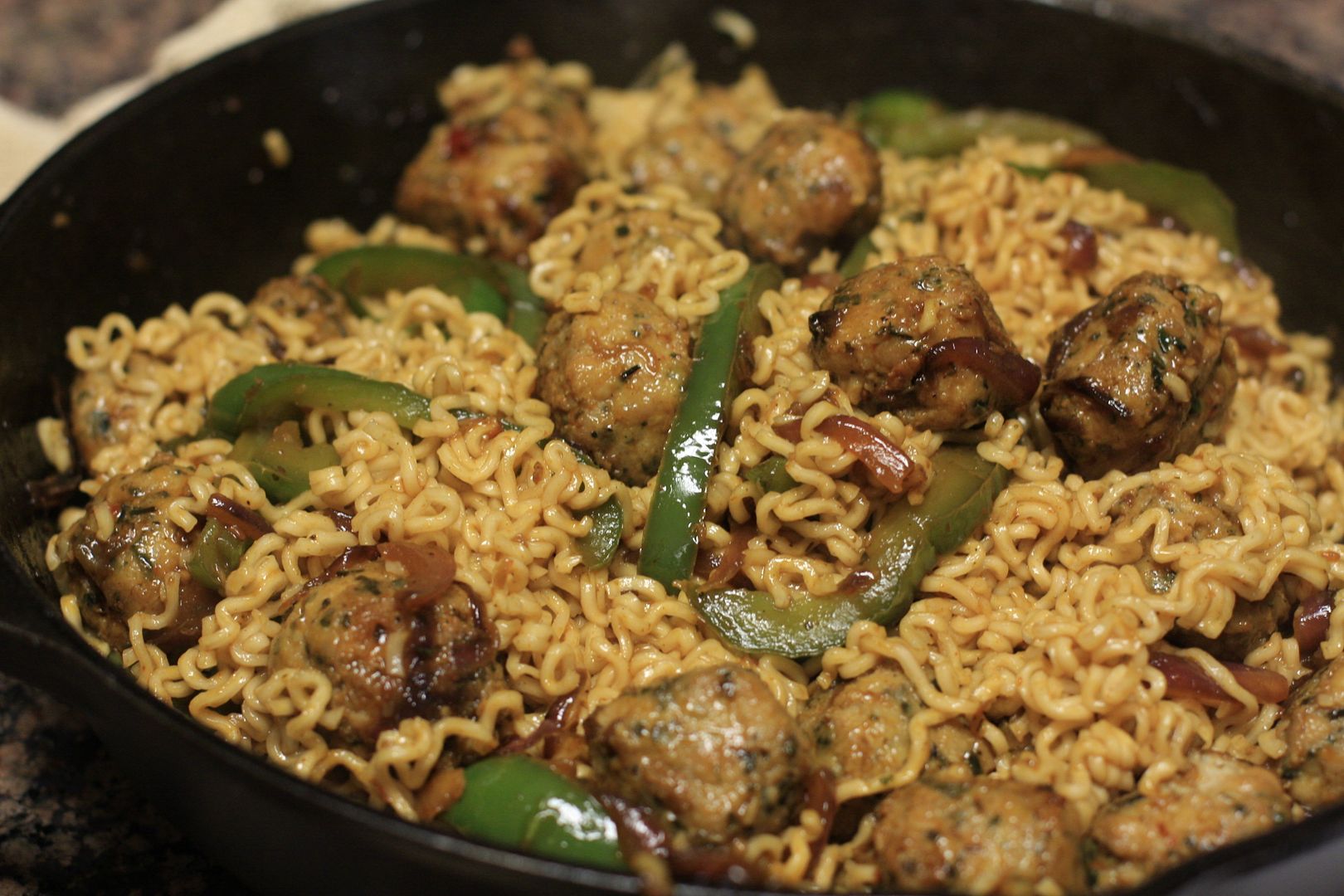 Asian Style Noodles with Chicken meat balls
Preparation Time:15 minutes + 30 minutes sitting time
Cooking Time:25 minutes
Ingredients


10-15 chicken meat balls (store bought or home made)
1 1/2 packet of Curly Chuka soba Noodles
4 cloves garlic smashed and chopped
1/2 tbsp ginger grated
1 Red Onion sliced thin
1 Green Bell Pepper sliced thin
1/2 tbsp Sriracha sauce
1 tbsp Korean Teriyaki stir fry sauce or 1 tbsp tom tom sauce (any Asian sauce is fine)
salt to taste (all the sauces have salt in them too)
1 tbsp oil


Method


Boil the noodles as per package directions and set them aside.
In a cast iron pan or a heavy bottomed pan add half the oil and saute the meat balls till they are browned on the outside. Set aside.
To the same pan add the rest of the oil and the onions and saute till the onions start to get translucent. Add garlic and ginger and saute for a minute more.
Add in the bell pepper and saute for 3-4 minutes. (I like them cooked but slightly crunchy so cook as long or as little as you want)
Transfer the meat balls to the onions, add the sauces one by one on low heat and mix them well./li>

Add in the noodles, taste and then add salt only if required.


Serve hot.

Like what you are reading? Subscribe!