My favorite condiment - Sriracha sauce is having production problems. The Sriracha hot sauce factory has been declared a public nuisance because a few people including a relative of a city council member of Irwindale,CA where the factory is located had filed complaints saying that the fumes emanating from the factory has caused asthma, wheezing, coughing, choking and other health problems. The fight is still on whether Huy Fong Foods should shut its door(our loss) to satisfy the city council which took the company to court to shut it down.
Well done California says Texas and other states who want Huy Fong Foods to move to their state. California it seems does not care about jobs, losing a good business and this elections with politicians fighting among themselves it is indeed a spectacle. Anyway while this brouhaha is going on I have learned a thing or two about this much loved condiment.
Sriracha for one, is not Thai like I had mistakenly assumed. Yes! Sriracha is a place in Thailand and chili sauce is used a lot in Sriracha but the people there might not recognize this condiment. Huy Fong, an immigrant from Vietnam made his own version of hot sauce and decorated the bottle with his astrological sign - a rooster. Sriracha is a combination of a puree of jalapeno peppers, garlic powder, salt, sugar and vinegar. The pungent smell coming from pureeing the chili peppers is the focus of the complaint.
I hope the problem will go away and a supply of my favorite condiment will continue.
When I saw this recipe for
Slightly Sriracha'd Lamb Meatballs
I wanted to run into the kitchen and make some right away. Anyway I was at work ogling at it during lunch time. It had to wait for the weekend. I had minced turkey to give these a try, and finally I made them and we were not disappointed. It was a big hit.
While I have cooked
kheema stuffed parathas
, kheema side dishes with both
lamb
and
turkey
, making meat ball dishes like this
kheema urundai kuzhambu
out of them is slightly rare. Making urundai or balls out of lamb meat is slightly easier than turkey because the lamb meat is slightly drier. If you have chicken or turkey mince just go ahead.
Add the onions, ginger, coriander leaves, pepper powder and Sriracha sauce to the minced turkey..
Mix everything together and make small balls and set aside.
Heat oil in a pan and when hot add the meat balls so they don't touch each other and are in one layer.
Cook the meatballs, by turning them around and they are browned on all sides. Set aside. In the same oil cook the onions.
For the sauce, heat a bit of oil and cook the ginger and garlic for about 30 seconds. Add the soy sauce, orange juice and sugar if using and let it come to a boil and turn off the heat.
Add the cooked onions and the turkey balls to the sauce.
What got me interested in this particular recipe was none other than Sriracha. With a name like 'Sriracha'd who can resist?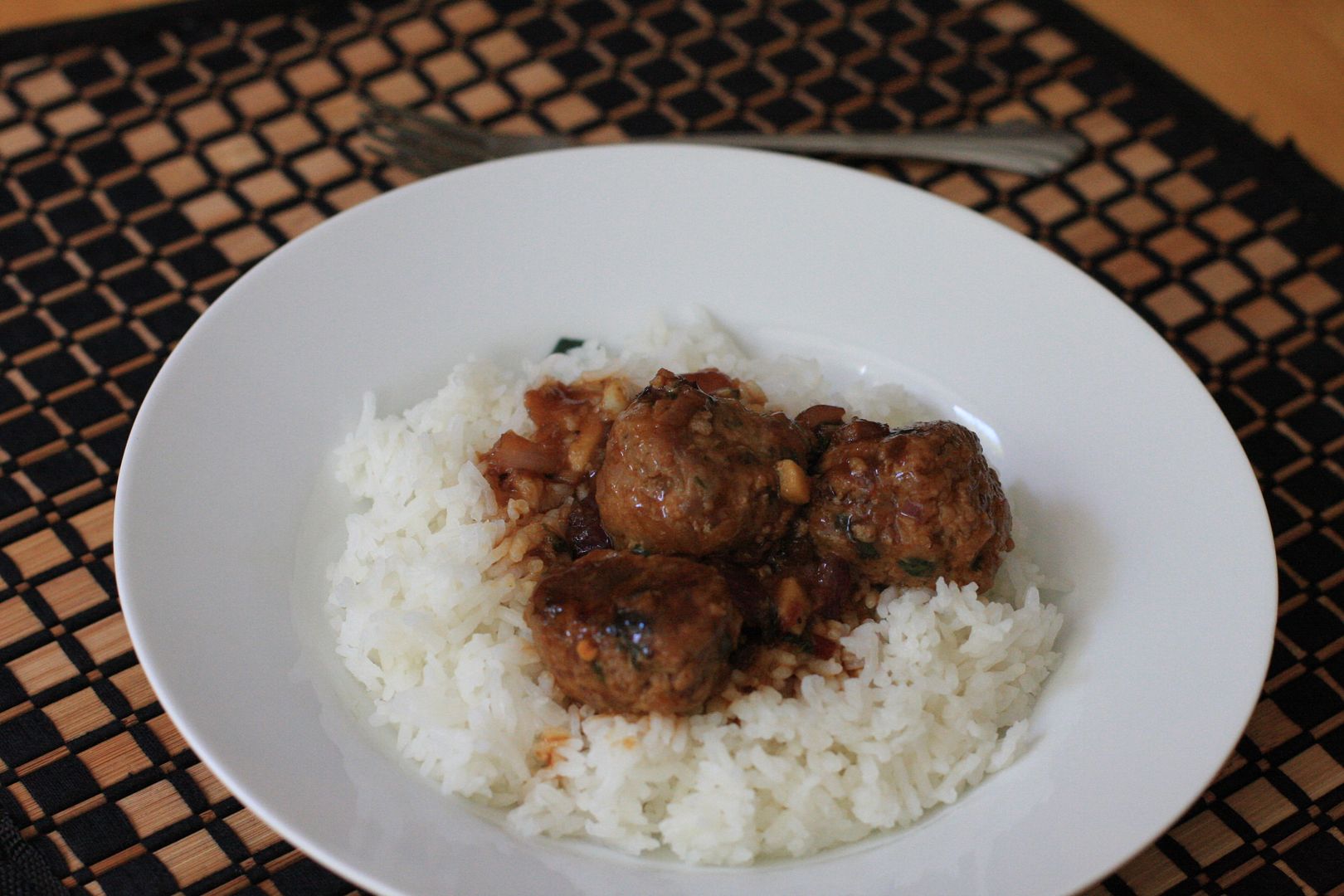 Slighty Sriracha'd turkey meatballs with ginger soy sauce
Preparation Time:15 minutes
Cooking Time:30 minutes
Ingredients


For the meatballs
1 lb of minced turkey (or any mince of choice- lamb,goat,chicken...)

1/4 cup of finely minced onions


1 inch piece of ginger grated


1 handful of finely chopped coriander leaves


2 tsp of Sriracha chili sauce (if not substitute with chili powder or any other chili sauce)


1/2 tsp of black pepper powder


salt to taste


1/4 cup of oil

For the Sauce

1/4 cup of chopped onions


1/4 cup of soy sauce


1/2 tbsp of Sriracha sauce or as required


1/2 tbsp of grated ginger


4 cloves of garlic minced fine


1/4 cup of orange juice


1/2 tsp of jaggery or palm sugar(optional)



Method

Mix the minced turkey, minced onions, grated ginger, chopper coriander leaves, Sriracha sauce, black pepper powder and salt using the tip of your fingers to work everything together.
Roll into small size balls and set aside. If the mince is too loose put them in the freezer for 15 minutes to firm up.
Heat oil in a flat bottomed pan and when hot gently place the meatballs in the hot oil. Cook on one side, should start to brown. Turn around and let the meatballs cook on all sides. (See Note:)
Drain on paper towels. Add the 1/4 cup of chopped for the sauce to the same oil and let them cook. Set those aside as well.
For the sauce, heat a tsp of oil and saute the ginger and garlic for 30 seconds. Reduce the heat to low and add the soy sauce, 1/2 cup of water, orange juice and sugar and let them come to a boil. Turn off the heat and add the onions and the meatballs.
Note:When the meatballs are cooking in the oil, they tend to leave out water, raise the heat and let the water evaporate, lower the heat to medium and then continue to cook

Serve a on a bed of jasmine rice.
Like what you are reading? Subscribe!