The last two winters were mild that we had gotten used to it. So when the severe winter storm that came last night dumped all that snow (15 inches based on our non-scientific measurement) it shook us into getting ready for the shoveling. Luckily when we got out to shovel the snow it was not windy or too cold.
The roads are unplowed and this is the time I feel acutely about being cooped inside. Looks like some more snow is on the way and I am already tired of it. There is nothing much that can be done about it. Just grin it and bear it. But there is something that can be done about what I want to eat in the cold weather.
Chuka Soba Noodles
Chopped green onions and vegetables.
Saute the vegetables once the green onions are sauteed.
Add the noodles and all the sauces.
Toss the noodles well so the noodles is well coated with the sauce.
Yakisoba noodles - the first time I heard of it was when I tasted some at Costco and picked up a box of frozen Yakisoba. It was well liked and enjoyed thoroughly. The only problem, it was very oily and a bit sweet. Then at our local newly opened Wegmans I found packets of some Chuka Soba Curly Noodles, just what I wanted to try my own version of the yakisoba. These noodles are tasty all by themselves so whatever you do with them will turn out tasty as well.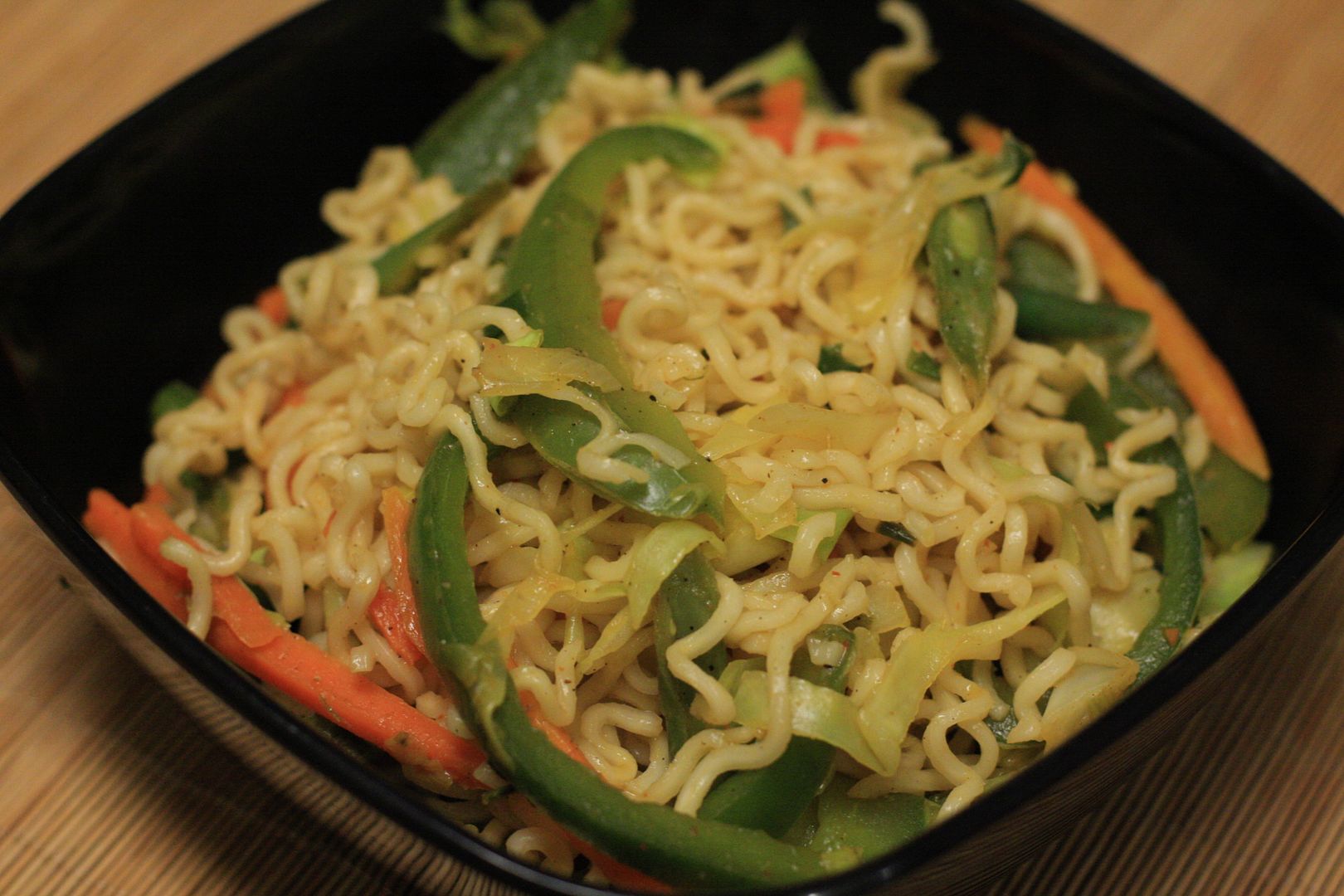 Vegetarian Yakisoba Noodles
Preparation Time:15 minutes
Cooking Time:20-25 minutes
Ingredients


1 packet Chuka Soba or any Japanese style noodles 5 oz
Shredded Vegetable 2 Cups (or 3). I used carrots, green beans, cabbage, green bell peppers
1 green onion bunch (end cut off) and chopped
2 tsp pepper powder
1 tbsp soy sauce
1 tbsp chili sauce
1/2 tbsp chili garlic sauce
salt to taste
1/2 tbsp oil

Method


In a wide mouthed pan or a wok heat the oil. Add the green onions and saute till they are wilted.
As the vegetables are getting cooked, get the noodles ready as per instructions on the package. Drain and run cold water, drain completely and set aside.
Add in the carrots and green beans and saute for about 6-8 minutes till they are half way cooked, add in the bell pepper and cabbage,sprinkle salt and the pepper powder and let them be cooked. Takes another 4-5 minutes.
Now add the noodles, soy sauce, chili sauce and the garlic sauce and toss them around on low medium flame till the noodles are well coated.
Add more salt if required.
Note:Scrambled eggs and shrimp could be added. Cook the shrimp before adding the onions, remove and add them back in after adding the noodles.



Like what you are reading? Subscribe!