I always have corn meal at home. But always doing
corn bread
makes it kind of boring. While searching for other recipes to try out with corn meal I chanced upon this recipe for Corn Meal Spoon Bread. It seemed perfect for a hot breakfast to impress the family and especially the kids who complain about eating the same stuff. The recipe just by itself seems a little bland so I decided to spice it up a little bit. I had some chipotle peppers in adobo handy. I also thought of using some pickled jalapenos but that would have made it too spicy. If you do not have chipotle peppers use any pepper of choice or leave out the spicy stuff and add sugar for a tasty dessert.
What is Spoon Bread?
Spoon Bread is common baked dish made in Southern United States. Though it is called a bread it resembles a souffle because of the beaten eggs. It is usually creamy and soft.
Whisk together corn meal, oil and milk and cook on medium heat till bubbles appear. Beat the eggs till nice and fluffy. Add more milk to the cooked corn meal and add it to the eggs.
Add the cheese, baking soda, chipotle chilies to the corn meal mixture.
Pour into prepared baking dishes and bake for 20-25 minutes till a skewer inserted comes out clean or it starts to brown on top.
Some versions of spoon bread may have cheese and chopped peppers. Looks like the combination I came up with is not absolutely new or anything. It takes about 10 minutes to put everything together and another 20-25 minutes to bake it. DD who helped me whip the eggs up was surprised at how easy it was.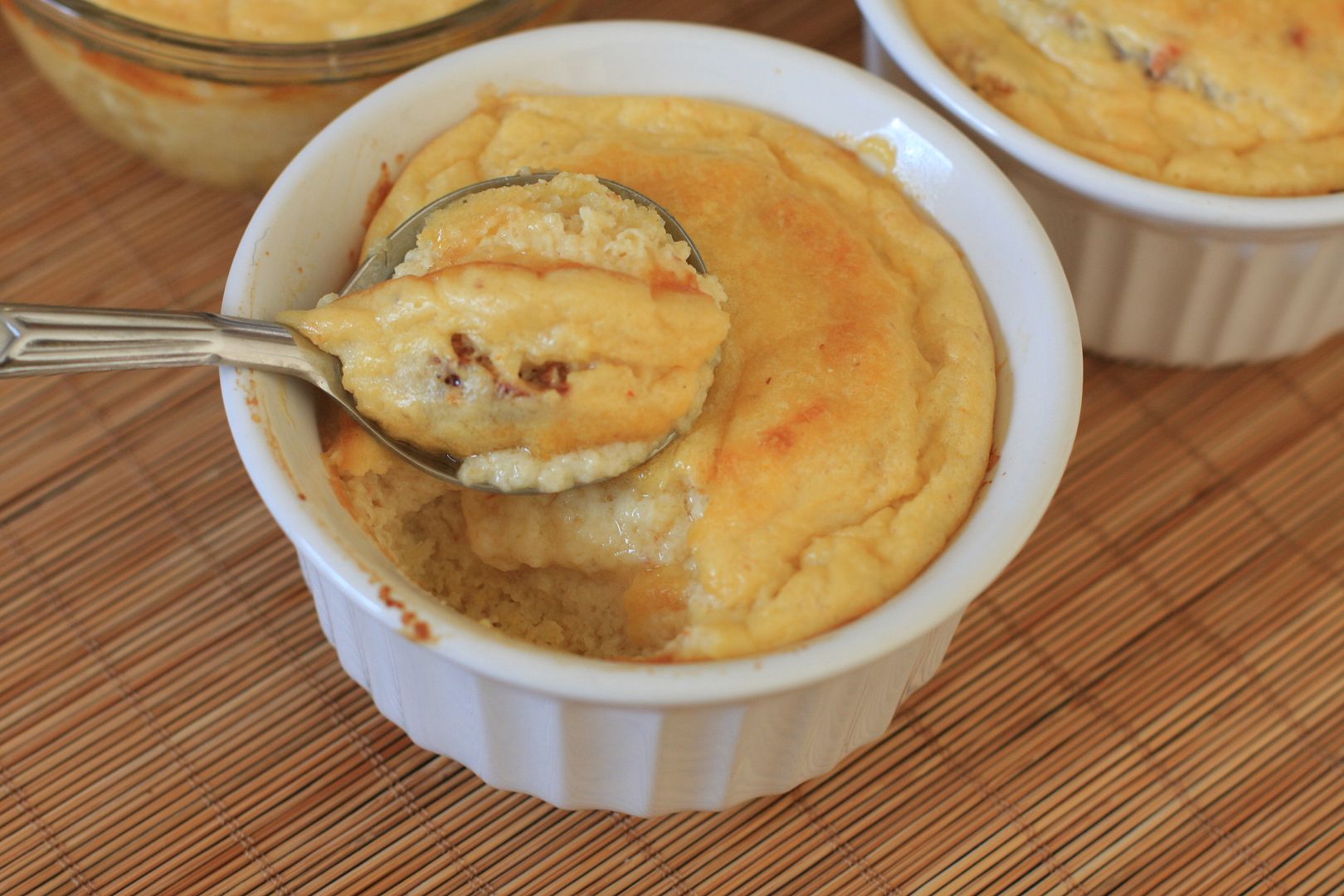 Recipe Source: Indian Head White Corn Meal Recipes - (with some modifications)
Southern Style Spoon Bread
Preparation Time:10 minutes
Baking Time:20 - 25minutes
Ingredients


1 cup Yellow Corn Meal
1/4 cup White Corn Meal (see Note:)
3 cups Milk
1 cup grated Asiago Cheese (any cheese works)
2 Chiptole Peppers in Adobo Sauce (about 2 tsp of the sauce) seeds removed and chopped
3 Eggs
2 tbsp olive oil
3 tsp of baking powder
Note: Either yellow or white corn meal can be used.


Method


Preheat oven to 450F
Whisk together 1 cup of milk,oil and the corn meal without any lumps and cook on medium heat while whisking till the mixture just starts to bubble (about 3-4 minutes).
Beat the eggs together till they are nice and fluffy.
Now add the other 2 cups of milk to the cooked corn meal and whisk together.
Add the corn meal mixture, baking powder, grated cheese and the chopped chipotle peppers and mix together without any lumps.
Prepare a baking pan or individual ramekins by greasing them.
Spoon the mixture into the ramekins till they are 3/4th full or pour into the baking dish.
Bake in a 450F preheated oven for 20 minutes, when a skewer or toothpick inserted comes out clean or the outsides starts to brown a bit.
Note: The baking time is anywhere between 15-25 minutes. But your nose will know before you look that it is time to remove from the heat. Browning on the outside is an indication that it is done.
Serve hot.
Like what you are reading? Subscribe!