Corn Bread with butter is one of my favorite non-Indian hot breakfasts. I am not that fond of sweet corn bread but give me the spicy one any day. Most corn bread sold in stores are sweet so if you are fond of spicy ones you have to make it at home.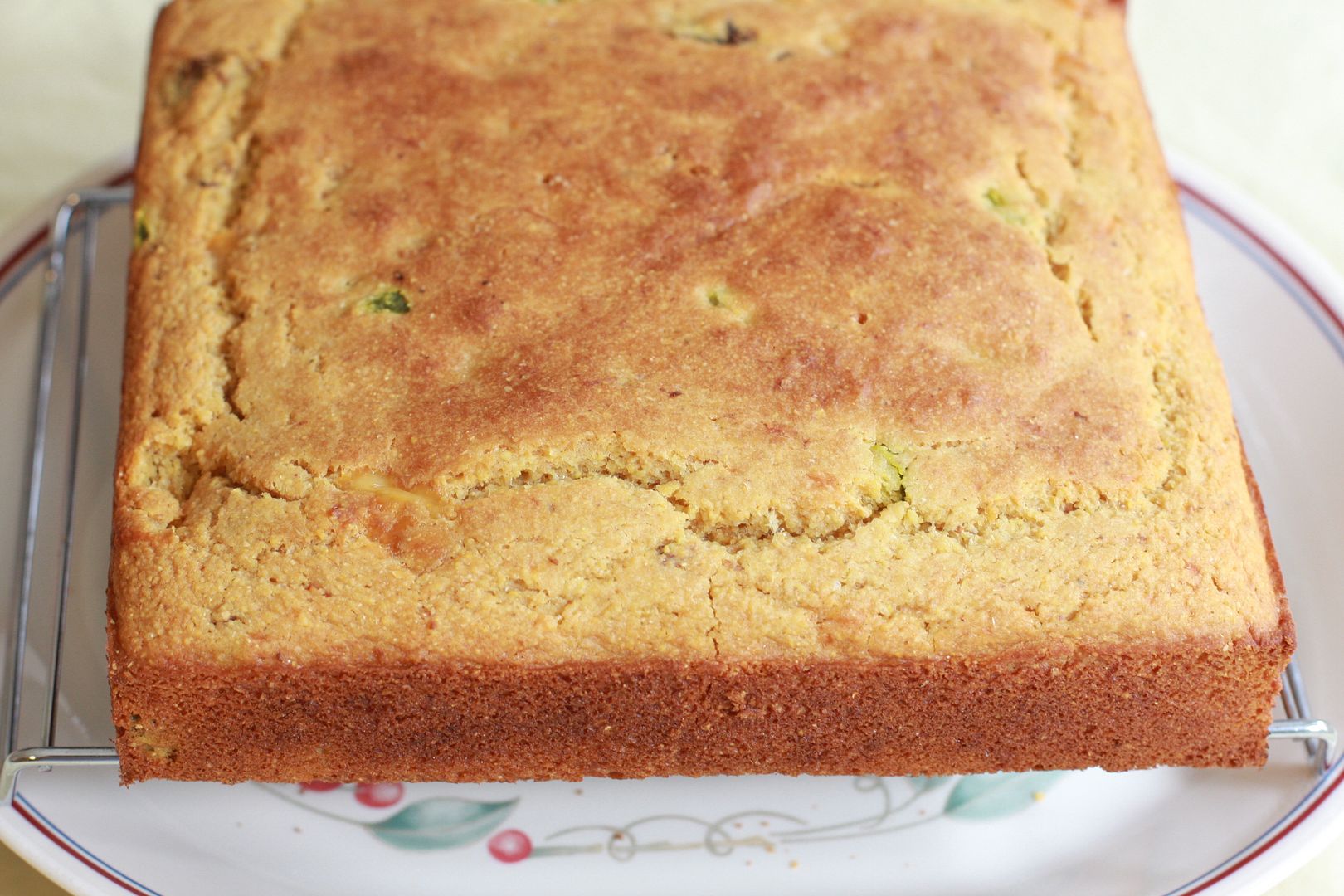 That is what I try to bake on weekends when I wake up early in the morning and decide no to the more common weekend breakfasts of the Indian kind. If you are averse to baking corn bread is something that you got to try because it is sure to convert you. It is fairly straight forward and the substitutions tend to work pretty well usually.
In a mixing bowl whisk together the dry ingredients. Whisk the eggs till they become nice and fluffy.
Add the oil to the whisked eggs. Add the milk and yogurt to the flour.
With a few strokes as possible mix the wet ingredients and the dry. Prepare the chipotle peppers, jalapeno peppers and cheese.
Mix the peppers into the flour and pour into a greased square pan and bake for 30 minutes in a preheated 425F oven.
I have made
corn muffins before
but altered the recipe slightly to get a more crumbly texture and also use more corn meal than wheat flour. It is corn bread after all. I have decided I like this version better. If you like a cakey version choose the old recipe but if you'd rather have a crumbly texture choose this one.
Spicy Corn Bread with Chipotle Peppers, Jalapeno and Pepper Jack Cheese Preparation Time:15 minutes Cooking Time:35 minutes Ingredients

2 cups stone ground corn meal
1 cup whole wheat flour
1/4 cup of sugar
1 tsp baking soda
1 tsp of salt
2 Eggs
1/2 cup of olive oil (any oil should work)
1 cup of milk
3/4 cup of yogurt whisk
3 chipotle peppers seeds removed and bit of the adobo sauce
3 tbsp of jalapeno pickled peppers chopped(if you do not have access to pickled pepper any roasted pepper or fresh even will work)
1/4 - 1/2 cups of grated pepper jack cheese or any cheese you like

Method

Preheat the oven to 425F.
In a mixing bowl, whisk together the dry ingredients - Corn meal, whole wheat flour, sugar, baking soda, salt and set aside.
In another bowl beat the eggs till they become nice and frothy, add in the oil and mix it gently.
Add the milk and yogurt to the flour and with the spatula and mix the liquid in gently. Now add the egg mixture and with as few strokes as possible to so it is well mixed.
Add in the prepared chipotle peppers, jalapeno peppers and cheese and mix it in.
Get a 8 inch square tin grease it with spray or butter and pour the batter and let it bake for 25-30 minutes or till the skewer inserted comes out dry.
Serve with melted butter on top.