I usually buy canned Wild Alaskan salmon at Costco thinking of the
flaked salmon quick stir fry
on a busy weeknight. The quality of the fish though canned is pretty good actually. Like everything bought in Costco you do not buy one or two cans you get about 6. So after the first few are over the rest languish in the pantry for months. Luckily the canned stuff does not get spoiled. The last time I bought some a few were sitting in the pantry and to use them wisely I made these salmon cutlets.
Cutlets vegetarian or fish is a well liked and is a much sought after snack item. If you are ready to deep fry this is actually a pretty easy snack to make. I have not tried baking these but I am thinking these are perfectly suited for baking because the insides are already cooked and only the outside has to crisp. The trick to come these from getting soggy or breaking apart is that the salmon/potato filling should be moisture free. While onions are a good addition for the taste I would avoid them here just because of the moisture they generate. Cooking the potatoes ahead of time so there is enough time for it cool down. This is better than the normal hurry burry way of holding the potatoes under running water to cool them down which makes the potatoes soggy and another reason why the cutlet does not hold its shape.
If you can get the
Costco Canned Wild Alaskan Pink Salmon
they taste good and do not have the strong fishy smell. Also there is nothing else in it other than salt.
Mix the salmon, mashed potatoes, ginger-garlic-green chilies minced along with the masala powder, salt and red chili powder.
Keep the egg wash and bread crumbs ready. Dip the shaped salmon cutlets in the egg wash first.
Dip the cutlet in bread crumbs next.
Heat oil in a frying pan and fry the cutlets till they are golden brown.
Drain on paper towels.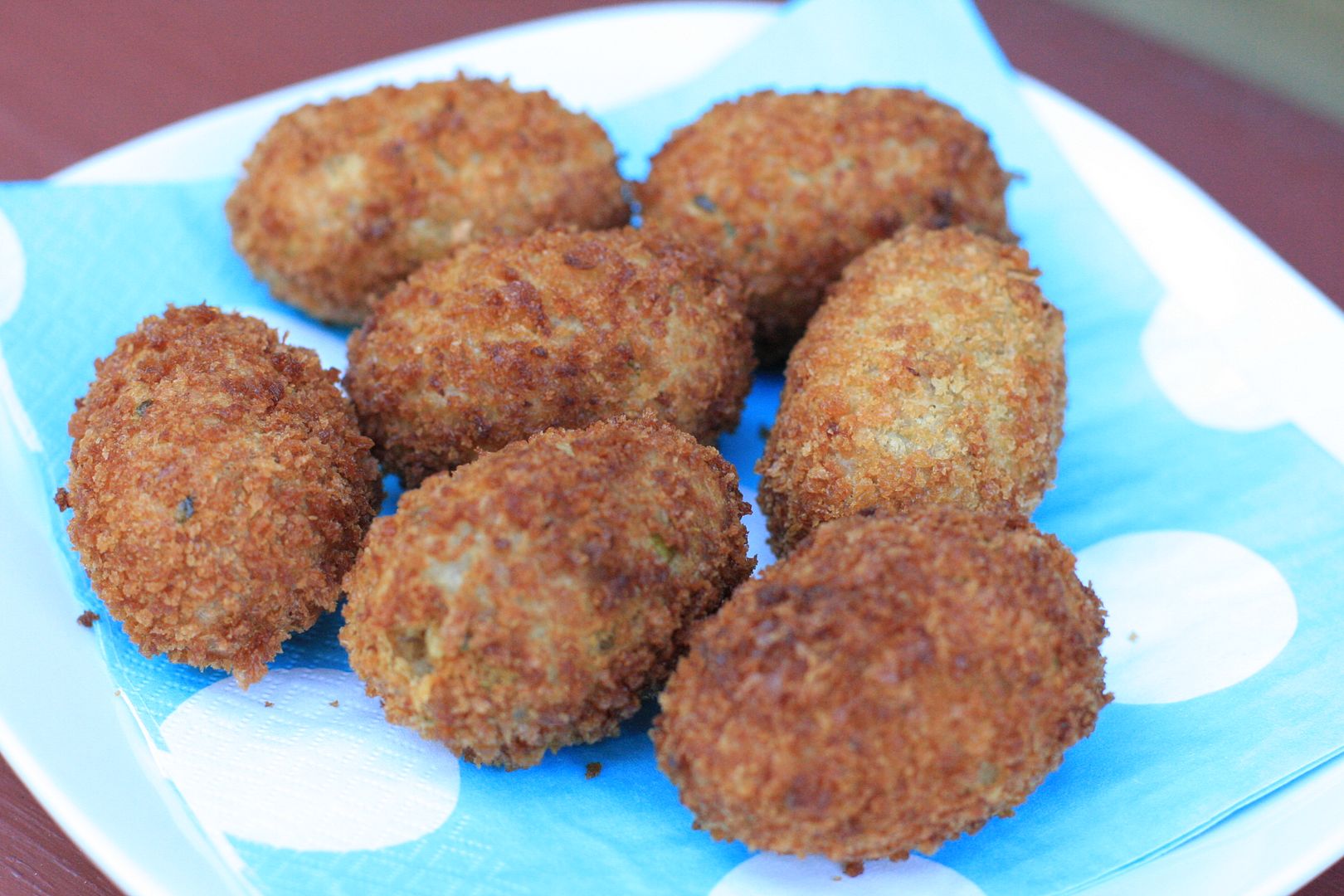 Salmon Cutlets/Croquettes
Preparation Time:25 minutes
Cooking Time:30 minutes
Ingredients


18 oz of cooked salmon (or any fish)
2 medium sized white or Russet potatoes
6-8 green chilies
5-6 garlic cloves
1 inch piece of ginger
2 tsp curry masala powder (optional)
1 tsp red chili powder
salt to taste
2 eggs
1 cup panko bread crumbs
1/2 cups onions sauteed (optional, I did not add them) (See Note:)
Oil for deep frying


Method


If using canned salmon open it and let it strain in a colander till all the water drains. Set it aside. If using steamed fish flake it and set it aside.
Boil the potatoes and let it cool, peel and mash the potatoes till smooth.
Mince the green chilies, garlic and ginger.
To the potatoes add the flaked salmon, minced ginger,garlic and green chilies, salt, masala powder and red chili powder. Mix with a fork or use your hands. Check for taste.
Heat a deep fryer pan or kadai with oil.
Break the eggs and whisk it and keep the egg wash in a wide mouthed bowl. Take the panko bread crumbs in another bowl.
Shape the cutlet into oblong or flat rounds. Dip the shaped cutlets in the egg wash first and then dredge them in the bread crumbs so the cutlet is well coated on all sides.
When the oil is hot add the coated cutlets and deep fry till it is golden brown on all sides.
Drain well on paper towels.
Note:Onions tend to leach moisture so add them towards the end when you are just about to make them.
Serve with tomato ketchup or tomato chili sauce with wedges of lemon and cucumber.
Like what you are reading? Subscribe!