DD2 has been behind me to buy her cookie cutters and chocolate chips to make cookies. I bought the chocolate chips but the cookie cutters have not happened yet. I want to buy one that has many different shapes rather than one huge shape and then I will have to keep buying more shapes. Anyway I am not too fond of sugar cookies and I this way I postpone them for some more time.
I suggested that she make crispy rather than the soft ones. She found this recipe on
Food Network
. The recipe was easy, no rushing to buy any more ingredients and we could live with one stick of butter.
I am not a good baker. I tend to improvise and that is not a good thing as far as baking goes I have to realize. Stick to the recipe and baked goods come out good and tasty. DD2 is not at an age where improvisation is a problem just yet. So we had some amazing crunchy, warm and tasty cookies. Most of them disappeared the minute they came out of the oven.
After tasting a warm delicious cookies is when I realize why so many people go gaga over baking cookies. I am convert but don't tell DD2 that else she will be baking a storm every day. She is into that baking spree now. If not for her this cookie would never have happened.
Recipe Source:
Food Network - Crispy Chocolate Chip Cookies
Collect all the ingredients for baking the cookie. Beat together the butter and the sugar till it is fluffy using an electric egg beater.
Whisk together the flour, sugar and baking soda. Add in the butter mixture.
In low speed mix in the flour and the butter mixture. Add in the chocolate chips and mix it in using a spatula.
On a prepared baking sheet spread with parchment paper, place 1 tbsp of dough about 3 inches apart. In a 400F heat over bake for 12 minutes till the edges are browned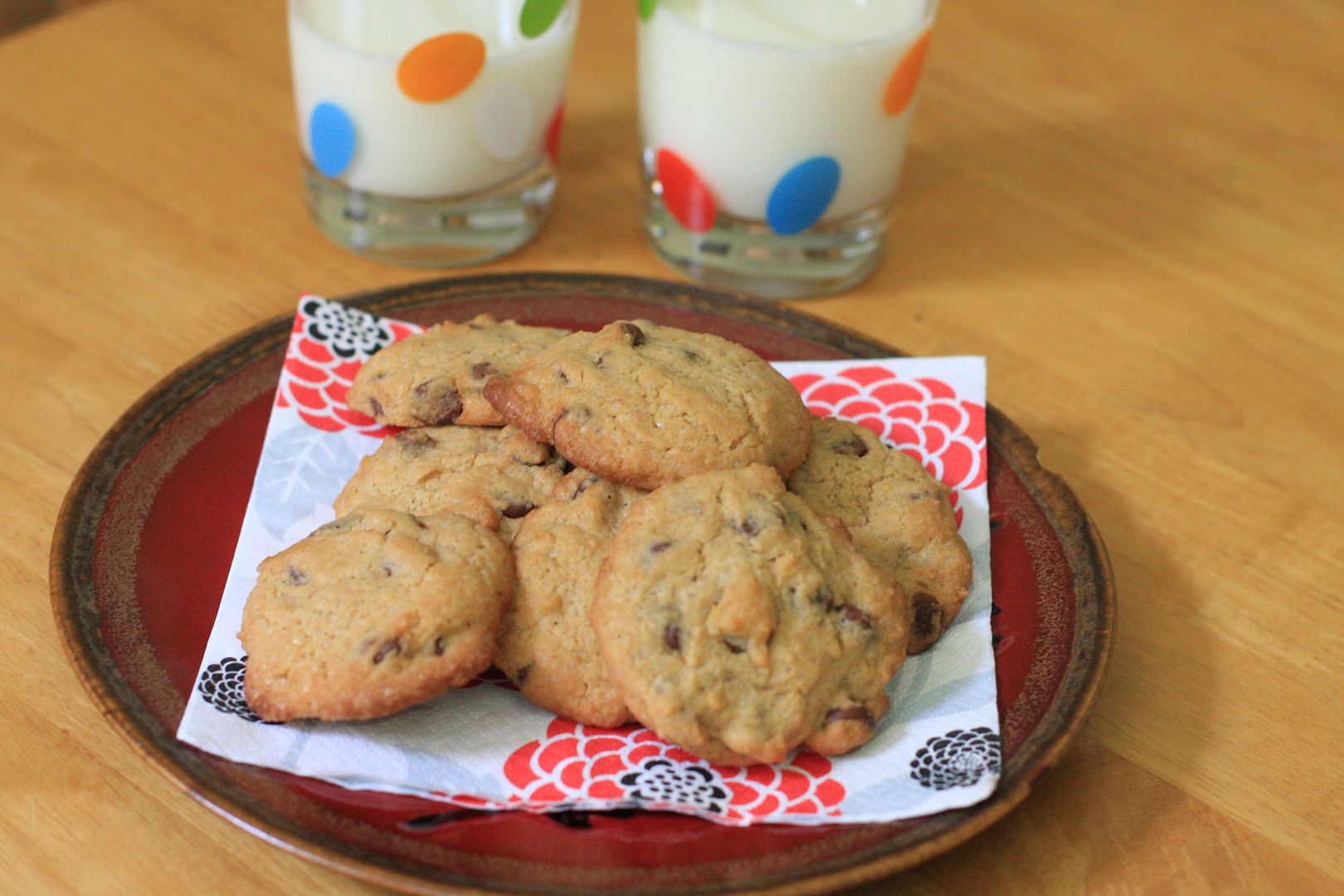 Chocolate Chip Cookies
Preparation Time:20 minutes
Cooking Time:20 minutes
Makes : 20-24
Ingredients


1 1/3 cups of whole wheat flour (used unbleached white whole wheat flour)
1 stick of butter (1 cup) at room temperature
3/4 cup of sugar (used raw sugar)
1/4 tsp baking soda
a pinch of salt
1 egg
1 1/2 cups of milk chocolate chips


Method


Preheat the oven to 400F.
Using a electric egg beater beat together the butter and sugar till fluffy (as is possible with raw sugar) 4-5 minutes.
Crack the egg into the butter mixture and beat for another couple of minutes.
In a mixing bowl whisk together the flour, salt and baking soda.
Add in the whisked butter mixture to the flour and in a slow speed mix it in. Add in the chocolate chips and make sure they are incorporated. Use a spatula to mix in the chocolate chips. (see Note:)
Prepare a baking sheet with parchment paper.
Place a tbsp of dough on the cookie sheet about 3 inches apart.
Bake for 12-14 minutes till the edges are browned. Took 12 minutes for our batch.
Let cook if possible else enjoy right away.
Note:You could use the same bowl to beat the sugar, butter and eggs and then add the flour.



Like what you are reading? Subscribe!