Cauliflower is one of my favorite vegetables. It lends itself nicely to a lot of different curries dry and wet. It usually is paired with potatoes and my most favorite way to cook it, is this
dry aloo gobhi
. But this versatile vegetable can be cooked in a lot of different ways evidenced by quite a few of them on this blog. If you do a search on the side bar for 'cauliflower' you will quickly find out.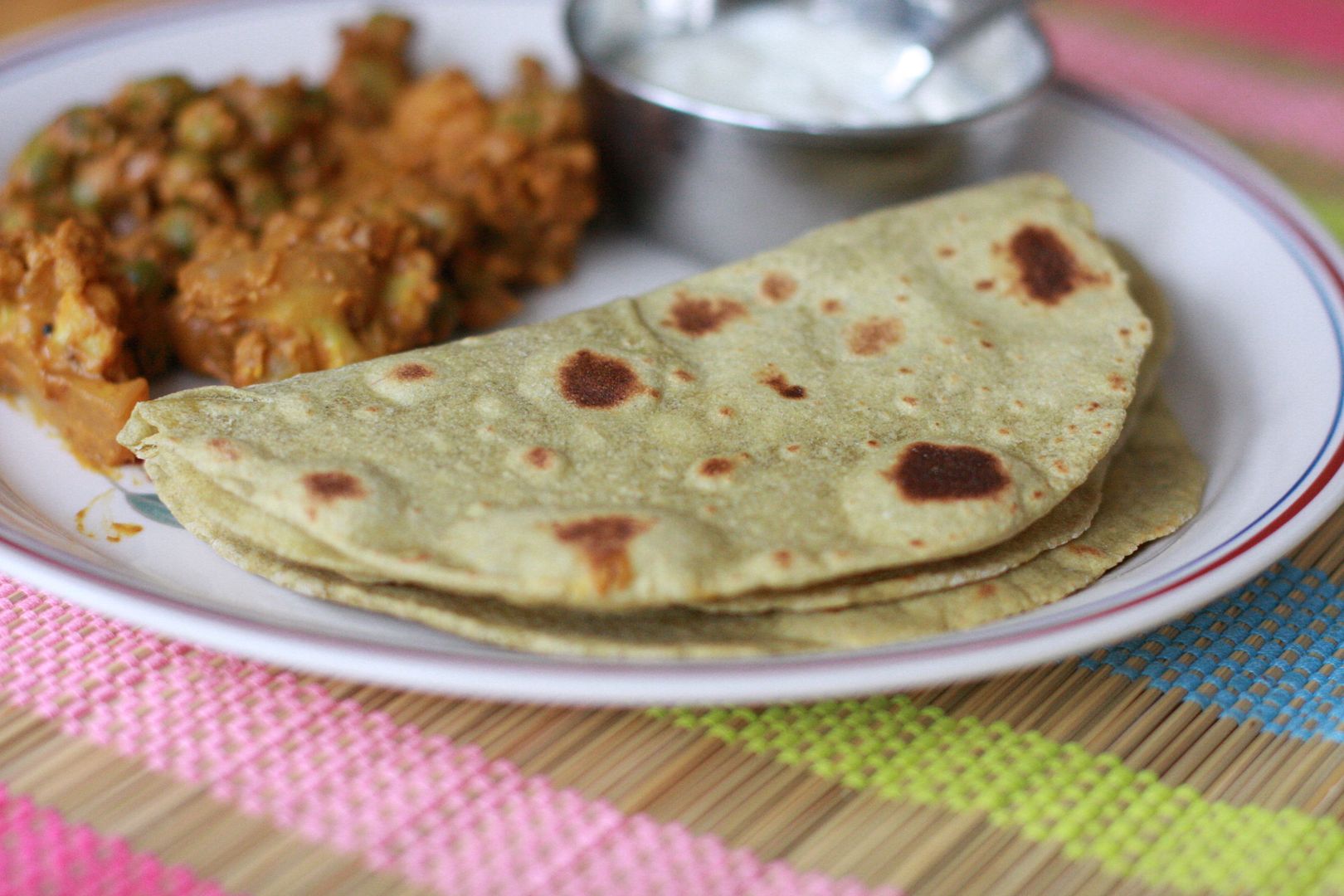 In the south while coconut paste or milk is used in a lot of curries but curd or yogurt is not commonly used like it is in the North. I always have curd in the fridge so adding to gravies instead of the coconut paste is appealing in lieu of the reduced work. So when I saw this recipe on
Sailu's Food
I wanted to give it a try.
Cauliflower Peas Masala - Gobi Mattar Masala
Preparation Time:20 minutes
Cooking Time:40 minutes
Ingredients


1 cauliflower cut into florets
2 cups of fresh or frozen peas
1 cup onion finely chopped
6 green chilies finely minced
2 inch piece of ginger grated
1 tbsp tomato paste or 1 tomato finely chopped
1/2 tbsp red chili power (adjust, mine is very spicy)
2 tsp turmeric powder
1/2 tsp cumin powder
1/2 tbsp coriander powder
1/2 cup of curd whisked
2 tsp poppy seeds + 8-10 almonds soaked in 2 tsp of water
salt to taste
2 tsp of oil
seasonings few fennel seeds + a pinch of cumin seeds


Method


Heat oil in a kadai or flat bottomed pan and add the seasonings followed by the green chilies and onion and saute till the onions become translucent.
Add the grated ginger and saute for a couple of minutes. Now add in the cauliflower florets and let them cook for 5 minutes.
Now add the powders - turmeric, cumin, coriander and red chili powder and mix it in.
Add in the peas and cook for a couple of minutes. Add the tomato paste and mix it in.
Make a paste of almonds and poppy seeds and mix it into the whisked yogurt.
Lower to the heat to low medium and add in the whisked yogurt and salt into the cauliflower along with a 1/2 cup of water and let it slowly cook till most of the moisture evaporates. About 20 minutes.
Note: Avoid the 1/2 cup of water if you want a drier curry and also add a bit more oil while cooking to avoid sticking.


Serve with rotis or parathas. We had them with some avocado parathas.

Like what you are reading? Subscribe!