I think I will be very busy this year if I want to learn and keep up the plans for the blog. Take a minute to read the comments from the
last post
. Throws up a lot of interesting questions.
Prepared veggies
1. Can fish be organic?
2. Is industrial food production really bad?
3. What is local food movement? Is it just a yuppy feel good kind of thing?
4. Can organic farming really provide food for the exploding population of the planet?
5. What exactly is crop and seed diversity?
6. Is organic cost efficient to actually make a difference?
All good questions and we will strive to explore all of them in due time.
I primarily wanted to learn more about GM(genetically modified), bio-engineered seeds and how lack of bio diversity was going to harm food production. But the issues that have been brought up are all inter connected and a good idea to be researching about all of them.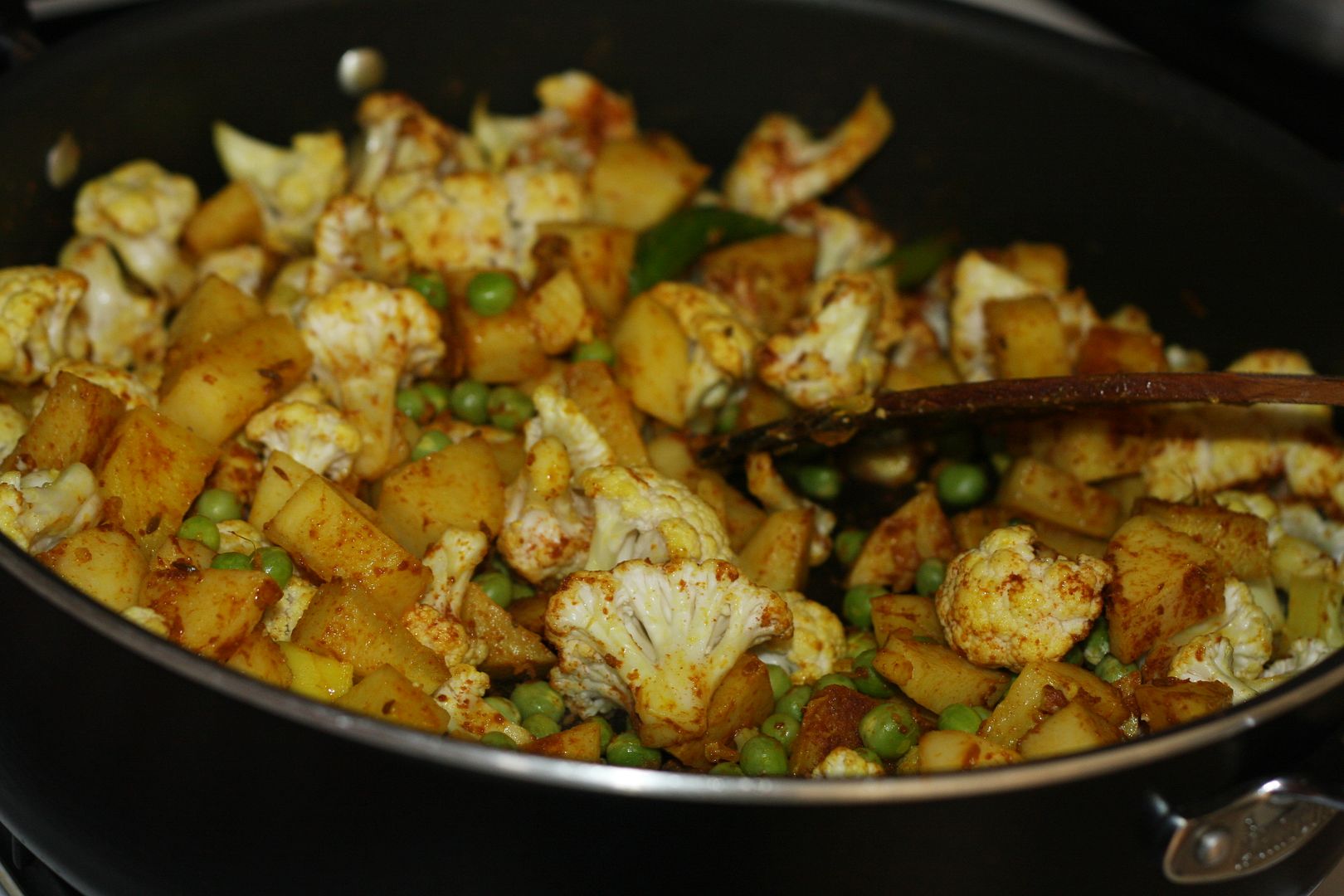 Mixed with spices and ready to be covered and cooked
Over the last decade on every visit to India I have heard mom and several others mention that certain varieties of several vegetables are not in the market anymore. When this particularly hit hard was when the broad beans I was seeing on the last visit was very broad and really big. It was the first time I have even seen it but everybody seemed to think broad beans were always that way. That is so not true, the visit before last the broad beans were the size they always were. Is this a new variety that people have gotten used to quickly or does it make its appearance only during the summer? I have no idea. Next was when I was trying to get seeds for the country tomato (naatu thakkali) the sour short and stout tomato with ridges and my uncle sadly said that the seeds were not available even in the seeds co-operatives that regularly. Were these varieties going to disappear for ever, probably.
Lid closed and cooking
For quite a few years now tomatoes that are readily available in the market are mostly the smooth oval shaped ones called Bangalore tomatoes, much sweeter and in my opinion dull and blands the tastes of rasam, sambhar or tomato rice that they are used in. We have gotten used to them like we eventually do.

What is a bio engineered or genetically modified seed?
Biotechnology has made it possible to inject genes from other plants and animals into plant seeds to create traits that would help the plant deal with adverse conditions like drought, withstand pesticide exposure, increase yields creating characteristics that do not occur naturally. The most bio engineered seeds are corn, soybean, cotton and canola. This term also includes breeds of crops created by selective breeding.
Source
After the first 15 minutes
What is a hybrid seed?
Hybrid seeds are those that are produced by artificial cross-pollination to create desirable traits like increased yield, drought resistance, better looks and disease resistance.
What is a heirloom seed?
Heirloom seeds are those that have been preserved over several years and handed down from the gardeners who preserved them. These are seeds that have to be created by open pollination. Open pollinated plants are those whose seeds are capable of producing plants just like their parent preserving all the good qualities.
There is no denying the benefits of hybrid seeds, it has increased agriculture output and the ability of governments to pull their masses out of poverty. This seems harmless when compared to GM seeds. Animal characteristics in plants? Is that desirable? Has technology gone overboard? GM seeds which were used in mostly large industrialized farms have now started to contaminate non-GM seeds.
Now to the recipe of the day,
The best aloo gobhi I have tasted so far was in a hole in a wall place which sold fresh hot foods at a very reasonable prices. The kitchen was visible from where the order was placed, a much needed confirmation because the place was really dirty. The place was closed by the authorities, no surprises there. I lost my source for aloo gobi and had been on the lookout for something similar till I saw
Sookhi Gobhi Aloo
over at Mad Tea Party. This is what I have been looking for along with the added bonus, no grease. Some version of this aloo gobhi has been made every week at our house ever since. Sometimes I have followed the exact recipe while other times I improvise a little bit like this one with green chilies.
Ready for serving

Serving : 6 people


Dry Potato, Cauliflower and Peas Curry




Ingredients


1. 2 Russet Potatoes + 2 Red potatoes (I prefer red potatoes but only had Russet potatoes, DH went shopping) - 4 Cups (peeled and cut into bite sized cubes)
2. Cauliflower split into small florets - 2 cups
3. Green Peas - 1 Cup
4. Green chilies - 4 slit
5. 1 1/2 inch piece of ginger grated
6. 5 garlic cloves crushed and chopped
7. 2 tsp turmeric powder
8. 1 tbsp sambhar powder or coriander + red chili powder
9. 1 tsp cumin powder
10. a small pinch of asfoetida
11. salt to taste
12. 2 tsp oil



Method


1. In a flat bottomed pan, heat oil and add the cumin seeds, asfoetida, garlic and ginger. Saute till the ginger and garlic are fried , take care not to burn.
2. Add the turmeric powder and green chili and saute for a minute.
3. Add the potatoes, cauliflower, peas, saute for 2 minutes or so.
4. Add the sambhar powder and salt and give a good mix.
5. Close the lid and set the heat to less than medium, cover the lid and cook for 15 minutes.
6. Open the lid, toss and add more salt and chili powder if required, close and cook for another 8 minutes.
7. Switch off the heat.

Tastes best with rotis (wheat breads) or even with steamed white rice.