Expectations - the act or state of expecting - is the literal dictionary meaning.
Thoughts of "expectations" and how it affects life having been making the rounds in my head recently. Expectations in relationships, at work, from children, from material possessions and everything else in life. Unreasonable expectations and misery are intertwined.
Disappointment and sadness when expectations in a particular relationship do not pan out. Work place becames a punishment when it does not stand up to expectations. The expectation about how life should be and when it does not meet those expectations depression and sadness ensues.
It takes a certain maturity to pack away expectations and embrace life as it happens as anticipation is half the pleasure or half the misery.
Lets take the example of a newly married couple. If the expectation on Valentine's day is a box of chocolates or a bouquet of flowers or whatever (I wouldn't know because I had no expectations of DH being the gift giving kind) and if it does not materialize all hell breaks loose. This is the most simplest case.
A slightly more complicated case if an example of an educated woman on a satisfactory and rewarding career track throttling back her ambition because of young children. Instead of bringing joy at the opportunity of having time to spend with her children the heart feels sad because the goals and expectations that were set either by herself or society(perhaps not necessarily in writing but because of other factors like education etc.,)become harder to achieve. Same is true for men when the career path they are steadfastly climbing gets wobbly.
Most importantly the expectation that life has to be lived a certain way with possessions and accomplishments is what keeps us anxious and looking for that elusive definition of success and happiness.
If on the other hand there were no expectations we are better able to tackle what life throws our way. There are no disappointments and sadness because there is no perception of failure.
Approaching any relationships with no expectations make them more meaningful and lasts longer. Approaching life in the same way helps keep interest in the mundane everyday things that have to be accomplished day in and day out. When there is no expectation about how the day is expected to pan out, all is needed for the day to be great is to live in the moment.
Al Gore our Vice President is a good example of how undue expectations can hurt. It is too much of a burden to carry around. We have all seen how even very young children wither under the burden of undue expectations from parents.
It is easier to talk about it then practise but gets easier over time I presume. As for me I am in the very beginning stage of the process where I can think clearly but practising has been shall we say taking its time.
Now on to less weighty matters,
Yeseterday we were treated to a vast array of halwa/poori on the event of Ashtami. We celebrated Saraswathi Pooja with a simple preparation of black eyed peas sundal. Having forgotten to soak chick peas the previous day, these black eyed peas came in handy. They require soaking time of less than an hour. I avoided pressure cooking the black eyed peas as they result in mush which works for curries but not very suitable for sundal.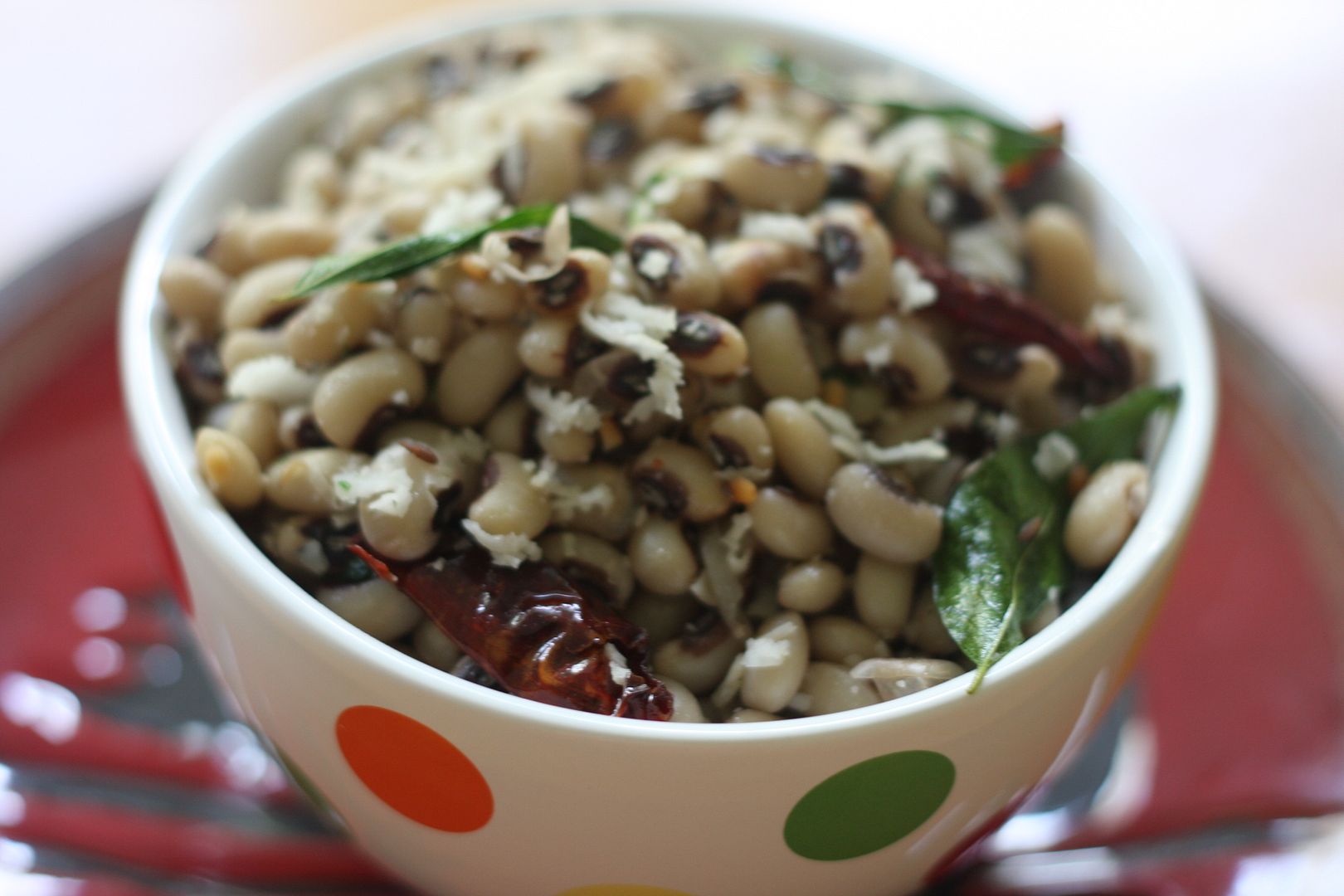 Black Eyed Peas Sundal
Ingredients
1. 1 1/2 Cups of dried black eyed peas soaked for about an hour
2. 2 tbsp grated fresh or frozen coconut
3. 4 red chilies broken in half and the seeds shaken loose
4. seasonings: 2 tsp of split urad dal, 1/2 tsp cumin seeds, 1/2 tsp of cumin, seeds,curry leaves, a pinch of asfoetida
5. 1 tbsp of chopped corinader leaves
6. Salt to taste
7. 1 tsp of oil


Method
1. In a sauce pan cook add water to cover the peas and let bring it to a boil. Let it cook till the peas are soft. Do not overcook. Takes about 10-15 minutes
2. In a wide mouthed pan heat oil and add the seasonings, the ural dal first followed by the cumin,asfoetida and mustard seeds followed by the curry leaves and red chilies.
3. Add the drained, cooked peas and give a good mix.
4.Mix in the coriander leaves and saute for 3-4 minutes. Add salt and mix, add the grated coconut and mix well. Turn off the heat.