When does a simple lunch become a special Lunch? when there is Biryani on the menu ofcourse.
Back home Biryanis, Pulavs, flavored rice were all cooked with table rice or seeraga samba rice a tiny grain that grows to thrice its size when cooked. Biryani cooked with seeraga samba according to me taste way better than that cooked with Basmati rice. Chicken Biryani with Thayir Pachadi, heaven on a plate on a sunday afternoon :)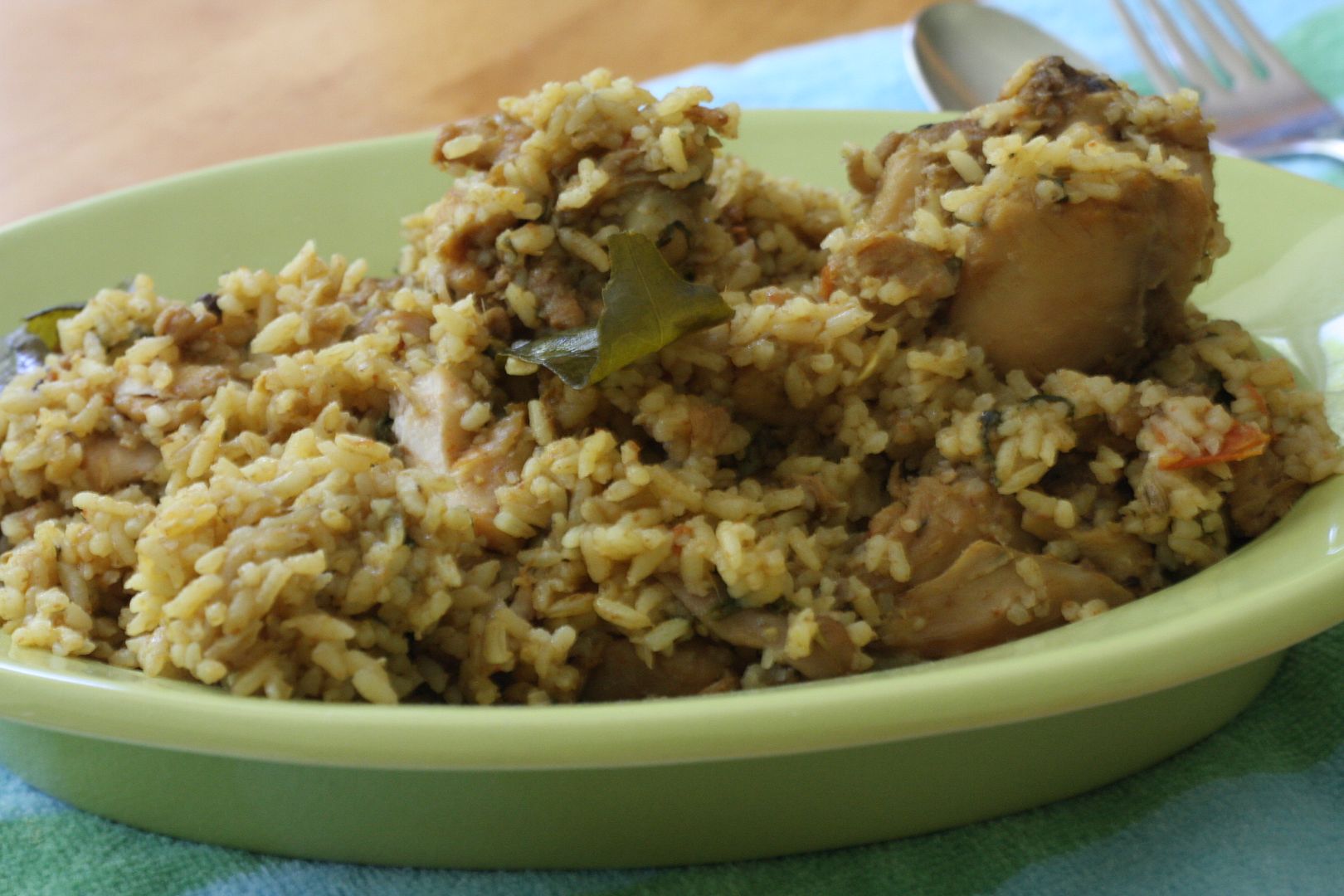 Ingredients
1. 1 lb Chicken preferably with bones cut into pieces
2. 1 1/2 Raw Seeraga Samba rice clenaed and soaked for atleast 1/2 hour (Rice:Water 1: 2 1/2)
3. 1 Cup Green Peas
4. 1 1/2 Medium Red Onion sliced thin
5. 10 garlic cloves and 2 inch piece of ginger chopped fine in a food processor
6. 2 Red tomatoes chopped fine
7. 6 Green chilies split
8. Whole Spices - bay leaf, star anise, 3-4 cloves a small piece of cinnamon, fennel seeds and curry leaves
9. 1/2 Cup Mint leaves
10. 1/2 Cup coriander leaves
11. 1 tsp chicken masala powder (optional)
12. 1 tsp turmeric powder (optional)
13. 2 tsp oil + 1 tsp ghee

Method
1. Heat oil + ghee in a pressure cooker and when hot add all the whole spices and when they turn color add the green chilies saute for a minute
1a. If not using pressure cooker set the rice to cook in a separate pot and let it cook about 3/4 and set a heavy bottomed pan and follow step 1
2. Add the onions and saute till translucent.
3. Add the garlic ginger and saute till raw smell goes
4. Add the powders if using follwed by the mint and coriander leaves and saute till they wilt
5. Now add the chicken, salt and saute for about 3-4 minutes
6. Add the chopped tomatoes and saute and let everything cool till the tomato turns mushy.
7. Add the peas followed by the rice and mix well with the spices (proceed to step 7b if using cooked rice)
8. Now add the required amount of water and let it come to a boil, now set the heat to just below medium and wait for the rice to cook to about 3/4th of the way, mix add a dab of ghee
9.Close the lid and put the weight on and cook for about 8 minutes and switch off the heat

7b. Alternately if using the cooked rice, add the peas saute till for 3-4 minutes then the rice, add it to the pot mix well, add a dab of ghee on top and set in a preheated 350F oven and cook for 10 minutes, take out mix and cook for 5 more minutes and remove from oven.

Serve with raita of choice.

Biryani recipes
Chicken Biryani with Basmati
Shrimp Biryani
Novel Reading:
In Cold Pursuit - Sarah Andrews
One of the best mystery books in recent times.