Every Kongu worth his or her salt absolutely needs to know how to make
uppu paruppu
with either
toor or moong
, and also at least one kind of sambhar, just saying...
When DD started cooking by herself this summer, this blog got a work out. She asked me questions that made a lot of sense and I realize that these questions perhaps ones that most people have when they start to cook. A lot of questions were regarding how to cook the vegetables before adding them to the tamarind mixture. Vegetables like Swiss Chard (or any greens for that matter), egg plant, squash, pumpkin, beans (green, avrakkai), potatoes etc can be added without being precooked. Drumsticks at least the ones I get here have to be precooked for at least 8-10 minutes before adding to the sambhar. A friend once told me that sambhar is not sambhar unless the vegetable is cooked in the tamarind water. So saute the vegetables first and then add the tamarind mixture to the vegetable.
I never make okra sambhar for the simple reason that the sambhar gets very slimy if the okra is not fresh. But if you have fresh on hand there is no excuse not to make sambhar with it. But unlike the other vegetables okra needs pre-sauteing in oil to avoid the slime transferring to the sambhar. The main reason why I decided to make a post just for okra sambhar.
Some people add tomatoes to the sambhar. I normally do not, unless I am making tomato sambhar. A good quality sambhar powder is essential in making a tasty sambhar. Here is the
recipe of sambhar powder
the way my grandma makes it which is the way my mother makes it and sends my way.
Normally toor dal/pigeon peas or tuvaram paruppu is used for making sambhar but a combination of toor and moong works just as well.
Wash and dry completely and cut the okra into about 3/4 inch pieces. In a saute pan heat oil and saute the okra and set aside.
In a saute pan heat oil and add the seasonings followed by the onion and saute till translucent. Add in the sauted okra pieces saute a couple of minutes and add the sambhar powder. Mix.
Let the tamarind mixture come to a boil. Mash and keep the cooked dal ready.
Add the dal to the tamarind mixture, add salt and chopped coriander leaves. Let come to a boil and turn off the heat.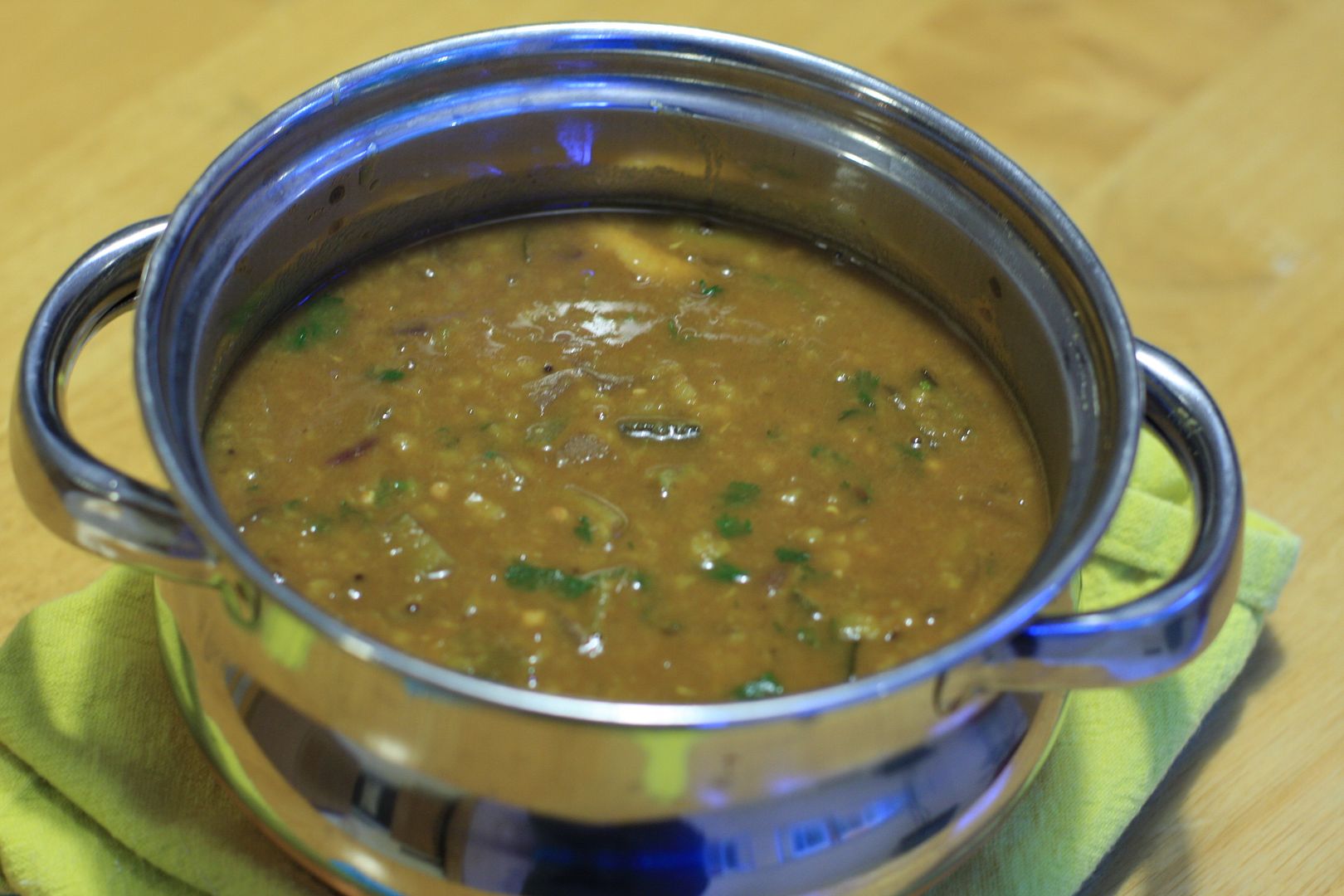 Vendaikkai Sambhar
Preparation Time:10 minutes
Cooking Time:30 minutes
Ingredients


3/4 lbs of okra or lady's finger washed, completely dried and cut into 3/4 -1 inch size pieces
1 cup of toor dal (Add 2 cups of water to 1 cup of dal) (See Note:)
1/2 red onion chopped or best 10-15 small shallots cut in half
1 tbsp sambhar powder (the quantity depends on how spicy you want the sambhar to be)
1/4 cup of tamarind pulp made from a small lime sized ball of tamarind (or 2 tsp of tamarind paste mixed in 1/4 cup of water)
seasonings: mustard seeds, cumin seeds, a few methi seeds and curry leaves
salt to taste
2 tsp of oil
handful coriander leaves

Method


Pressure cook the toor dal with the required amount of water(see Note:) for 3 whistles till or if on a stove top cooked till it is mushy.
While the dal is cooking, in a saute pan heat a tsp oil and saute the okra till it starts to brown on the edges and no sign of slime is visible(about 6-8 minutes). Set aside.
In the same saute pan (clean if stuff is stuck on the bottom) add the rest of the oil, when hot add the seasonings, when mustard starts to splutter add the onion and saute till translucent add the okra pieces in, add the sambhar powder, mix and add the tamarind pulp. Let the tamarind pulp come to a boil and cook for about 5-6 minutes or till the okra is soft.
Mash the cooked dal and add it to the tamarind mixture. Add a cup more water if required. Add salt. Add in the coriander leaves. Let come to a boil. Turn off the heat or cook longer till desired consistency is reached.
Note:
The amount of water to dal ratio depends on the toor dal. Most require about 2 cups, some might require less. General rule of thumb is to cook it with twice the amount of water the first time and then adjust the water quantity based on how watery or thin you want it to be. For sambhar watery is just fine.
Like what you are reading? Subscribe!