I was talking to one of my colleagues about our Costa Rican trip and he was wondering if he should go there. Well there are many reasons why people travel. His reason for travel is food, tasting different kinds of food. So when he asked me about Costa Rican food I wasn't able to give him too much of a reason. Costa Rican food is very simple, nothing exotic about it and it is not very spicy. You would not travel to Costa Rica for food.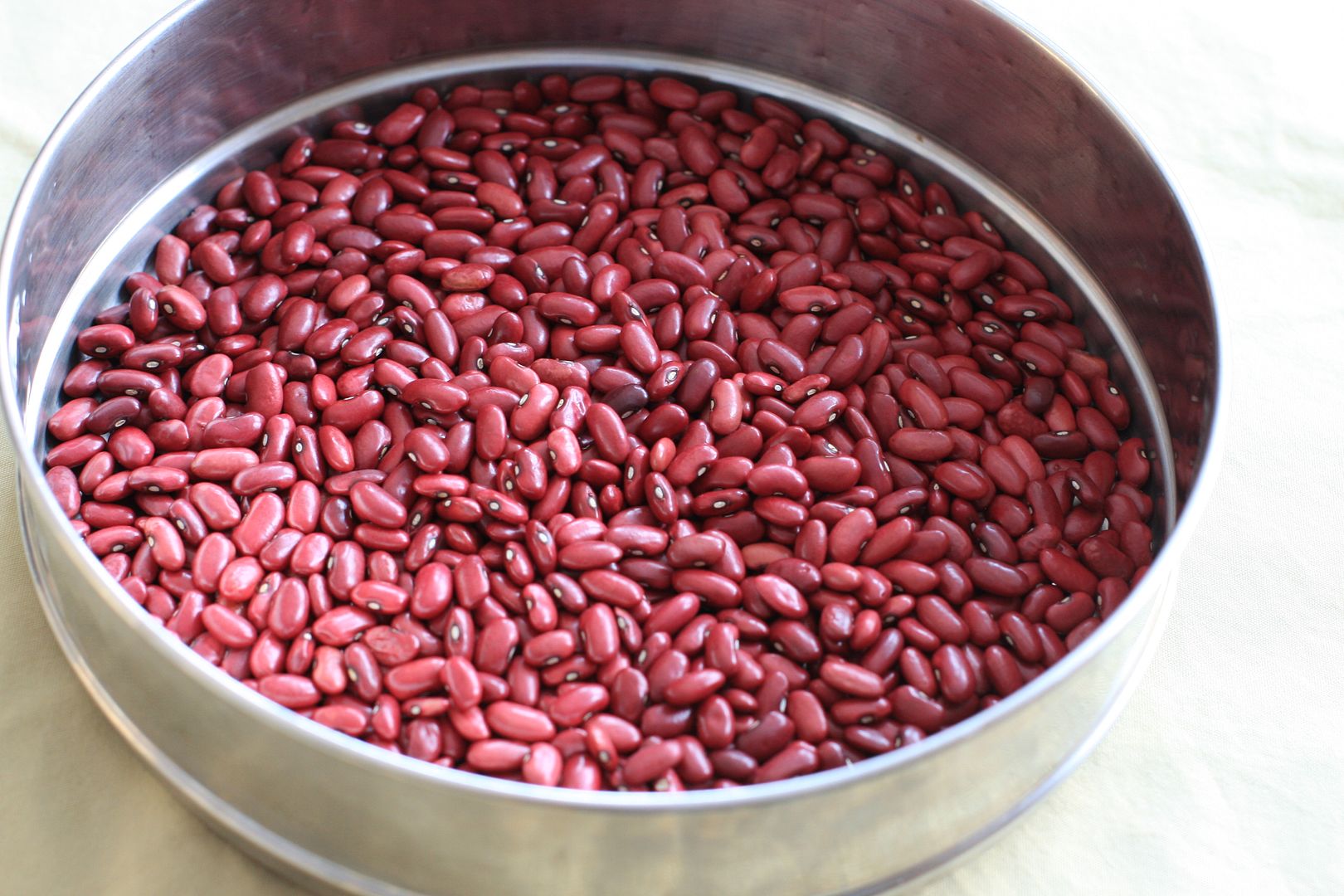 South American Red Beans
Anyway the Red Beans and Rice which they served with pretty every meal slowly grew on us. The next thing to do is try it out at home. The kids seems to like it a lot. Though in Costa Rica it was common on the breakfast table I prefer it for lunch or dinner. Mine is slightly spicier not exactly a lot spicier.
The Louisiana style Red Beans and Rice is slightly different than this one in that beans is cooked separately and served over rice. Whereas this one the rice and beans are cooked together. Most Latin American countries have their own versions of red beans and rice. Some have meat in them and some don't. The one we saw in Costa Rica was purely vegetarian.
While canned beans can be used, it is lot tastier to use dried beans which have been soaked overnight. Also red beans and rice is a dish that is made to use up the left over rice. I never plan that much ahead so I use freshly cooked rice. It is a lot easier to handle if the rice is spread on a plate and cooled.
Here is the recipe in pictures,
Heat oil in a wide mouthed pan and saute the onions till they start to turn a little brown. Add garlic, saute for a couple of minutes and then add in the chopped bell pepper and saute for 4-5 minutes.
Add in the chopped jalapeno if using or the chipotle pepper along with the chili powder and cumin powder. Mix. Add in the coriander leaves and mix it in as well. Add salt.
Add in the cooked rice and mix it into the vegetables.
Add the cooked salted beans and mix it into the rice.
Red Beans and Rice - Costa Rican inspired
Preparation Time:15 minutes + overnight soaking of the beans
Cooking Time:25 minutes
Ingredients


2 cups Long Grain White rice
2 cup dried red beans (South American Red Beans)
1/4 cup diced red onions
3-4 garlic cloves chopped
1 green bell pepper diced into 1/2 inch dice
2 tsp red chili powder
2 tsp cumin powder
1 chipotle pepper + 2 tsp of the adobo sauce finely chopped or 1 jalapeno de-seeded and chopped fine
handful coriander leaves chopped
salt to taste
2 tsp oil


Method


Cook the red beans, they should be whole and not mushy.
Cook the rice and set it aside to cool (See Note:)
In a wide mouthed pain heat the oil and add the onions and saute till they turn slightly brown. Add in the chopped garlic and saute for a couple of minutes.
Add the chopped bell pepper and let it cook for about 4-5 minutes, it should still be crunchy.
Add in the chipotle pepper, chili powder and cumin powder. Give a good mix.
Add the chopped coriander leaves and mix it in. Add half the amount of salt. Mix. Lower the heat to low medium.
Add in the cooked rice and mix it in well.
Drain the beans, add a bit of salt and add to the rice. Mix it in well
Note: A day old rice works well.
Serve with corn tortillas, with a an egg and sliced avocados.
Like what you are reading? Subscribe!