Looks like we shoppers are all suckers for what is labelled "natural". The word natural makes us all feel good about our food purchases no matter how processed it is. About $377 billions worth. While the word itself does not mean much, it tricks us into believing that the ingredients used are wholesome. But the proof is on the contrary. Just one example of how misleading the label is the "natural" flavored yogurt. Reading from the label, there is absolutely nothing natural about some of the ingredients that goes into making it.
While avoiding some of the products with long, hard to read ingredient list is itself an arduous task, completely eliminating them is going to be impossible so I have not tried in
earnest. If you want to know what succors we have been for these specialized food labels read this
article
.
How do you all treat products named "Natural"?
Now on to the recipe,
Baingan Bharta is not something I cook often. I make this
Roasted Eggplant Curry - Sutta Kathrikkai Kuzhambu
. Baingan Bharta is a constant in most restaurant menus but there is usually more tomatoes than eggplants and the eggplant is also mushed to beyond recognition and I am not really fond of that. But I am fond of eggplants and cooking them at home to my liking is what I did.
Recipe in Pictures
Roast the eggplants in the fire turning them all around, so that blisters appears on all sides. Keep them wrapped in a kitchen towel till they are ready to be peeled.
Heat oil in a pot, season with cumin seeds. Add the onions and green chilies and let the onion get translucent followed by the ginger and garlic and saute for another minute or so. Add the coriander, chili and masala powders and mix it in.
Add in the tomatoes and saute till they get mushy. Now add the coriander leaves and saute till the leaves are wilted.
Once the eggplants are cool enough to touch, peel the skin off, clean and set aside.
Add the peas, diced eggplants, salt and if required 2 tbsp of water, cover and let cook till it gets soft.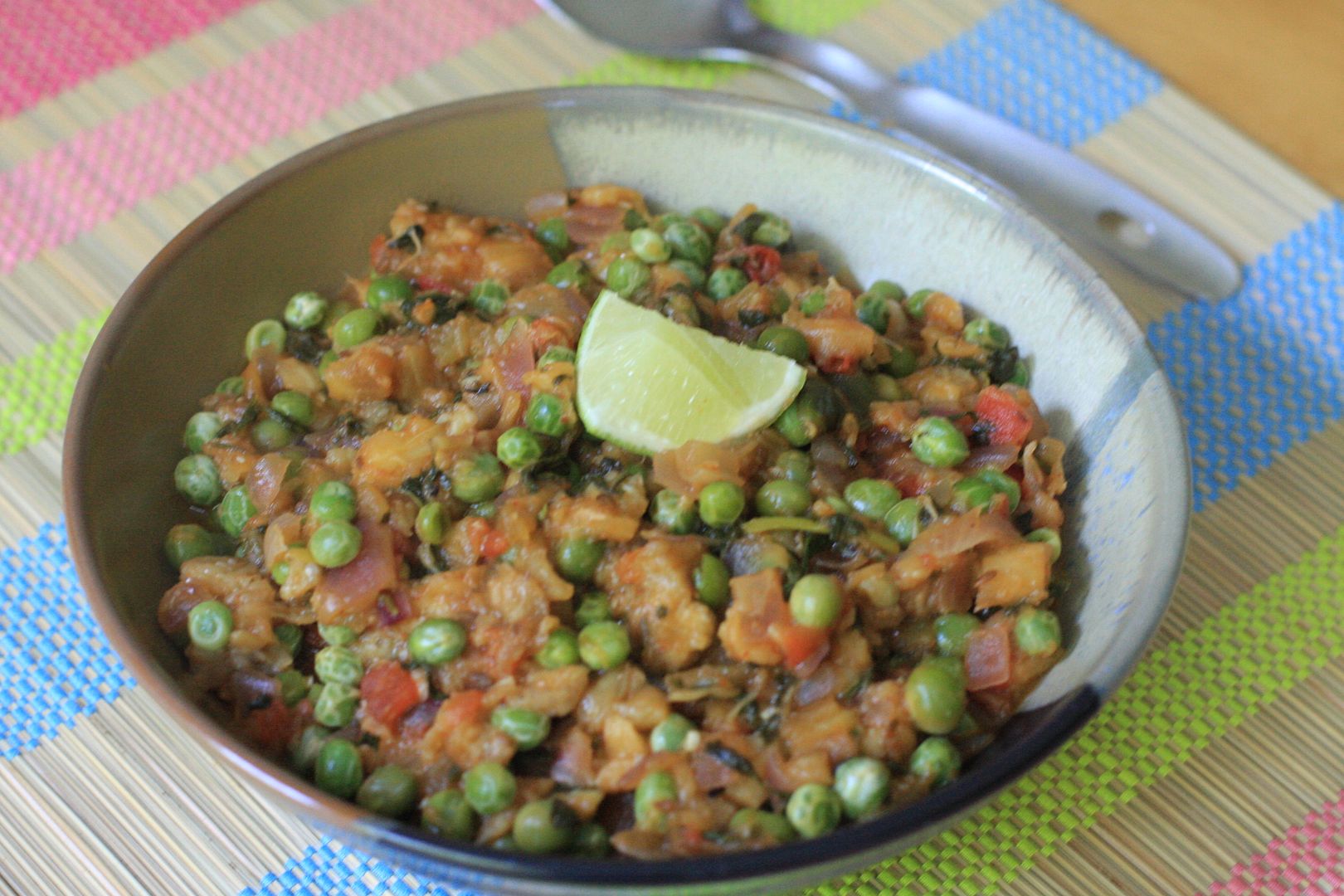 Baingan Bharta - Smoked Eggplant Curry
Preparation Time:20 minutes
Cooking Time:30 minutes
Serves : 4-6
Ingredients


3 eggplants (the medium sized ones)
7 green chilies slit
5 cloves of garlic chopped fine
1/4 cup finely chopped onions
2 inches ginger grated
1 tomato finely diced
1/2 cup coriander leaves
1 1/2 cup of frozen or fresh peas (slightly more but reduce as per taste)
2 tsp coriander powder
1-2 tsp of chili powder
1 tsp garam masala powder (I used curry masala powder
salt to taste
2 tsp of oil
seasonings: cumin seeds


Method


Place the eggplant directly on the burner and let it roast till the skin blisters. Turn around and let all sides roast so the skin comes of easily. By now the eggplant should be mostly cooked and the insides soft.
Place it in a kitchen towel and let it cool. The skin will come off easily after it sweats a bit.
Repeat for all eggplants
In a saute pan heat oil add the cumin seeds and after 30 seconds or so add in the onions and green chilies and let it saute till the onions are translucent.
Add the ginger and garlic and saute for a minute or so and then add the tomatoes and cook till they are mushy.
Add the coriander leaves and saute till the leaves wilt.
While this is cooking get the eggplants ready. Peel the skin off completely (I run the peeled eggplants under water so all the charred skin is cleaned but a wet paper towel will work also.) and make small dices.
Add the coriander, chili and masala powder and give a good mix. Add the peas and the chopped eggplant and salt. If required sprinkle about 1-2 tbsp of water.
Cook covered till the eggplants get completely soft.
Note: I added a bit more peas so reduce the quantity to your liking.
Goes well with chapatis or even rice.
Like what you are reading? Subscribe!