I have always wondered and watched with fascination the ability of women who are able to walk in high heel shoes elegantly without any effort. I might end with broken bones or ankles but won't be able to pull off that feat. The truth is I have never tried and probably never will. You need a certain amount of guts for that don't you?
It has escaped me why anybody would put themselves through such obvious discomfort. A tiny doubting voice in my brain however said that those high heels shoes could be comfortable for certain folks.
Those doubts about the discomfort were put to rest when I caught the tail end of an interview with Chritian Louboutin on NPR. Apparently he is a French footwear designer whose shoes on a simple google search revealed themselves to be close to $1000! That is a lot of money for a shoe whose main objective is not comfort.
Anyway he said he is not designing heels to be comfortable and that a 5 inch heels is not meant to be comfortable. When the interviewer questioned him about the discomfort factor he said that men too wear certain clothing that are uncomfortable like ties for instance. So if comfort and not looks were the most important thing men should be wearing pajamas and women should wear flip-flops or sneakers and not heels.
As for me I am happy the issue of comfort has been put to rest. I'll stick to my comfortable flats and sneakers for now.
Alright let me put aside the shoe talk and move on to the recipe. In my grandparents house the roasting of the eggplants was done over hot coals back in the day when firewood was used for cooking. These days the roasting is done straight on the stove top. Perhaps another reason why this recipe is not done often.
I found some good looking eggplants and this recipe was what came to my mind. A tiny bit of patience is required because it is best when the eggplant is completely cooked while roasting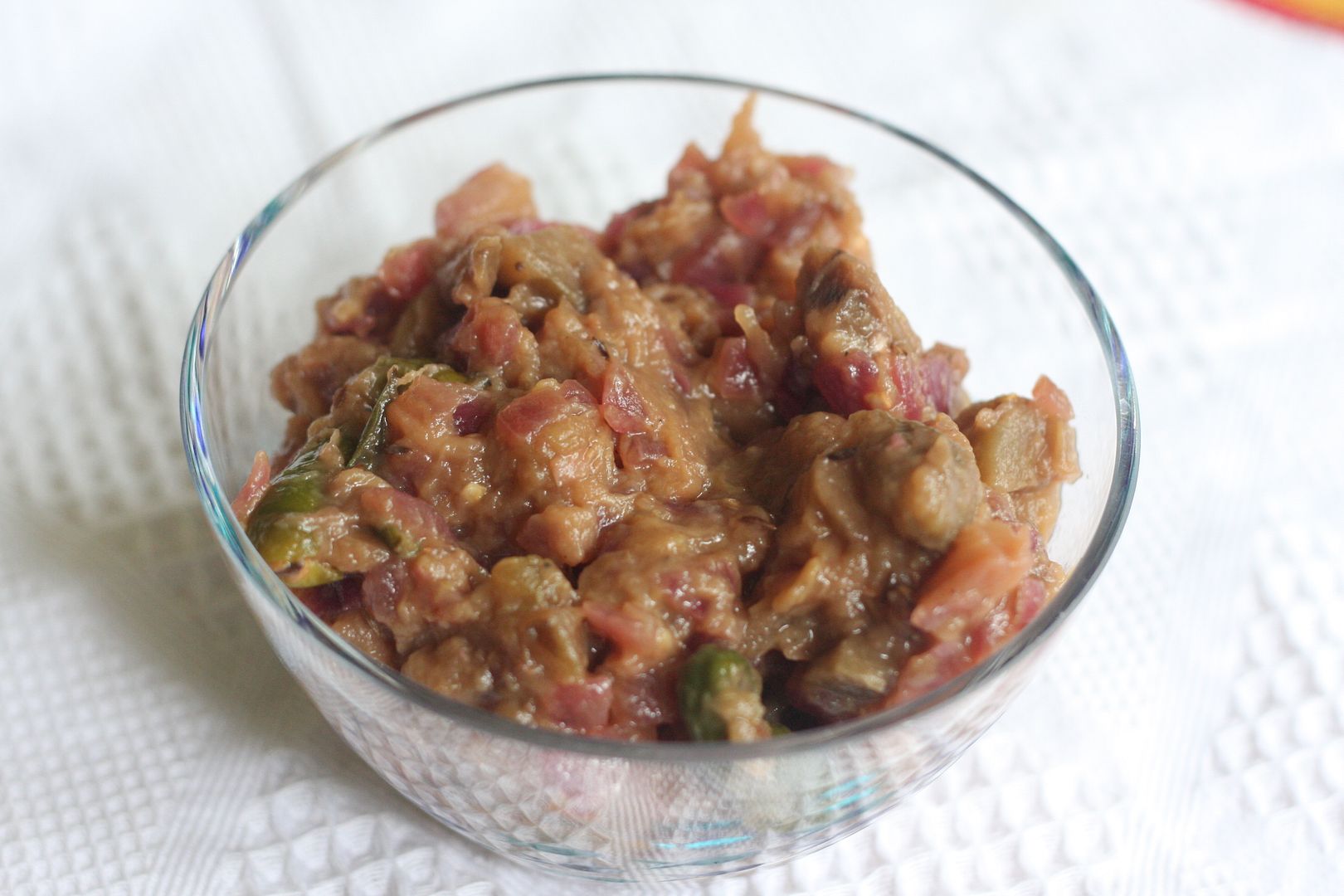 Roasted Eggplants Curry (Sutta kathrikai kuzhambu)
Ingredients
1. 3 Medium sized eggplants
2. 1/2 cup chopped red onions
3. 7-8 slit green chilies
4. 1/4 cup of tamarind juice from a small grape sized piece of tamarind (optional)
5. seasonings: mustard seeds and cumin
6. salt to taste
7. 1/2 tsp oil

Method
1. Wash and dry the eggplant and thread them through a skewer. Place the skewered eggplant on the burner in medium flame and roast. The skin will start to turn black and charred. Cook on all sides. Repeat for each eggplant.
2. Place the roasted eggplants wrapped in a kitchen towel for 10-15 minutes. Once cool the skin should peel off pretty easily.
3. Once peeled chop the eggplant into dices and set aside.
4. In a pan heat oil and add seasonings and when the mustard starts to pop add the green chilies and chopped onion. Saute the onions till they are translucent.
5. Add the chopped eggplants and salt and mix it into the onions.
6. Add the tamarind if using and let it cook for 5-6 minutes. Mix and mash the eggplants with the back of the laddle.

Turn off the heat. Serve with rice.