In India poverty and hunger is right in our face. We learn to respect food at a very young age and wasting in a rich or poor household is just not done. Young or old no one is under any illusion that no one goes hungry. Contrast that to the US where poverty is hidden and should be surprising to hear that in this rich country there are a lot of people who are food insecure and a majority of those are kids.
This is the season of indulgence. Talk of food is everywhere amplified by TV and the media and not to forget food blogs(includes me) giving ideas for fancy dishes to serve to friends and family. While most of us are wondering how to keep those extra holiday pounds from piling on a small thought for those people for whom all this talk of food should be specially hard.
Apparently this food insecurity is affecting all kinds of people. The economic downturn has only aggravated the problem.
Sorry folks bear with me I am not trying to guilt anybody during the holiday season I am just saying please spare a thought. Food Pantries are a great way to contribute. I read that food pantries even in relatively rich areas like the DC suburbs are feeding a record number of people.
The problem with writing a food blog is I get these twinges of conscience every now and then.
Happy Holidays! everyone

.
Now on to the recipe,
This is one of those recipes I have been planning to make for a long time. Whenever I buy kheema (minced meat) I end up making
this recipe
which is a quick and easy. These kheema balls on the other hand had to be planned.
The recipe is based
Cilantro's recipe - Kola urundai kuzhambu/Meatball Curry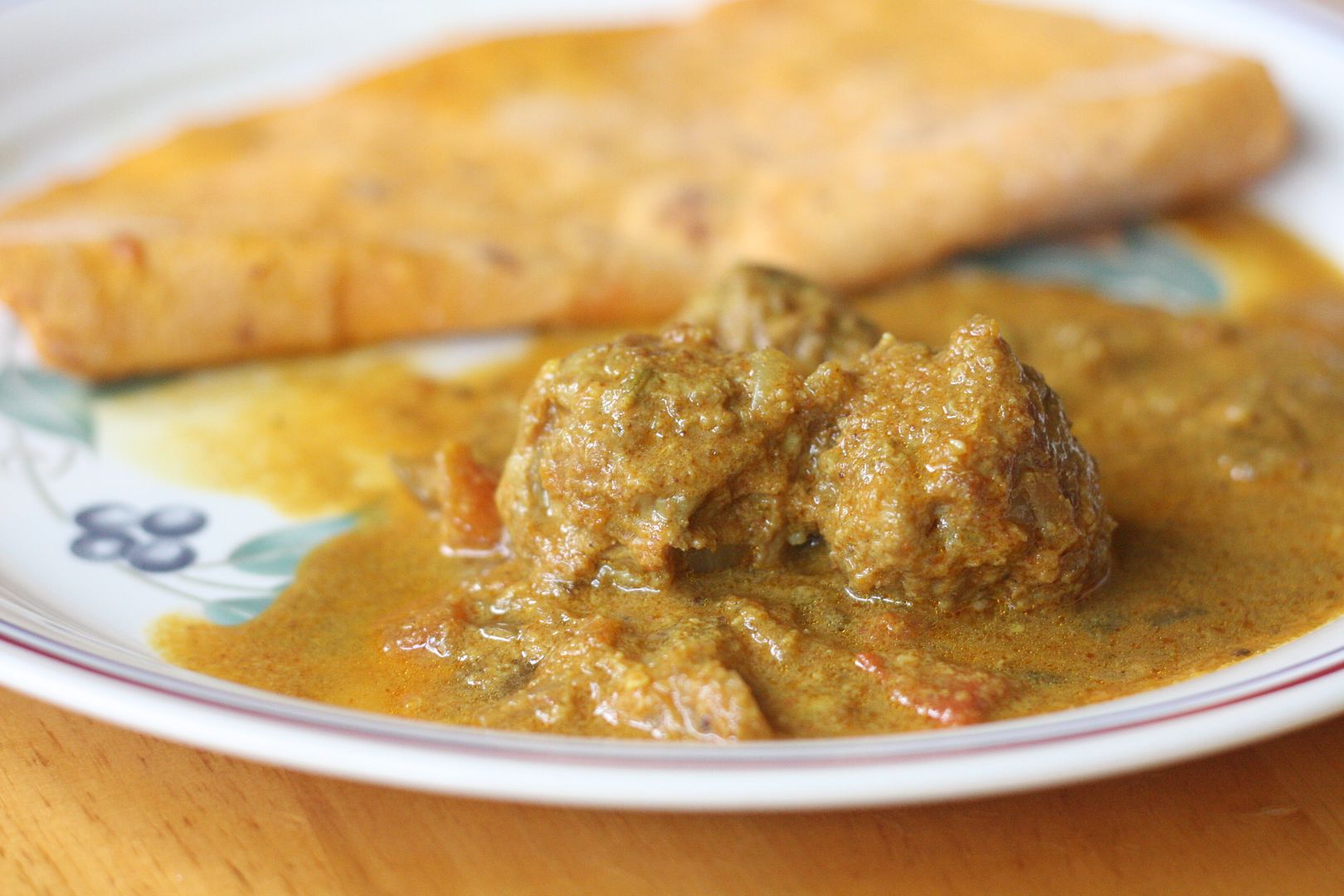 Lamb meatballs in a spicy sauce - Kheema Urundai Kuzhambu
Ingredients
1. 1 lb minced lamb/goat
2. 6-8 green chilies chopped fine
3. 1 tbsp grated ginger
4. 8 garlic cloves chopped

5. 1 big red onion minced
6. 2 juicy tomatoes chopped fine (about 1 cup)
7. roasted cinnamon cloves powder 2 tsp (roast cinnamon, cloves and powder)
8. 2 tsp turmeric powder
9. 1/2 tbsp coriander powder
10. 1/2 tbsp chili powder
11. 1 tsp cumin powder
12. 1/4 cup of grated coconut
13. 2 tsp fennel seeds
14. salt to taste
15. 1 tbsp oil


Method
1. Mix 3 tbsp of chopped onions, half the chopped garlic, all of the chopped green chilies, a bit of turmeric powder, salt into the kheema and make lime sized balls.
2. In a wide mouthed pan heat oil and pan fry the kheema balls on both sides and let the balls brown. Set aside.
3.Add the powdered garam masala powder to the oil followed by the rest of the onions and let them saute till the onions turn translucent.
4. Add in the grated ginger. Saute for about 3-4 minutes.
5. Now add the cumin, turmeric,chili and coriander powders and give a good mix.
6. Add in the chopped tomatoes and let it cook till the oil separates on the sides, about 5-8 minutes.
7. In the meantime blend the coconut with the fennel seeds to a smooth paste (I made it a bit coarse)
8. Add the blended mixture with 2 cups of water and let it come to a boil. Add salt.
9. Now add the kheema balls and let cook for another 7-8 minutes.

Turn off heat. Serve with rice or chapatis.