I was a bit apprehensive when I bought the
whole oats
wondering how I will use them up. I needn't have worried. They were great tasting when cooked in whole and as a substitute for rice in this
recipe
. The next logical step was to try making dosai of course. I initially wanted to try making idlis but the batter was bit too loose and I fermented the batter longer than I should have.
Grind the oats and brown rice. Grind the lentils and mix it salt and let it ferment overnight.
On a dosai pan pour a ladle of batter, swirl it around so it spreads on the pan, drizzle oil on the sides. Let it brown, flip and if required cook on the other side.
Dosai on the other hand being not as picky as idli was the next logical step. Dosai is always my backup plan when I try a batter with a new grain. The surprising this the oats dosai was a lot tastier than the rice dosai according to my family, so much so that they are ready to ditch the rice dosai altogether.
I have some more oats left and I will definitely try making idlis with them. I am not giving up on that yet.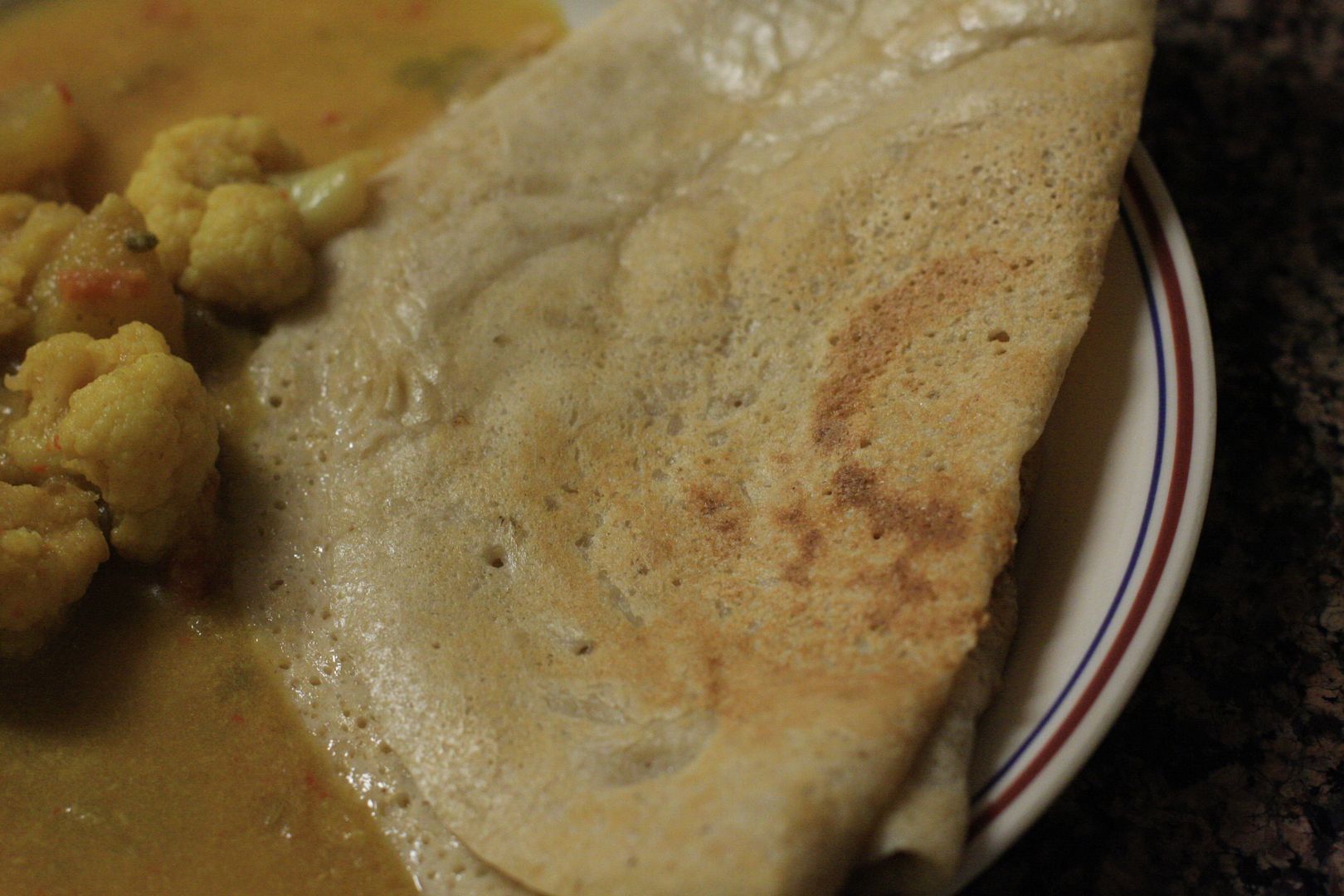 White Oats and Brown Rice Dosai
Preparation Time:overnight soaking and fermentation + 30 minutes
Cooking Time:25-30 minutes
Ingredients


2 cups whole oats groats
1 cup brown rice
1 cup urad dal
1 tbsp methi seeds
salt to taste


Method


Soak the oats and brown rice overnight after rinsing in changes of water till the water runs clear. Add the methi seeds to the brown rice.
Soak the urad dal for about 30 minutes.
Add the soaked oats along with soaked brown rice and the methi seeds to the wet grinder/blender. Grind to a fairly smooth consistency. Remove to a vessel big enough to allow rising and fermenting.
Add in the soaked urad dal and grind it till it doubles in volume about 20 minutes. Remove to the same vessel. Wash out the grinder and pour the water into the batter and mix it with the salt to pourable consistency. Not too thin.
Ferment overnight till it rises. It will not rise as much as the rice batter but will rise some.


To make the dosai


Mix the batter well. Heat a dosai pan and with a cloth spread oil over the pan. Pour a ladle of the batter. Spread in circular motion towards the end of the pan.
Drizzle a few drops of oil over the edges. Cook till you see brown spots appear. Flip and cook on the other side if required. Cooking only on one side keeps the dosai crispy.

Serve with chutney or sambhar of choice. We had them with cauliflower-potato kurma.

Like what you are reading? Subscribe!