I just finished reading the
tome
book
'Cooked' by Michael Pollan
. The book is huge and is not an easy read and it only took a couple of months and more to finish. If you are interested in food and the history of why we cook the way we do, this book is a must read. The book goes into detail about the four elements fire, earth, water and air and how they transform the food we eat.
While fire was fascinating to read about it did not particularly interest me because barbecue was not something I identify with. While water and earth were the sections that I learned the most from and understood the reasons for doing what we do. The section on air and baking made me want to run and bake my own bread and that is not something that comes naturally for me but the section is again very very interesting.
As for earth this is the section that had me completely engrossed. Every food culture has some form of fermentation involved in the foods they eat. Fermented foods are essential for gut health which I have not thought about too much. This lead me to identify the fermentation processes that happen around my house. I counted 2 fermentation processes that happen in my kitchen regularly namely the fermentation of idli batter and the making of yogurt. While pickles are another fermentation process that is carried out in a lot of homes and mine as well though not regularly.
Will you indulge me and let me know what fermentation process you do in your house regularly?
Kurma made with potatoes and cauliflower
An excerpt which caught my eye,
"Cooking sets us apart, helps us to mark and patrol the borders between ourselves and nature's other creatures - none of which can cook." The more we hand over the cooking and meal preparation to food companies aren't we moving closer to the role of animals?
Well now on to the recipe of the day,
Kurma might have its origins in the Mughlai cuisine but every Indian should have it in their cooking repertoire because you never know when it will come handy. There are several ways to make a kurma but over years through trial after trial this is the combination that I most like. It can be used as a side for dosai, idli, chapathis, parathas or pulavs. Though I like potato kurma made this way the best it can be made a combination of any vegetables of choice or even chicken.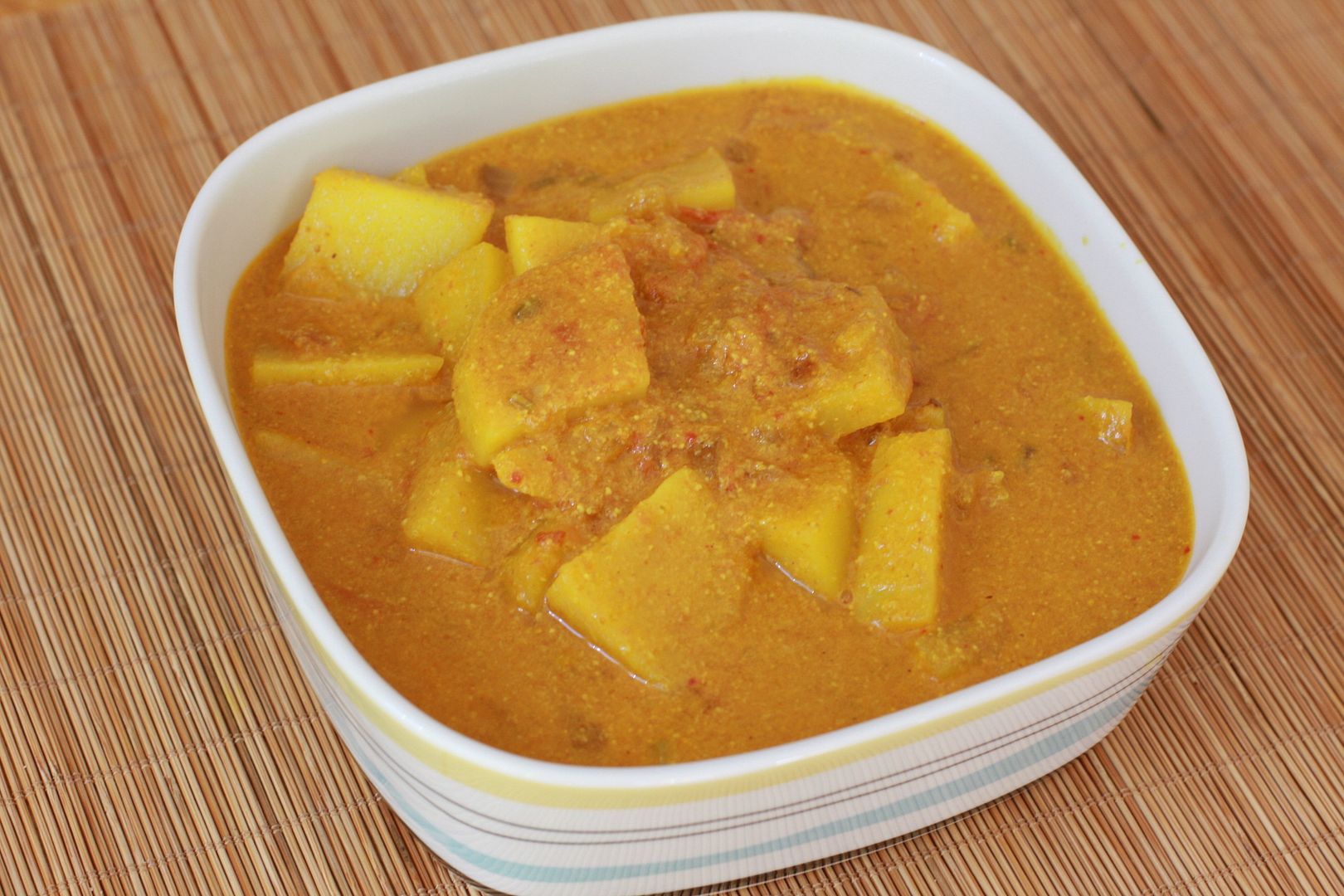 Potato Kurma
Preparation Time:15 minutes
Cooking Time:30-40 minutes
Ingredients


3 potatoes or about 3 cups peeled and cubed
2 ripe tomatoes chopped
1 onions or 1 1/2 cups of finely diced onions
5 garlic cloves
2 inch piece of ginger
8 green chilies (I used the bird chilli variety)
1 tbsp of poppy seeds (kasa kasa)
2 1/2 tbsp of coconut
seasonings - fennel seeds and cumin seeds
2 tsp oil
salt to taste
1/2 tsp of red chili powder
1 tsp of curry powder or any masala powder
juice from 1/2 a lime (optional)


Method


Cover the poppy seeds in water and let it sit for about 1/2 hour.
In a bit of oil saute the garlic, ginger and if required 1 tbsp of the diced onions till they just turn brown. When cool blend with the poppy seeds, coconut and green chilies to a fairly smooth paste.
In a heavy bottomed pan heat the oil and add the seasonings when hot followed by the onions and saute till the onions start to turn brown.
Add the turmeric powder followed by the tomatoes and saute till they get nice and mushy. Add the potatoes and sprinkle a tbsp of water, cover the lid and let it get cooked (about 4-5 minutes).

Now add in the blended mixture along with the chili powder, salt and 1 1/2 cups of water and let cook with the lid open for about 15-20 minutes till the gravy becomes thick. (see note:)





NoteWhen cooking gravies with coconut always leave the lid open else the coconut might split.
Like what you are reading? Subscribe!