Last week after some freezing temperatures we finally got some balmy weather for a couple of days. Like the weather god could not tolerate that the day after a pleasant day in the 60s , some more polar weather set in with some high winds and the temperatures plummeted down over 30 degrees to barely above freezing. Another snow storm on Sunday resulted in 6 more inches of snow.
Just when I had decided that soup weather was out of here. My just recovering throat wanted something hot/spicy and soothing.
I have made this soup with rice as well. Though I would not recommend white rice.
Brown rice
, pink rice or
black rice
- any rice that does not mush too quickly will work. This time I decided to use buckwheat. Buckwheat is much lighter than rice and nutty as well.
Saute the onions, garlic and ginger. Add in the tomatoes and saute till the tomatoes are mushy.
If using buckwheat groats, toast it first.
Add the chicken broth, bring it to a boil. Add in the black beans followed by the toasted buckwheat.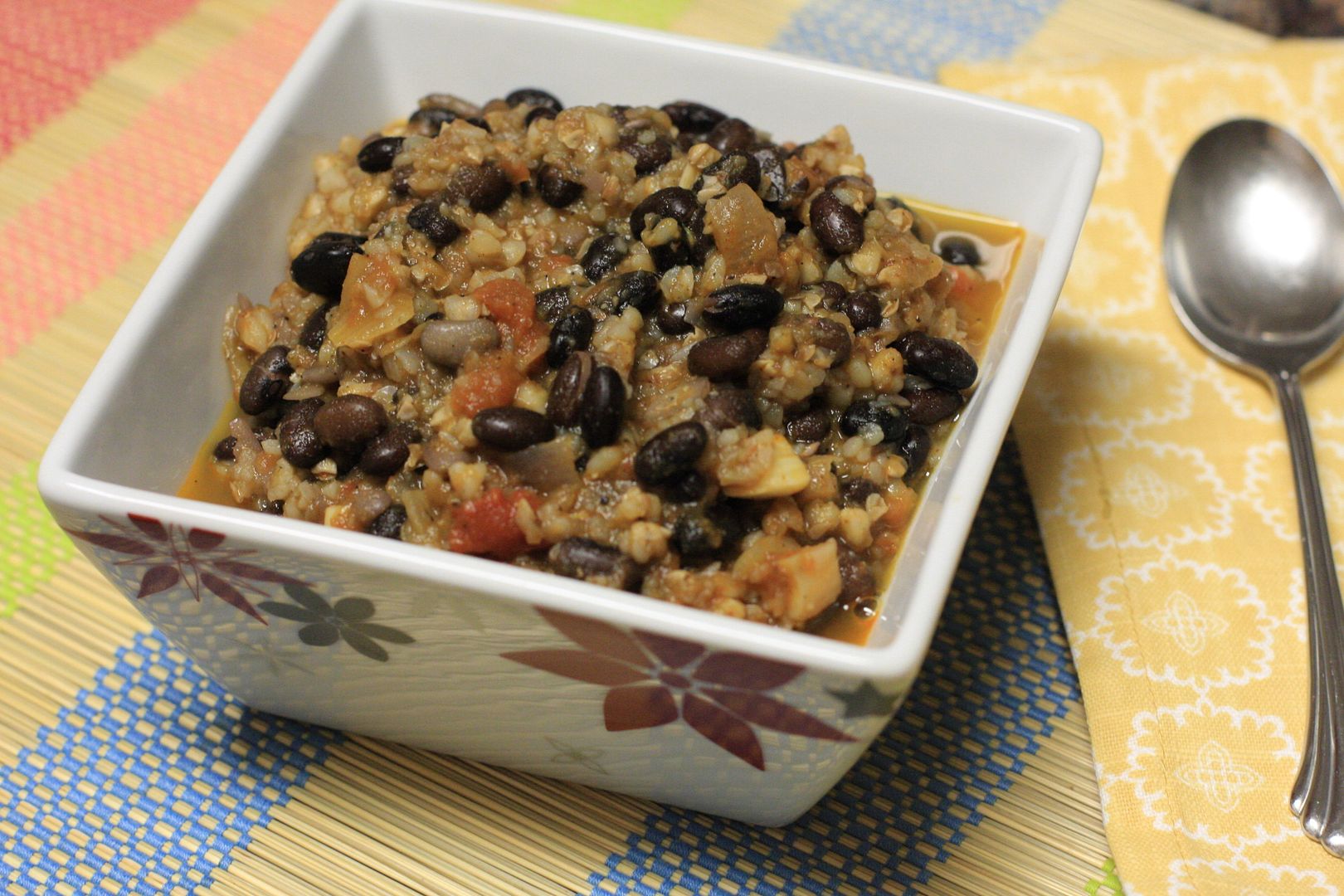 Black Beans with Buckwheat - Hearty Soup
Preparation Time:20 minutes + overnight soaking
Cooking Time:20-30 minutes
Ingredients


2 cups of dried black turtle beans soaked overnight (soaks to about 4 cups)
3/4 cup of buckwheat groats
1/2 red onion chopped
4 garlic cloves chopped fine
2 tsp of grated ginger
1 cup of crushed tomatoes
1/2 tsp of cumin powder
1/2 tbsp of red chili powder
1-2 tsp of black pepper
4 cups of chicken broth of vegetable broth for a vegan version
salt to taste
2 tsp of olive oil


Method


Cook the black beans till soft. I used a pressure cooker.
Heat a stock pot or Dutch Oven and heat the oil and when hot add the chopped onions. Saute till it is translucent. Add in the garlic and ginger and saute for a minute more.
Add in the cumin and red chili powder.
Add in the tomatoes and let them saute and turn mushy, about 3-4 minutes.
Meanwhile toast the buckwheat till they are nice and toasted, the buckwheat will start to change color. If using kasha which pre-toasted buckwheat, no need to toast.
Once the tomatoes are nice and mushy add in the chicken broth and bring it to a boil. Add in the cooked black beans and the buckwheat.
Let it simmer on medium high heat till the buckwheat is nice and soft. Add salt. By this time most of the liquid should be absorbed. Turn off the heat.
Like what you are reading? Subscribe!