I have looked at them with relish but unable to taste. The bright red color gives the appearance of heat and my mouth start to water. I have seen home made ones, restaurant ones and take out ones and they all look tasty and delicious. But I have never tasted them.
I figure you have guessed by now that I am talking about meat sauce. Meat sauce is usually made with beef and I don't eat them. I have watched it being cooked on TV so many times that I could do it in my sleep. So on my last visit to the
Dutch (Amish) market
I bought some minced turkey meat.
This is one recipe everybody should have in their repertoire for those nights when you want taste but don't want to work too hard. Substitute with any minced meat that suits you.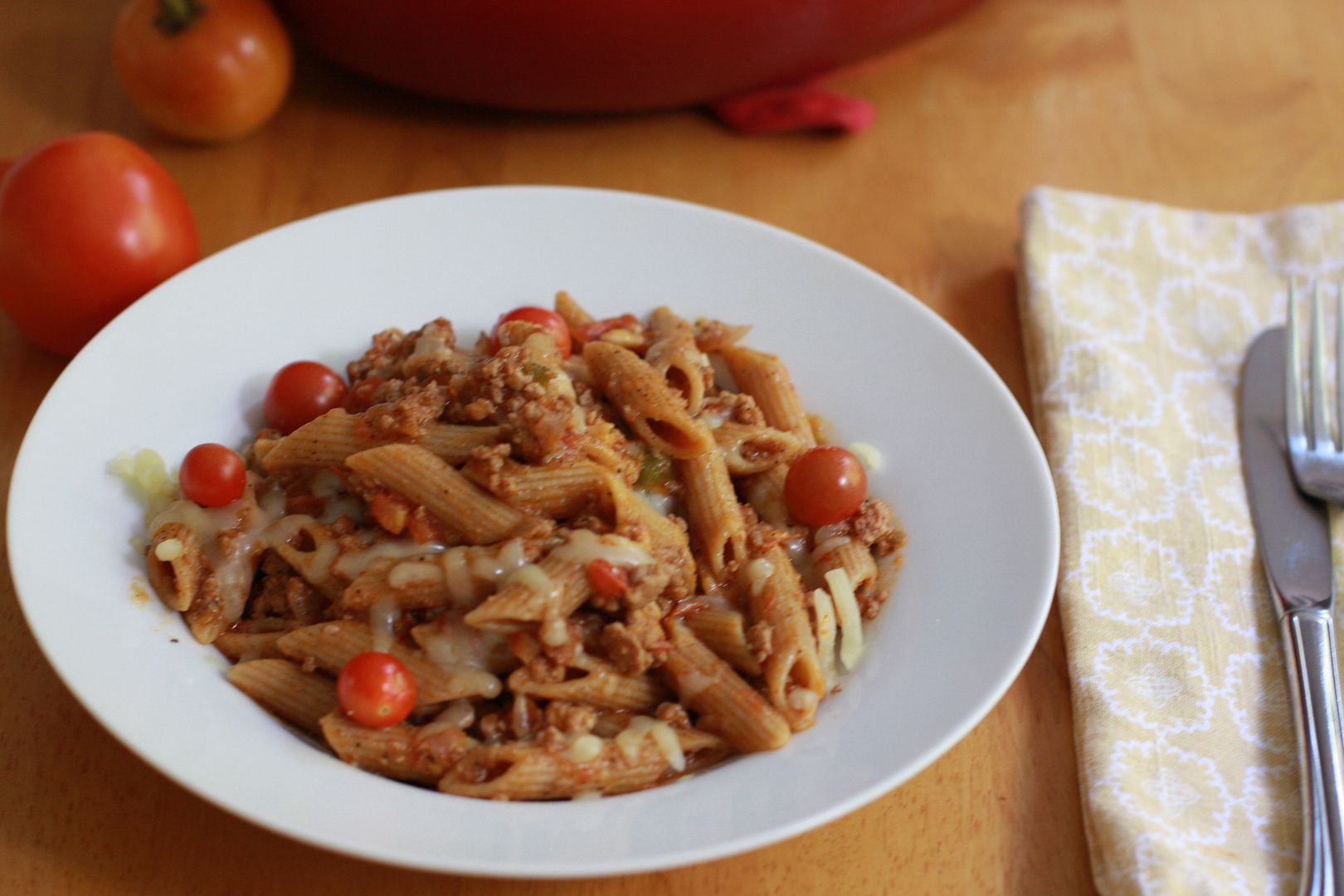 Spicy Turkey Meat Sauce with Penne Pasta Preparation Time:10 minutes Cooking Time:25 minutes Ingredients

14oz box of whole wheat penne pasta. (for 4 people dinner + 1 person lunch I used a little less than 3/4th of a box)
3 medium sized tomatoes about 1 1/2 cups of finely diced tomatoes
4 cloves of garlic crushed
1 cup of finely chopped red onions
2 chipotle in adobe sauce (remove seeds and chopped fine)
2 tbsp of chopped jalapeno picked peppers or diced bell peppers - 1 cup
1 lb of minced turkey
1 tbsp of olive oil
1/2 tbsp of paprika
Salt to taste
shredded cheese - (used shredded mozzarella cheese)

Method

In a dutch oven or a wide mouthed pan heat the olive oil and when hot add the garlic and onions and saute them till they become translucent.
Set the pasta to cook as per the package directions.
Now add the minced turkey and continue to saute till it is almost cooked and turning white and slightly browned - about 8-10 minutes
Add in the paprika, salt and saute for another minute. Now add in the tomatoes and let it become soft and mushed.
Add in the diced chipotle and jalapeno and let it cook for another 3-4 minutes.
Add in the drained pasta and mix it in gently into the sauce.
Sprinkle with shredded cheese before serving.