'Asari' Chicken literally translated means carpenter chicken. Carpenters mostly worked on the construction sites where they were engaged in making windows, doors, cupboards and what not. Most often than not they were traveling to these people to work and hence did not have the luxury of going back home for a meal I am guessing. Which perhaps is what brought about this simple no fuss yet tasty recipe. Talking of carpenters reminds me of an incident from long ago. It was when my parents were building their house and had carpenters making the windows, doors and other wooden things required for the new house. They had a thatched shed in the backyard where a few of them worked but one I remember is an elderly gentleman who never missed a day of work. I spent a lot of my free time in the shed playing with their tools. They were pretty damn sharp the tools I mean and had quite a few accidents when I tried my skills at carpentry which perhaps hid well from my parents. Anyway one day the elderly gentleman was sick with fever and cold but he still showed up for work. I asked him why he hadn't the taken day off for which he replied it was better not to feed the sickness and just continue with the everyday activities and that it will cure the sickness faster. I always try to remember this whenever I fall sick. Asari chicken reminded me of the incident and the one asari and his advice which I will never forget. I try not to feed the illness but who doesn't like to get under the covers when you have a terrible cold and it is raining and cold outside? Quite a few people mentioned asari chicken when we visited India this time. My aunt gave me the list ingredients for the chicken which is can be counted on one hand. Looks like this simple recipe is starting to get popular again not only in KonguNadu areas but everywhere. With absolutely no fancy spices this simple chicken tastes surprisingly delicious.
| | |
| --- | --- |
| | |
I can think of a few different modifications that would have been done by a few different people if they had cooked this recipe. My mom would have added green chilies instead of the red. If it had been my paternal grandmother she would have added black pepper. A few variations could be easily made if you prefer one form of pepper over the other.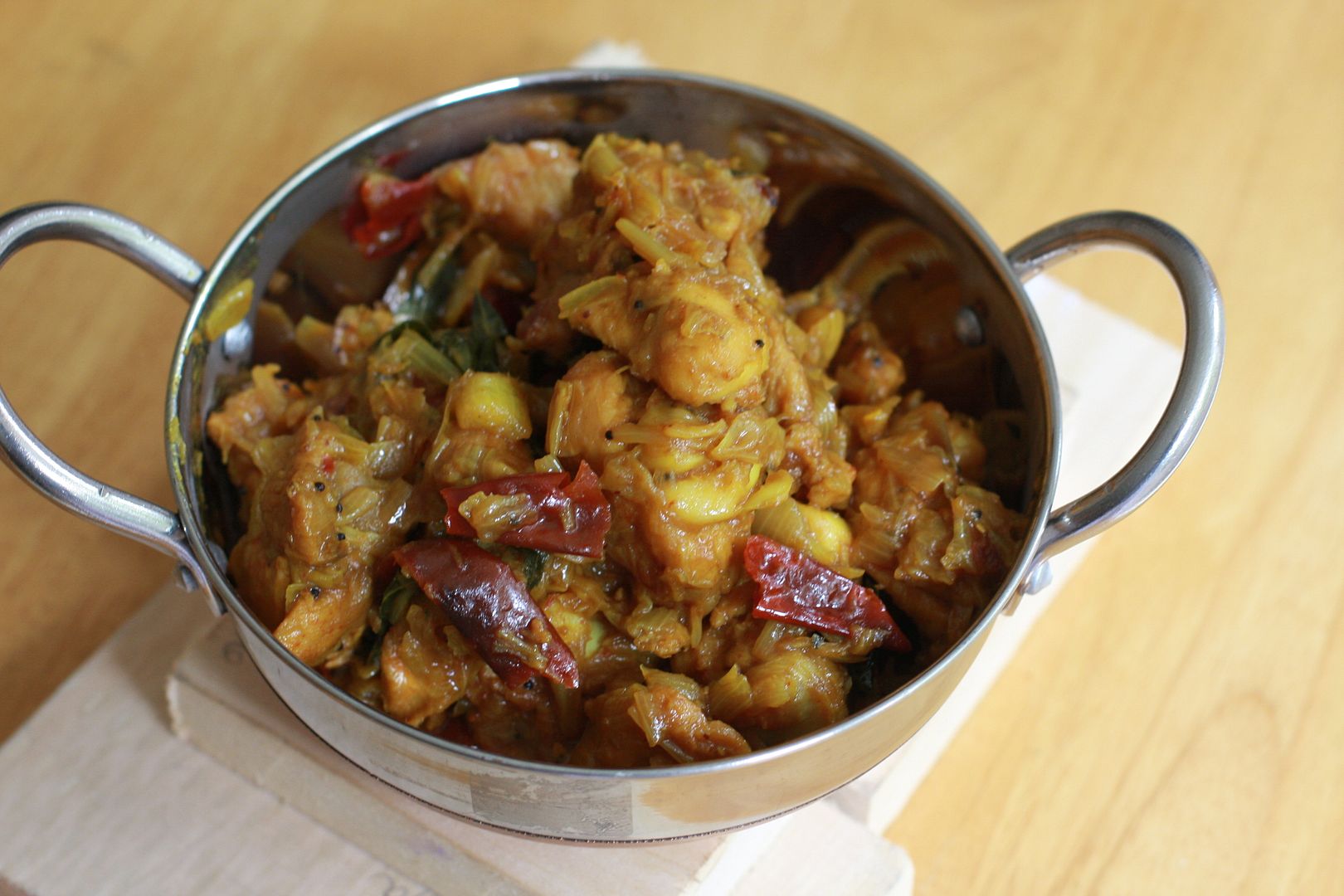 Asari Chicken Preparation Time:15 minutes Cooking Time:20 minutes Ingredients

1 - 1 1/2 lbs of chicken (I used thigh) cut into bite sized pieces
1 1/2 cups of chopped onions (I used shallots)
10-12 red chillies split in half and seeds removed or split green chilies or 1 tbsp pepper powder or a combination
seasonings: curry leaves and mustard seeds
salt to taste
2 tsp turmeric powder + 2 tsp red chili powder
3 tsp of oil

Method

Wash and marinate the chicken with turmeric powder, chili powder and a bit of salt.
Heat oil in a pan and add the mustard seeds and curry leaves followed by the chilies and onion. Saute till the onion starts to turn translucent.
Add in the chicken and saute on high heat till the chicken turns white. Add salt and bring down the heat to medium and continue cooking till the chicken is cooked through and the moisture has evaporated.

Serve with steamed rice.