Karuvadu or dried fish is either delicacy or a smelly preparation that makes you hold your nose. Growing up I would never have been exposed to these tasty morsels of fish if not for my neighbor(lovingly known as peiamma). I do not remember the taste but only a vague remembrance of having eaten it there. I am afraid karuvadu is not as popular in the Kongu regions of TamilNadu where we moved to after the first few years of life in Madurai where we could get all kinds of seafood. Add to this my mom's vegetarian side of the family whose food preparations and habits is what I have largely adopted it is even a wonder I have the guts to cook dried fish in my own kitchen. If not for the love of fish I would not have gone any where near it. I purchased some
dried seer fish
from a Srilankan store when I went there with my friend. From fish sambol to seeni sambol and everything fish in between my occasional visits to this store is well worth it. Since these dried fish are heavily salted they need to be appropriately cooked for it to be tasty. Every region in Tamil Nadu has its own version of dried fish kuzhambu. Here is mine. I added brinjals because brinjals and dried fish like a match made in heaven are so good together. Even drumsticks would be a good addition but I decided to give it a pass. Karuvadu is something I would not cook very often but occasionally having the house smell a bit fishy is not a bad thing. From wrinkling her nose at the smell of the fish to enjoying it DD2's range of emotions from when I started cooking it to when she tasted it and asked for more is the typical reaction of most people tasting this for the first time. For those who are worried about the smell it is only initially when it starts to cook then there is hardly any noticeable smell. I watched this you
tube video-Vathalagundu Karvadu kulambu
and that is what propelled me into the kitchen to cook the dried fish I have been saving for close to a year. I used some ideas from there but it was kind of surprising the cook did not use any tamarind. To keep it vegetarian skip the dried fish add more shallots, a few pieces of drumsticks and a potato or beans like val(mochai).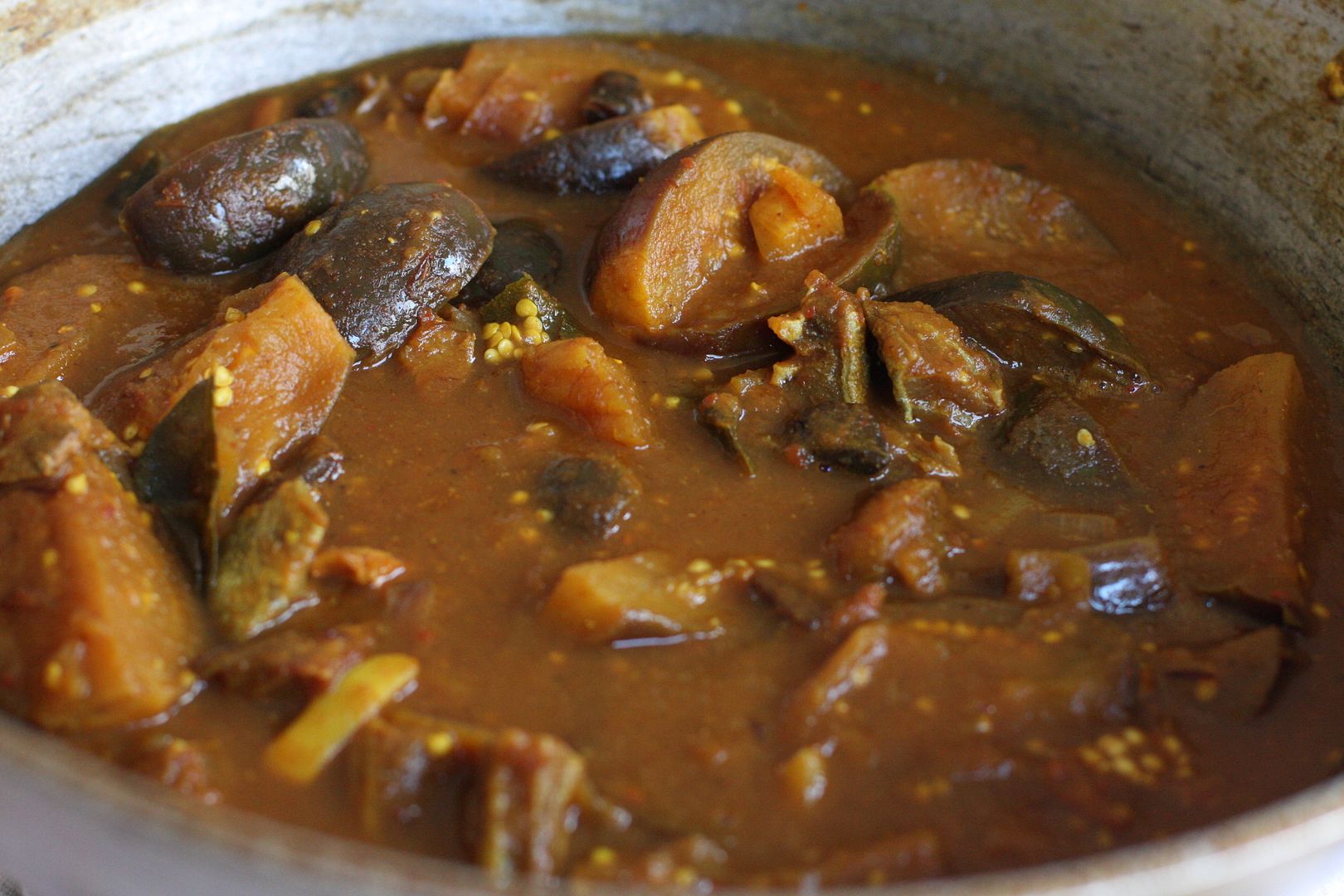 Karuvadu Kathrikai Kuzhambu - Dried fish with brinjals sour and spicy curry Preparation Time: 15 min Cooking Time: 30 min Ingredients

200gms of dried fish (I used Seer dry fish)
small purple brinjals 6-8
4-6 garlic cloves sliced
3/4 cup of shallots diced
1 tomato sliced
6-8 red chillies
1/2 cup of thick tamarind pulp
1/2 tbsp of kuzhambu thool or sambhar powder
1 tsp red chili powder (optional)
1 tsp turmeric powder
2 tsp of jaggery (optional but brings out the sour and spicy taste of the curry)
salt to taste
2-3 tsp of oil
seasonings: mustard seeds, curry leaves and fenugreek seeds (methi)
roasted and powdered fenugreek powder about 1/4 tsp

Method

Masala Paste
In a pan add a tsp of oil and saute 1/2 cup of the onions and red chilies and saute till the onions are brown, add in the tomatoes and saute till they are mushy. Cool and blend to a smooth paste adding a tiny bit of water if required.
In a wide mouthed pan heat the rest of the oil (2 tsp) and add the seasonings, first mustards seeds followed by the rest.
Add the chopped onion and saute till translucent followed by the garlic and saute for a couple more minutes.
Add in the dried fish and saute it in the oil for about 3-4 minutes and fish them out. ( I do this because the brinjals have to cook and don't want the fish to fall apart).
Now add the slit or cut brinjals and let them saute for 3-4 minutes or till brown spots appear on the brinjals. Now add in the masala paste and tamrind juice and 1 cup of water and let them come to a boil. Simmer till the brinjals are cooked and the sauce thickens a bit.
Add in the fish pieces and check for salt in about 5 minutes and add more salt if required and the jaggery if using. I like to add a tiny bit to any tamarind based curries.
Sprinkle the powdered fenugreek (methi) powder and turn off the heat.

Absolutely have to serve it with steamed rice. Tastes even better the next day.