Have you seen the new Kaiser advertisement? If you haven't here is a
link
. The theme of the ad is to find a physical activity that matches you. Most advertisements bother me, this one I happen to like and has prompted me to write this post.
I am at the risk of repeatedly repeating myself when I say how physical activity has really helped me both me both physically and mentally. I am not that fond of running, jogging, doing yoga or aerobics. Swimming is another matter altogether. Winter blues are just around the corner and activity is what helps keep it at bay.
A long time ago when I started working as a software drone I developed severe to moderate lower and upper back pain. I was young and posture did not matter or so I thought. Slouching and bending the back into a question mark did bad things to the back.
I kind of fell into swimming and in a few short months the back pain completely disappeared. Swimming also stimulated my brain into positive thinking and alertness. I strongly recommend swimming as a cure all for most back related ailments.
for the wet masala
This theory was confirmed when I caught a program on PBS during their fund raising drive. In the a show a doctor was talking about the most common ailments and how one's lifestyle can help control them. He mentioned that a vast majority of adults young and old suffer from back pain, some chronically and Aqua therapy is known to provide relief from back pain and keep it away.
Anyway this summer our swimming pool closed for about 3 months. I tried walking but it worked best with a partner. When my friend wasn't around it was almost impossible to garner the enthusiasm. Luckily my mom was here and she loved to walk. So that sustained me for some time. I truly enjoy the sights and sounds of the early morning walk but unfortunately it is not my thing. Like my friend would say it costs nothing and the benefits are enormous.
The first day I returned to the pool I felt like I had reconnected with my long last friend. I think the activity you choose should be able to give you satisfaction and joy. I know I am lucky to have this indulgence. Swimming pools with clean water is not a luxury that is available to most people.
All the more important to find an activity that suits the budget and the part of the world you live in.
So what is your favorite activity? Do you do it regularly? Do you have a partner who spurs you along?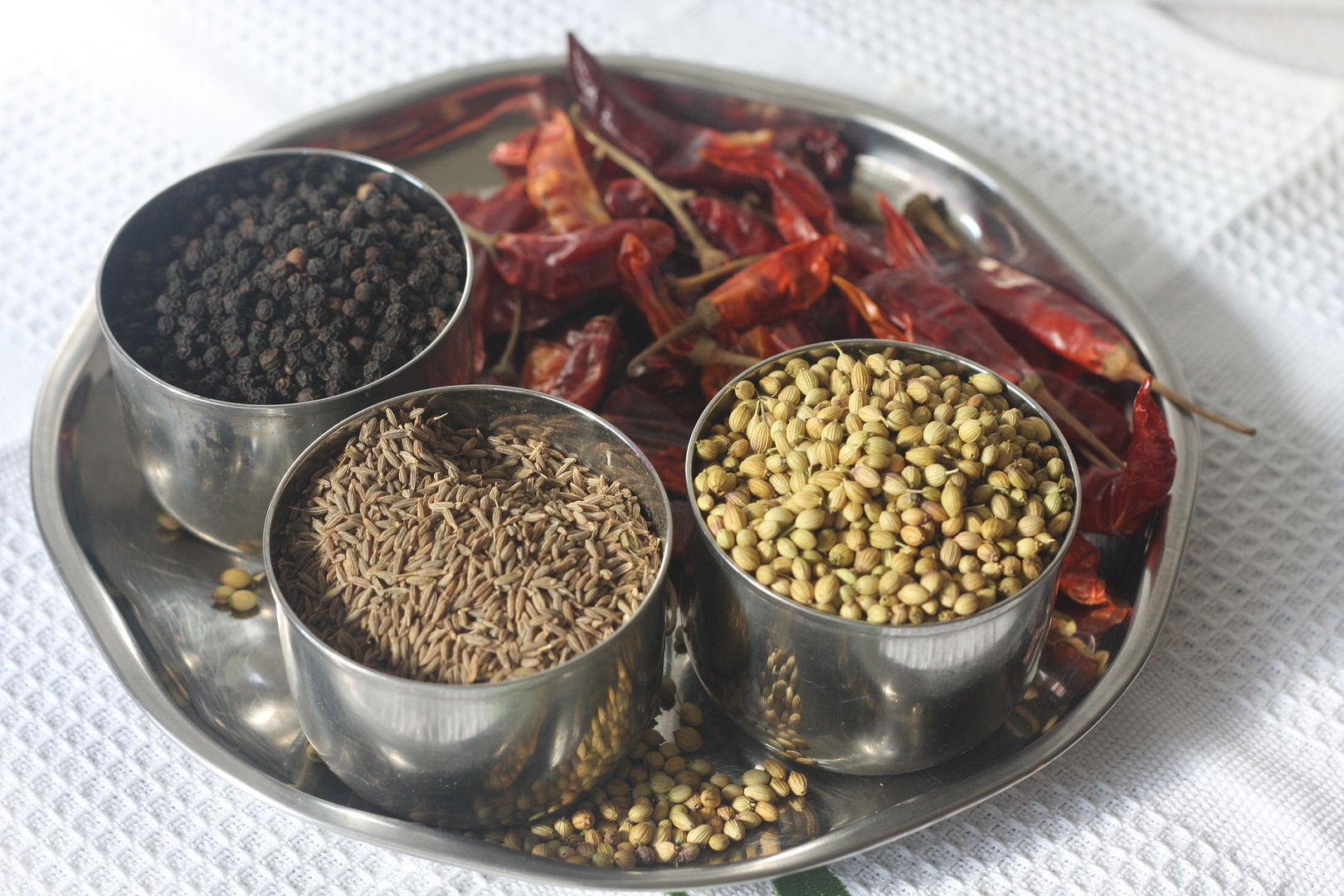 for the dry masala
Now on to the recipe for this pantry essential which if on hand cooking Indian food is not all that hard. I prefer to make my own so I can add/subtract the spices that I want/don't want. Well thanks to my mother, she made this spice powder just before leaving to India to make my cooking tasks easier in the evening rush.
I know Indian cooking seems a daunting task to a lot of people. Most non-Indian or maybe a few Indians as well assume it is hard because of the long list of ingredients or they take their cue from restaurants and think the food has to be orange and greasy.
Indian cooking is very methodical and easily adaptable. If you have the basic ingredients and techniques they are interchangeable and can be used with most kinds of vegetables. The gravies or curry can be saucy or dry or soupy and can be adapted to suit any palette.
I assure you that armed with these two simple masala mixtures Indian cooking should be an easy task.
Dry Masala Powder - Kuzhambu Thool
Ingredients
1. 1 Cup dry whole coriander seeds
2. 1/4 cup cumin seeds
3. a little less than 1/4 cup black pepper corns
4. 15 dried red chilies

Method
1. Dry roast the coriander seeds first and when they start to turn a shade darker or are heated through set aside
2. Roast the cumin and pepper corns slightly for 3-4 minutes till they are heated through set aside
3. Roast the red chilies till they just start to turn color, set aside

Cool the above and blend to a fine or coarse powder as per your liking. Store in airtight container. Keeping them in the fridge makes it last longer.

Now on to the wet masala which can be frozen. The ingredients listed below can be used for 3 recipes for a family of four.
Wet Masala mix
Ingredients
1. 1 medium sized onions cut into dices (about 1 - 1 1/4 cups worth)
2. 8 garlic cloves peeled and chopped
3. 2 inch piece of ginger peeled and chopped
4. 8-10 dry red chilies
5. 2 tsp of oil

Method
1. In a wide mouthed pan heat oil and when hot add the onions and roast till they are translucent. Add in the garlic and ginger and let them saute till the onions start to turn color.
2. At this point add in the red chilies and let saute for 2-3 minutes

Cool and with as little water as possible blend to a smooth paste. Cool completely. Freeze 3 tbsp worth of this paste in separate containers. I got about 4 servings worth.

Thaw the invidual frozen portions and curry is ready in less than half an hour.

Note:
The red chilies listed here are make for mild curries. The heat is also dependent on the type of red chilies used.

A chicken curry recipe using the dry and wet masala coming up soon...