July has been the hottest month since record keeping began in 1895 it was announced yesterday by NOAA. Just as records are being broken and new ones being set in the Olympics, heat records have been breaking all across the US this summer. While breaking Olympic records are a good thing, heat records though is scary bringing with more severe storms and drought.
Trees are being chopped down and forests cleared at an alarming rate to make way for ranching,farming and building houses. While this is common all across the world the rate at which farm land is being taken over to build houses in India especially TamilNadu which I saw first hand during the recent visit seems to be going over the roof. It is simply astonishing how in a plot of land where one small house stood is being converted to multi-floor multi-family dwelling. As DD noted there is hardly any trees to notice till we hit Kerala border.
Then if the population keeps
increasing like it is predicted to
, where is the land to grow food to feed the growing multitudes?
Well smarter brains around the world are perhaps thinking about how to solve this problem. I will stick to giving steps about how to make this recipe.
The combination of snake gourd and lentils is something I learned from
this blog
. Back then val beans or hyacinth beans were not readily available in the Indian grocery stores hence
this attempt with horse gram
.
Fast forward to today when all kinds of beans including val and horse gram are easily found. I found a bag of split val beans and some fresh snake gourd and proceeded to make this.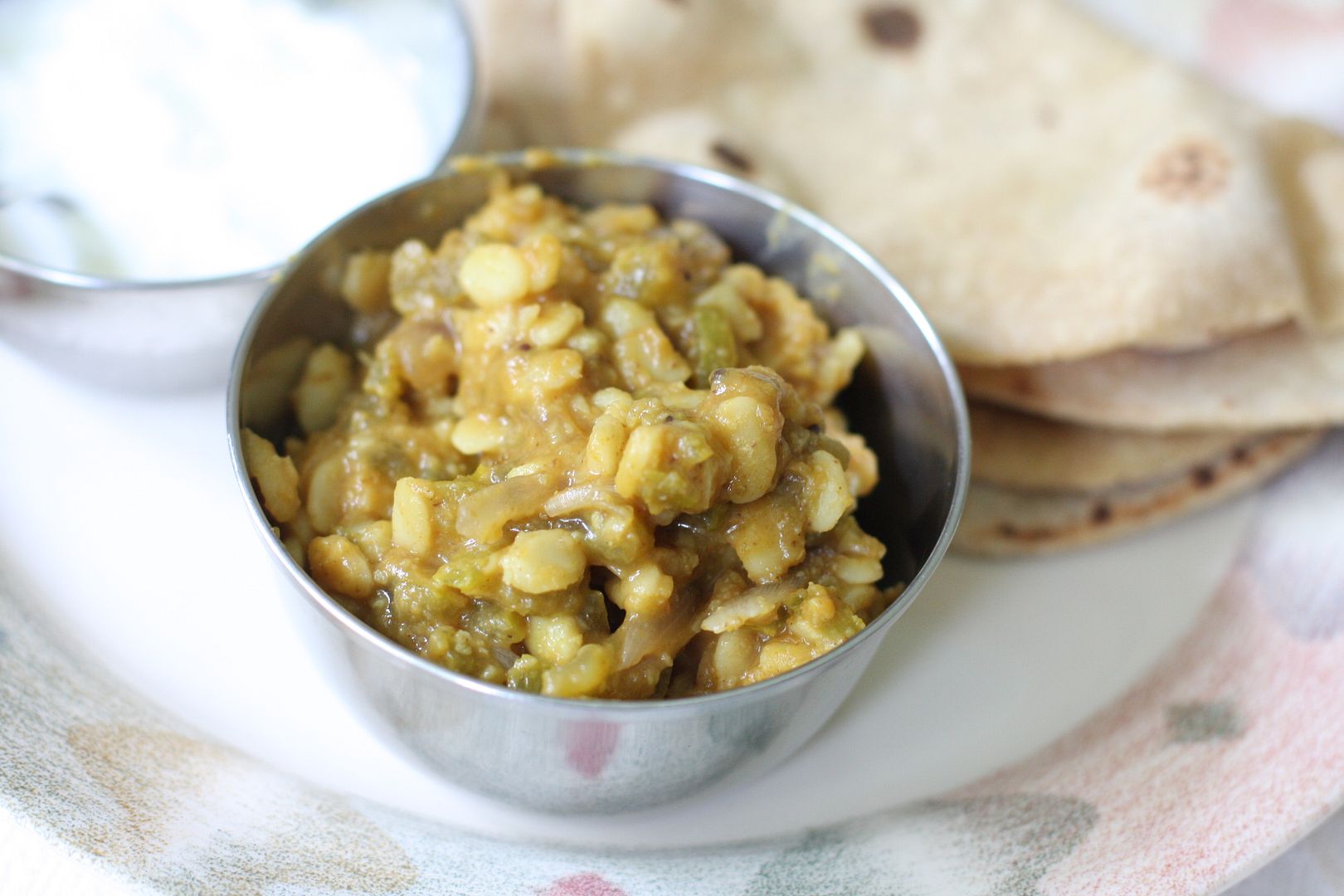 Snake gourd with Split Val Beans
Ingredients
1. 2-3 Snake gourd (about 2 cups when sliced)
2. 1 1/2 cups of split val beans
3. 1 1/2 cups of sliced red onions
4. 1 tbsp sambhar powder
5. 1/2 tbsp of coriander powder
6. 2 tsp of turmeric powder
7. 2 tsp of oil
8. salt to taste
9. seasonings: cumin seeds, mustard seeds, curry leaves

Method
1. Slightly scrub the outside of the snake gourd, split remove the seeds and slice into thin strips.
2. In a sauce pan or kadai combine with 1 tsp turmeric powder a tbsp of water and let cook till it is half cooked (should not be soft and falling apart).
3. In another sauce pan set the val beans to cook. They should be completed cooked and firm but not falling apart.
4. In a wide mouthed pan add the oil followed by the seasoning. Add in the onions and saute till they are translucent.
5.Add in the cooked snake gourd along with the sambhar powder, coriander powder and turmeric powder. Mix well and let cook for a couple of minutes.
6. Add in the drained cooked beans, salt and maybe a tbsp of water if too dry and let cook for another 6-8 minutes.

Goes very well as a side dish for any Indian bread.

Note:
1. The resulting dish can be dry or slightly soggy as per your requirement. Avoid water if you want a dry curry.
2. A slight crunch to the snake gourd makes it even more tasty.