A couple of years ago we visited my cousin in Florida. He cut up a few mangoes and it was the first time I had tasted mangoes that were both tasty and aromatic in the USA. From the aroma to the taste they were close to the ones we get in India. But I am not really a good judge because I have been away from the mango season in India for a long time now. A colleague of his who has these mango trees in her backyard brings them to the office. The mangoes apparently disappear as soon as she brings them in. I forget what each one cost though. There is no chance that some of those excellent mangoes were going to reach our neck of the woods anytime soon.
But around here we make do with yellow mangoes. Last week we bought home a case of Champagne mangoes.
Champagne is also called Ataulfo mangoes and come from Mexico
. These yellow mangoes the best in terms of texture without the strings that are common in most varieties of mangoes available here but with none of the mango aroma with which ripening mangoes announce their presence back home. If we did not take a peek every now and then we would have just missed the ripening of these mangoes altogether.
I like the mangoes when they are fully ripe but not mushy and that is the texture you want for this salsa. The inspiration and recipe for this salsa is from this
article in Mother Jones magazine.
If mangoes are not available in your neck of the woods or you want to go local use Peaches when they are in season like the article suggests. I am going to try some Peach salsa once peaches are in season here.
DD2 suggested adding plums to the mix. In India where the Mango season is just starting sky is the limit for this recipe.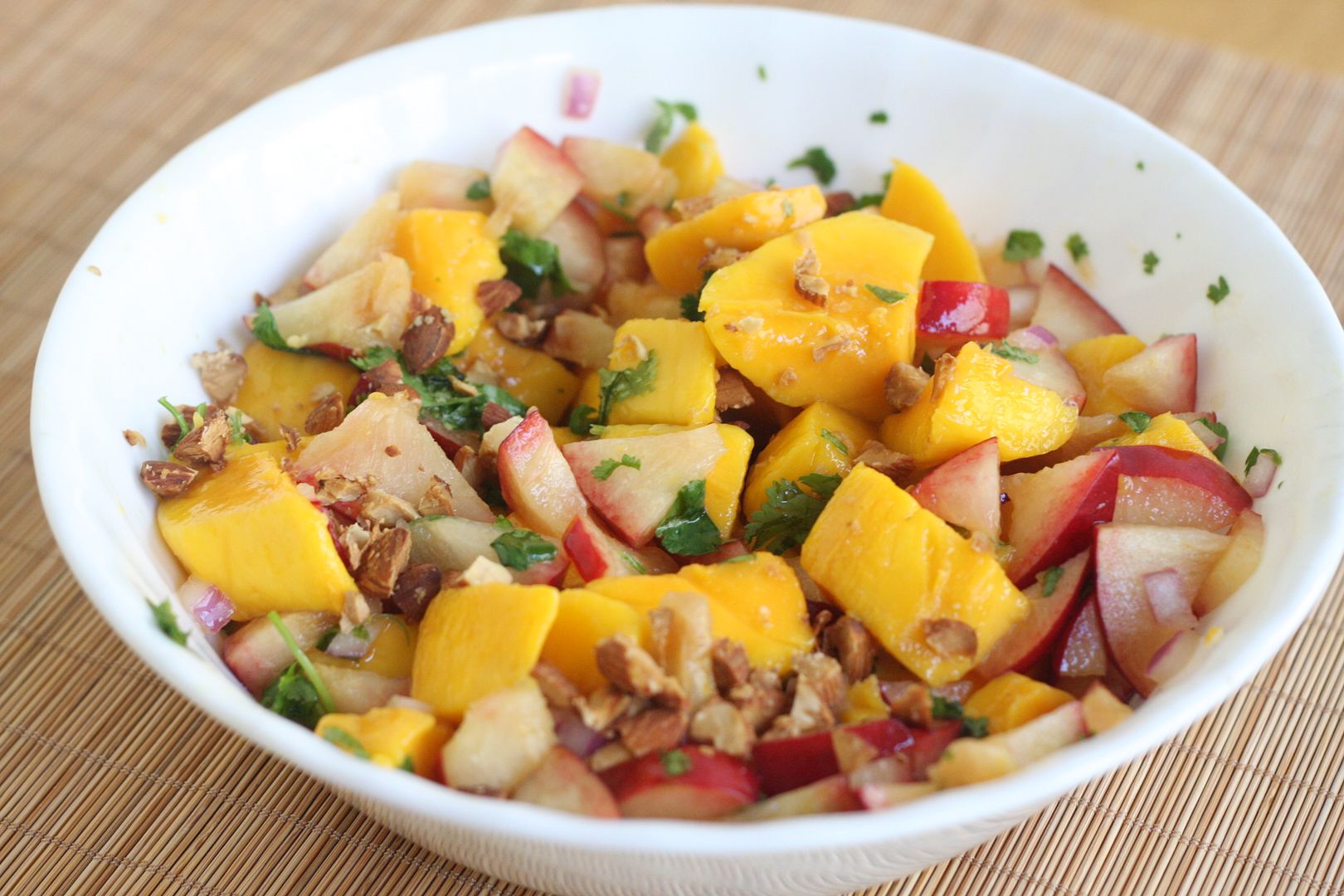 Mango and Plum Salsa
Ingredients
1. 2 ripe mangoes peeled and diced (I used slightly bigger dice about 1 inch)
2. 2 plums pitted and diced (the ones I used where slightly sour) - optional (see Note)
3. 1 tbsp minced red onion (add more if needed)
4. 1 garlic minced ( I did not add this)
5. 2 green chillies seeded and minced
6. 1 tbsp chopped coriander leaves
7. 2 tsp lemon juice + 1/2 tbsp lime juice
8. a pinch of salt
9. 1 tbsp roasted roughly chopped almonds (purely optional, see Notes)

Method
1. Take the minced onion and add the lime and lemon juice and salt to it and let it sit for a few minutes. This removes the pungent raw onion taste and smell.
2. Now mix together mango, plum, green chilies into the lime and onion mixture. Give a good toss.
3. Let it sit for 20-30 minutes.
4. Sprinkle the nuts just before serving.

Note:
1. The slightly sour taste of the plum added one more dimension to the taste.
2. The amount of onions can be increased as per preference
3. I skipped the minced garlic altogether because of the smell and taste of raw garlic.
4.Skip the nuts if you do want them. But the provide the crunch.