The other day I was in the grocery store standing in front of the red machine which loans movies(DVDs). As I was browsing through the list of movies a group of teen age girls stopped by the machine. They peered over my shoulder while one came close and peppered me with questions like "What move are you renting?" I said I am looking to to see what I should rent. She replied "Do you want a romantic comedy?" for which I said "No I am still looking to see what I should rent".
She continued "Tell me what you want to rent?". I did not have a movie in mind and was hoping to read the synopsis displayed and decide on one that I would rent. At that point I was beginning to feel a bit harassed and told her, that I am going to browse around a bit and decide for myself what I was going to rent. She turned to her friends and said in a slightly injured voice said "I was only trying to help".
Believe me when I say I really liked her coming to help. Kids these days are so hesitant after being repeatedly told not to talk to strangers and giving them the feeling that everybody is out to hurt them. So a teenager stepping up to talk to a stranger is a good thing.
The reason I brought up the story is I feel like the teenage girl when i keep repeating that sambhar made with green especially chard, methi and even collard greens taste only next to drumstick sambhar in terms of taste.
The slightly bitter taste of the greens, the tangy taste of tamarind and the spice from the sambhar make it a unique combination. We like to eat the sambhar with idlis but it tastes equally good with rice. You got to take my word and try this one alright?
If Chard leaves is what you like, here is the recipe link -
Swiss Chard Sambhar
.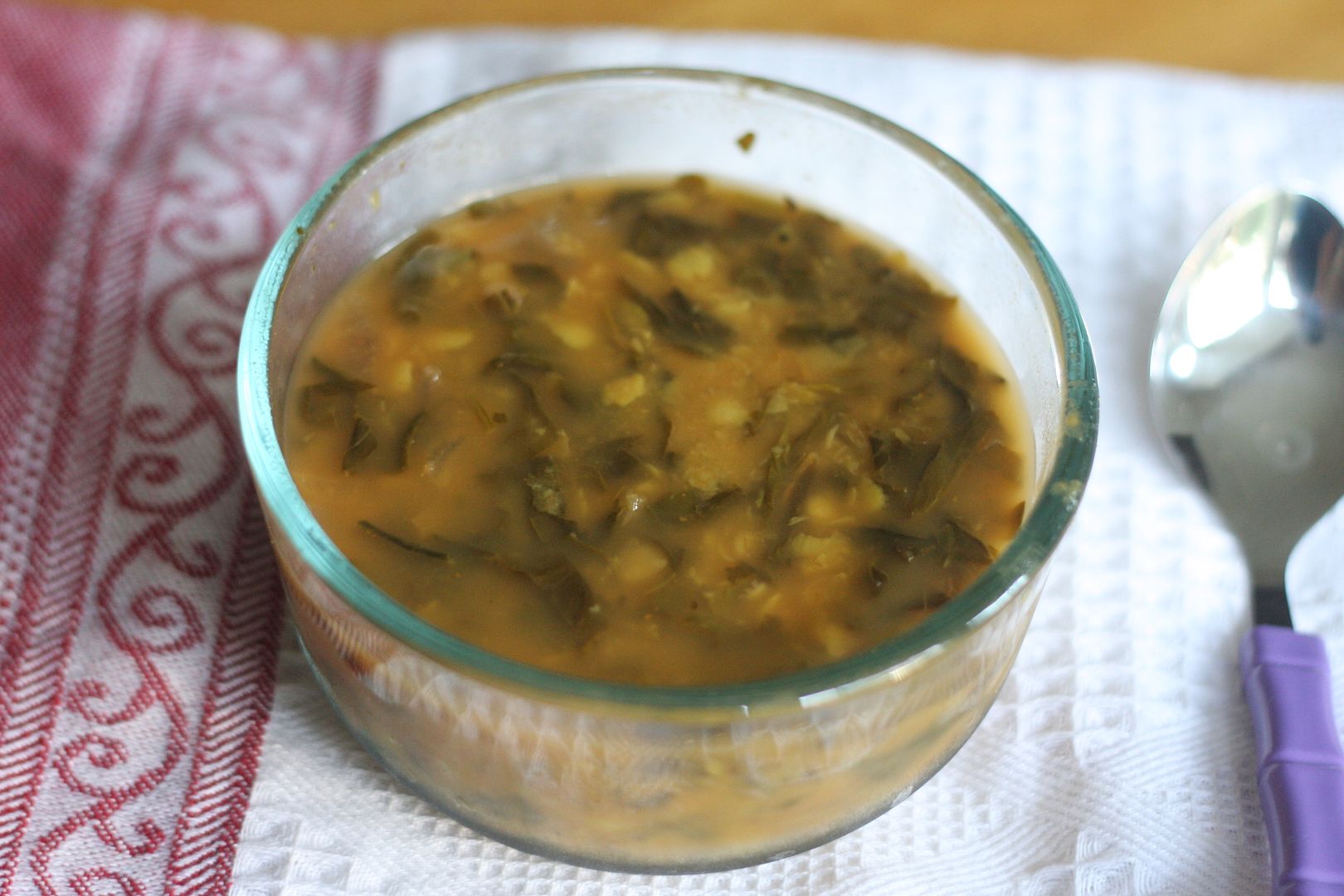 Methi and Collard greens sambhar
Ingredients
1. 1 Cup toor dal washed, turmeric powder, drops of sesame oil
2. 1/2 onion chopped fine (or shallots sliced fine, these are the ones used back home)
3. 1 bunch of fresh methi leaves, leaves picked + 1 cup of collard greens (optional)
4. 1/4 cup tamarind extract from small lime sized ball of tamarind.
5. 1 tbsp sambhar powder
6. seasonings: curry leaves, mustard, asfoetida a tiny bit, cumin and methi seeds
7. 1 tsp oil, salt to taste
Method
1. Add toor dal to the pressure cooker with 2 cups of water, a pinch of turmeric powder and few drops of sesame oil and cook for 2 whistles or if cooking on a stove top cook till soft and falling apart.
2. Transfer the contents to a container, now in the same cooker heat the oil add the seasoning, saute the onions till translucent.
3. Add the methi leaves and collard greens and saute them for about 4-5 minutes and add the sambhar powder and mix together.
4. Now add the tamarind extract and mix well. Cook for 8-10 minutes till the leaves are cooked.
5. Mash the toor dal and add it to the cooker and if the dal is too thick add one more cup of water. Add salt.
6. Let cook for another 6-8 minutes.

Serve with rice or idlies.
Note: Use chard leaves if you do not have methi or collard greens. Or substitute one for the other.