Generally during summer boxes of mangoes are piled high in the Indian grocery stores. For an expat Indian it is hard to move away from a pile of mangoes without buying a few (dozen?) though we all are well aware of the frustration that comes with buying them. Some are downright tasteless and without fail stringy needing a floss or tooth brush for immediate relief. Don't get me wrong there are several varieties of stringy mangoes back home and each one has a purpose meaning the stringy ones are held in the hand, skin peeled with the teeth and the pulp sucked out. Try doing that with the mangoes you get here!
Last summer a friend brought a few mangoes over, her husband in his enthusiasm had bought 2 crates of mangoes all ripening at the same time, I thanked her and took them over to the fridge (they were well ripe but absolutely no aroma, keep a ripe Indian mango in the fridge and see what happens). The next day I sliced them without expectations, but everything changed when we popped them in our mouth, maybe not so sweet but absolutely unstringy with a texture like avocado. I for one had found a mango that I liked. The new international market that opened close by has been carrying them regularly. If you are curious they are the yellow Mexican mangoes.
Indira
had chanced upon them recently and enjoyed them, I could understood her happiness perfectly.
Cooked onions, cauliflower and chick peas
Last week the pricey Alphonso mangoes have started appearing in the Indian grocery store, with the price tag of $34 for 11 mangoes, don't ask me why 11 and not a dozen. I was tempted but my cheap $.59 perfectly fine yellow mangoes came to mind along with
Ottolenghi's recipe with mangoes and chickpeas on the Guardian newspaper online
.
I had about 1 1/2 cups of soaked chickpeas sitting in the fridge, a cauliflower and mangoes all ready to go.
Back home ripe mangoes have been sliced, juiced, sorbeted, ice creamed but rarely have they been used as creatively as the Western chefs tend to use them in salads and main courses. In my parts salads are not that popular so mangoes not appearing in salads (I am not talking about fruit salads here) is not all that surprising. But the combination of spice, sour and a sweet mango all in one mouthful is hard to describe but a pleasure to experience. If you know otherwise please feel free to set me right. I for one thing am not talking about green/unripe mangoes. There are numerous recipes using those which we all know and love.
Spinach and mangoes added in
The recipe called for curry powder, which I do not have nor buy so use any masala powder you like or substitute with a combination of coriander powder, red chili powder, pepper and cumin powder and just use 2 tsp of the mixture.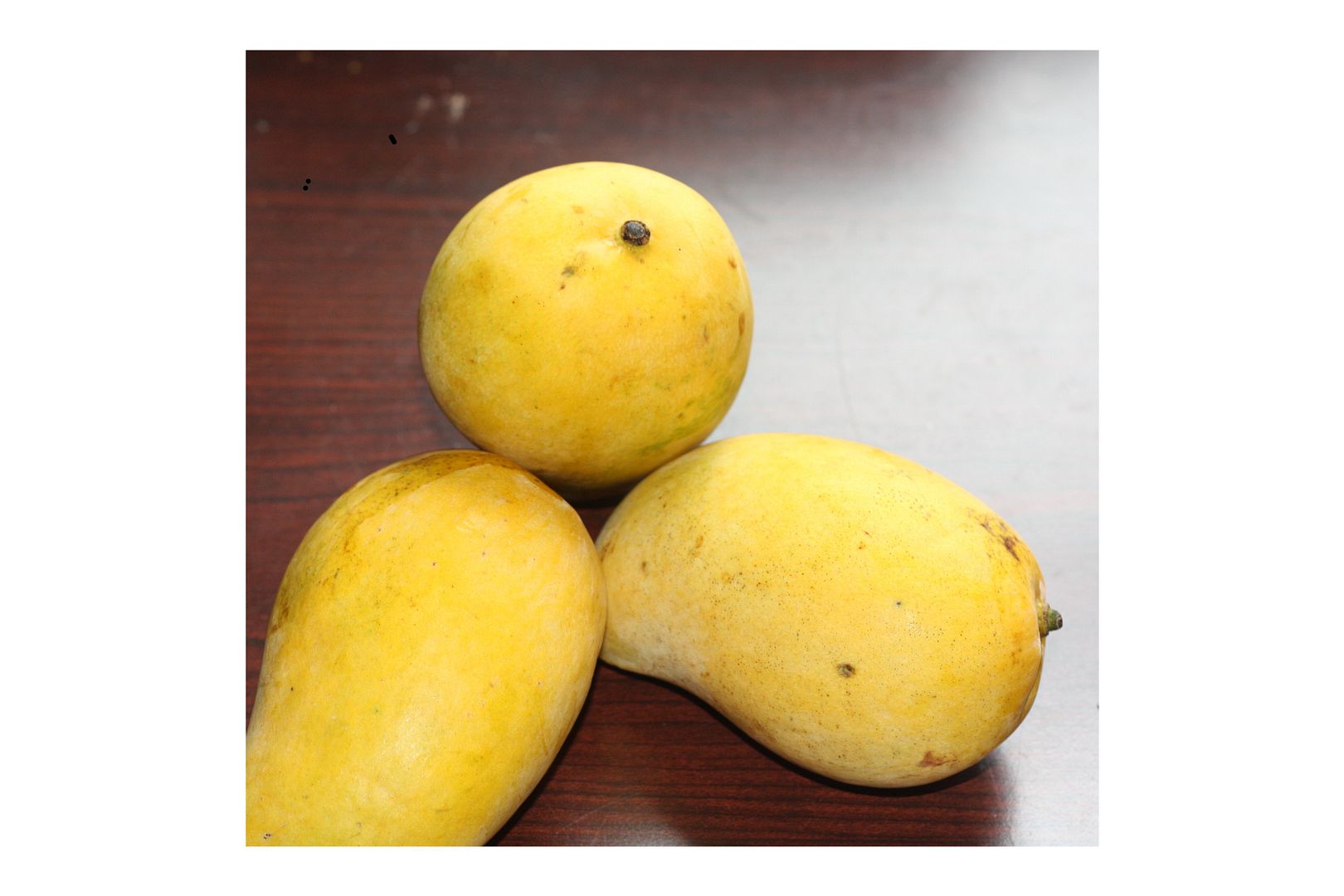 Yellow mangoes
The delight in this recipe is the taste of the fresh ripe mango pieces so don't attempt it if you do not have mangoes.
Adapted from:
Yotam Ottolenghi's alphonso mango and curried chickpea salad recipe
Curried Chickpeas with mangoes, cauliflower and spinach
Ingredients
1. 1 1/2 cups chickpeas soaked
2. 1 1/2 cups of cauliflower cut into small florets
3. 1 1/2 cups of cubed ripe mangoes (2-3 mangoes)
4. 3/4 cup of sliced red onions
5. 2 cups of loosely packed fresh spinach
6. 2 tbsp of lime juice
7. 1 1/2 tsp of turmeric powder
8. 2 tsp of masala powder (I used the chicken masala powder I had on hand)
10. salt to taste
11. 1 tsp of sugar
12. Roast and powder 1 tsp coriander seeds, 1/2 tsp cumin seeds and 1 tsp mustard seeds)
13. salt to taste
14. 2 tsp oil
15. fresh coriander leaves for garnish

Method
1. Cook the chickpeas to tender and set aside
2. Blanch the cauliflower in boiling water for 2 minutes, drain and set aside
3. In a pan(wok) heat oil and when hot, add the onions and saute till they are translucent.
4. Add the powdered mixture and all the powders, salt and sugar and mix it in well
5. Add in the cauliflower and let the spices coat them, now mix in the chickpeas and give a good toss and turn off the heat
6. Mix in the mangoes, lemon juice and spinach when ready to serve.
7. Sprinkle coriander leaves on top

Great as a salad or as a side for rice or chapatis


I am going to send this off to
MLLA - 23
an event hosted over at
The Well-Seasoned Cook by Susan
who is also the founder of this even and my kind of person with her love of all things beans.