Thanksgiving holiday is by far our most favorite holiday and no doubt we are eagerly looking forward to this year's. Back home, Pongal or the harvest festival was by far the most anticipated festival. Yes, even when compared to Deepavali. In my mind, Deepavali is more a urban celebration whereas Pongal is a truly rural agrarian festival and Thanksgiving reminds me much of the Pongal celebration of giving thanks. Food wise the celebrations are very different, Pongal spread does not include any meat.
Over the years we have arrived at our own custom way of celebrating this much loved holiday. Besides celebrating at home, few years we have celebrated thanksgiving at friends' houses both Indian and American. Turkey invariably takes center stage and depending on the nationality of the host there would be several other dishes from their home country as well. We are not particularly fond of the baked whole turkey. Cooking it for 4-5 hours for sake of tradition and not particularly enjoying eating it and having to deal with leftovers for days on end did not seem appealing.
So here is a menu that I consider would be a good Thanksgiving meal. We would start the day with a good breakfast/brunch. This would be either idli / dosai or paniyaram with a chutney or kuzhambu that the kids enjoy.
Coconut chutney
being their most favorite. The tomato kuzhambu that I am going to present here coming a close second. The thanksgiving spread, depending on the crowd would have few or more items.
1.
Chicken biryani
or Mutton biryani
2.
Chicken Kuzhambu
or Mutton Kuzhambu
3.
Rasam
4. White Rice
5.
Raita
6. Cranberry Sauce
7. Pie and ice cream
What is a Kuzhambu?
Kuzhambu is the Tamil word for curry(for a lack of a better term). Kuzhambu has a pourable texture and could be thick to watery, usually as a side eaten mixed with rice or a dip for breads.
My brother was visiting us over the weekend and when we decided to cook some mutton, he showed me this recipe -
Puduvayal Kari Kuzhambu
. It was tasty no doubt. I usually pressure cook the mutton before making curry or biryani, it speeds up the cooking process while putting to rest my concern about not cooking the meat enough.



Pudhuvayal Kari Kuzhambu




Ingredients


1. 2 1/2 lbs Mutton
2. 2 Medium sized red onions - 1 1/2 cups worth
3. 6 green chilies
4. 8-10 garlic cloves chopped
5. about 2 inch piece of ginger grated
6. 1 tbsp freshly roasted and powdered coriander seeds + 1/2 tsp fennel seeds
7. 1/2 - 1 tbsp red chili powder
8. 4 tsp turmeric powder
9. 2 tsp cumin powder
10. seasonings - star anise, fennel seeds, curry leaves, marathi moggu (it is a long stick shaped)
11. 1 tbsp tomatoes ( i used minced cherry tomatoes)
12. 2-3 tsp oil
13. salt to taste



Method


1. Wash and clean the mutton. In a pressure cooker take the mutton, half the onion, half the garlic cloves roughly chopped, split green chilies, half of the ginger chopped, turmeric powder, pepper powder and 1 1/2 cups of water and cook for 2 whistles. (depending on the quality of the mutton the cooking time may be longer)
2. In a flat bottomed pan (kadai), heat oil and add the seasonings and when they turn color, add the rest of the onion and saute till they start to brown.
3. Add the rest of the chopped garlic and grated ginger and saute, don't let them stick to the bottom
4. Retrieve the mutton pieces but reserve the liquid and add to the pan and saute for a few minutes
5. Add the turmeric, chili, coriande + fennel and cumin powders and mix it well.
6. Add the tomatoes and give a good mix.
7. Add the reserved water, salt and let it cook for 8-10 minutes.
8. Remove from heat now or reduce a bit more.

Serve with rice. Absolutely delicious.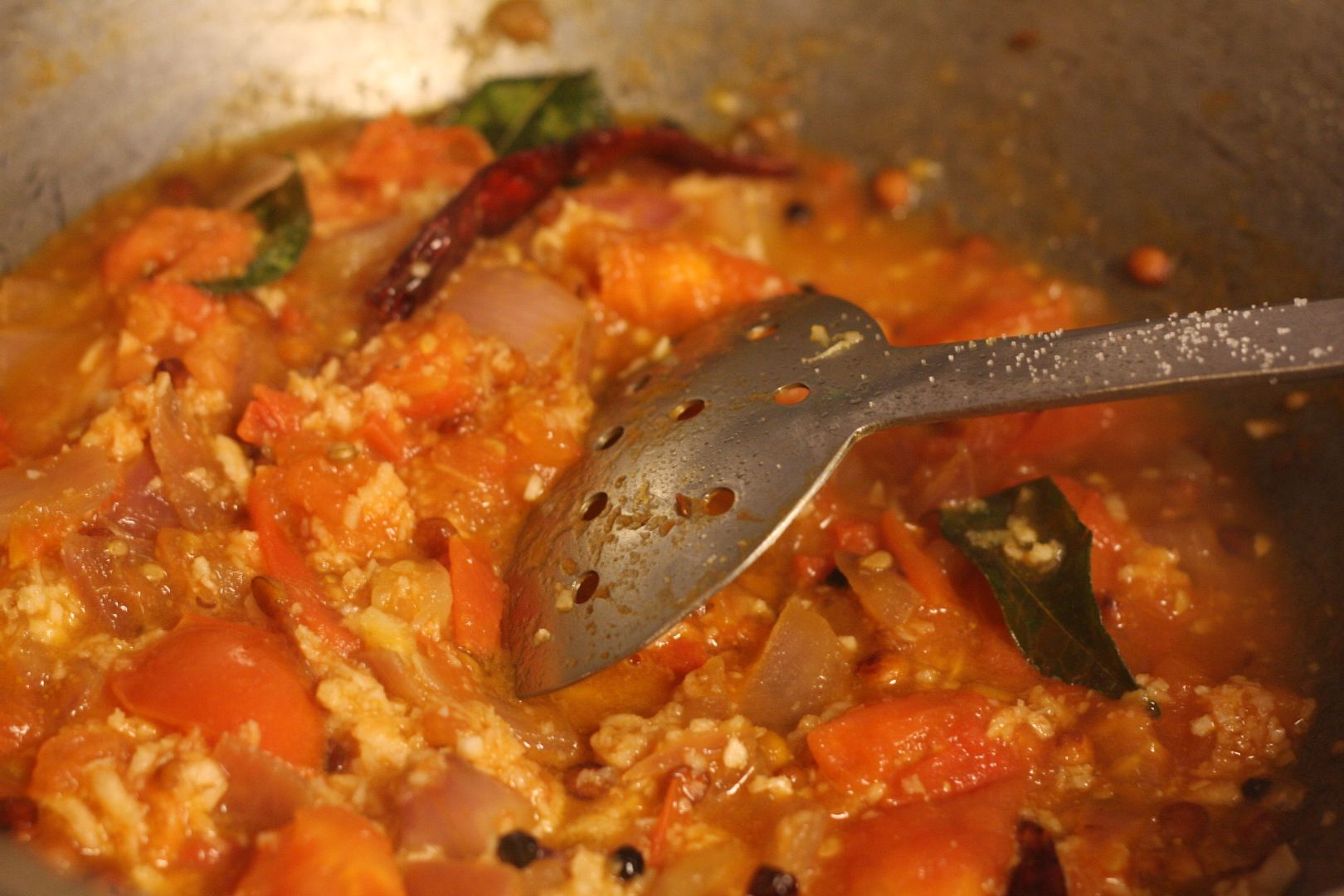 Tomato Kuzhambu is a very popular side dish for breakfast items like idli, dosai or paniyaram in the Kongunaadu area. With more or less the same ingredients each home would have slight variations in the way they make this kuzhambu. This was a regular in my parents house and my IL's house as well. My MIL's version of this kuzhambu is extremely tasty but slightly different than the way my mom or grandma made the
kuzhambu
. Here is her recipe as I remember it.



Tomato Kuzhambu




Ingredients


1. 3-4 ripe juicy tomatoes
2. 1/2 red onion roughly chopped
3. 2 garlic cloves (optional)
4. 1 tbsp channa dal
5. 2 tsp coriander seeds
6. 3-4 red chilies (adjust according to heat requirements)
7. 1 tbsp grated fresh coconut
8. salt to taste
9. 2 tsp oil
10. curry leaves a few
11. seasonings: mustard seeds, cumin and curry leaves and optional slit green chilies



Method


1. In a pan heat a tsp of oil, add the chana dal and saute till they turn brown.
2. Saute the coriander seeds and red chilies and set aside
3. Add the curry leaves, followed by the onions and saute till they become translucent
4. Add the tomatoes and let them cook till they get mushy
5. Add the coconut and give a good mix.
6. Add the salt.

Cool and blend. To make it easier blend the dal, coriander seeds and chilies first and then add the tomato, onion mixture.
7. In the same pan heat a tsp of oil and add the seasonings.
8. Add the blended mixture and about 1/2 cup of water, check for salt and let it boil for 3-4 minutes.

Goes well with idli, dosai or paniyaram
Have a great

Thanksgiving Holiday!

How are you planning on celebrating?