Eggs are perfect for breakfast and they make a great sandwich filling. Even vegetarians give a passing grade to eggs. They came in handy for packing lunches and kids don't complain too much when eggs are on the menu.
We don't have Cable TV or satellite TV and that means I don't get to see my favorite Food Network all the time. I happened to catch a cooking show in the morning one day when I saw Bobby Flay talking about breakfast on the go. Very similar to the Bengali version of the egg wrap - Kati Roll. He spooned some cooked sausage on to the omelette and then rolled it into the tortilla and some tasty breakfast was ready. Seemed like a perfect meal for a busy morning.
Good way to use some of the bit and pieces of vegetables you have to use this is a perfect way to use them. I used zucchini you can easily use mushrooms, cabbage or even minced green means and carrots. As for the wrap I used home made chapathi or you can use store bough tortillas.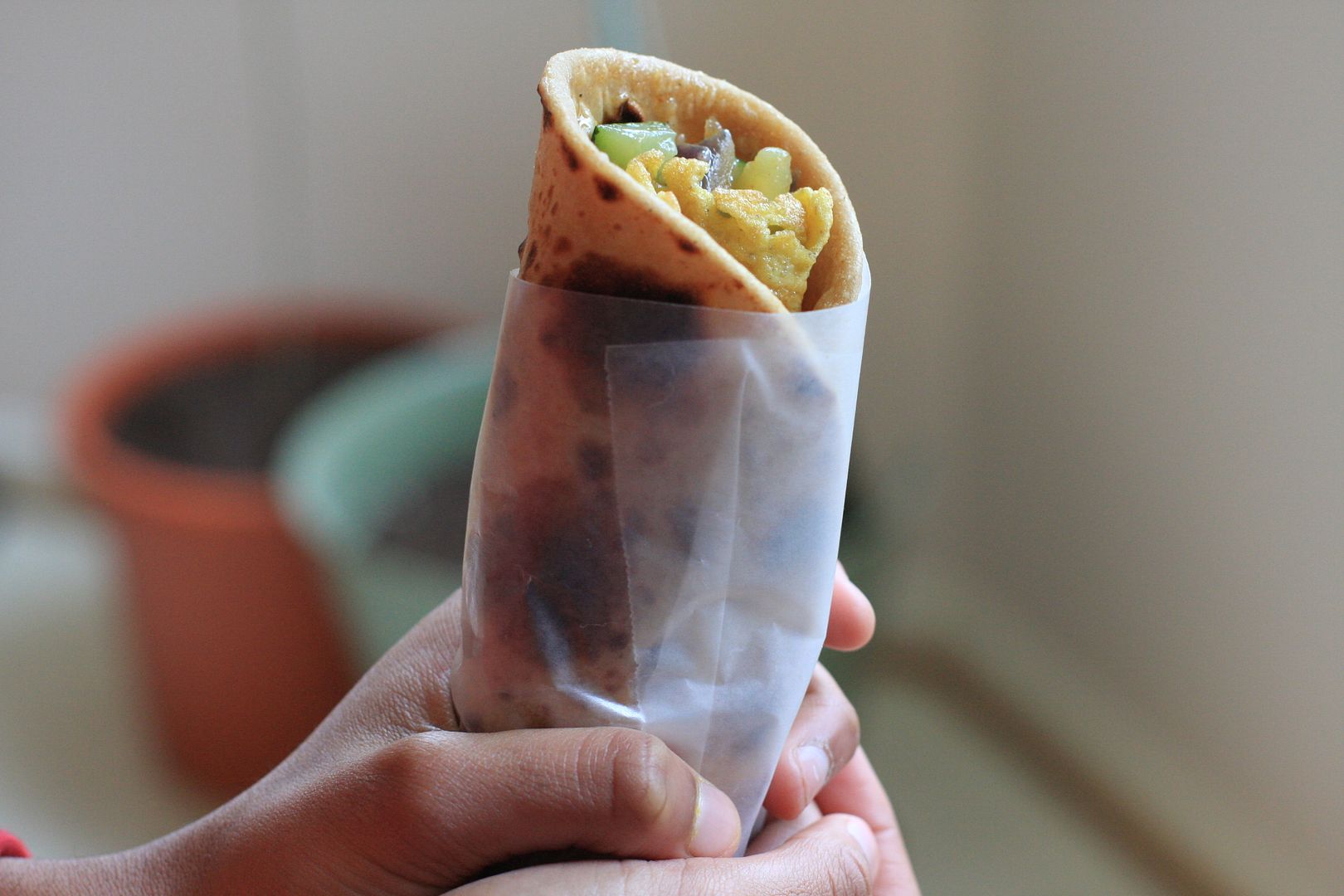 Prepare the vegetables for the filling. Make the omelette and keep it ready.
Use a ready made wrap or a home made flat bread like chapathi. Sprinkle cheese on the omelette and when it melts add the vegetables.
Roll the omelette in a tube and place it on the wrap and roll it.
Place a wax paper and roll into a ready to go breakfast :)
Vegetables Stuffed Egg Wrap - Vegetables Stuffed Omelette Burrito
Preparation Time:15 minutes
Cooking Time:30 minutes
Ingredients


2 Zucchini diced into small pieces
1/2 cup of finely chopped onions
2 tsp black pepper
salt to taste
4 eggs
4 tortillas or home made Indian Flat bread like roti/chapathi
1/4 cup of grated cheese
sliced pickled jalapeno peppers (optional)
1 tsp oil


Method


Cook the vegetables first, heat oil in a saute pan and when hot add the onions and when it starts to get translucent, add in the diced zucchini and saute till it becomes soft. Add in the salt and pepper. Turn off the heat and set it aside.
Now beat the eggs with salt and pepper and beat so it is nice and frothy.
heat the omelette cooking pan and make the omelette and cook it on both sides.
Spread cheese on the omelette and let it melt. Add some of the cooked vegetables, pickled jalapeno and roll the omelette.
Heat the tortillas or the chapathi and place the rolled omelette on and roll into the wrap like a burrito.
Place it on a wax paper and wrap it ready to go. Add them favorite sauces if you want.
Note:You can make all the omelettes in one shot and assemble them later. Keep the wraps warmed up, ready to go.
Like what you are reading? Subscribe!