I have been reading a lot about Mindfulness these days. I am a distracted person by nature. I do too many things all at the same time. Somehow I manage not to mess up the things I do all at the same time which is a miracle in itself. The amount of technology all around only adds to my problem of being distracted. Like most people these days I do most of my work on the computer which provides enough distraction in the form of the internet. Not only that I keep the idiot box blaring even if I don't pay much attention or listen to it.
Then realization dawned on me that maybe I will be better off if I manage to focus on one thing. duh! This is also when Mindfulness started getting into my consciousness. Mindfulness draws from the practices of Buddhism and its meditation practices. It is mindful awareness of everything you do and being in the moment and not worrying about the past or present. Mindfulness is practiced by sitting in a meditation position and concentrating on inhaling and exhaling of breathing and when practiced over time cultivates awareness and unity of the mind and body.
MBSR - Mindfulness Based Stress Reduction program helps in practicing to relax the brain and cure a variety of illnesses. MBSR was developed by Dr. Jon Kabat-Zinn at the University of Massachusetts Medical School. While MBSR is used for patients but everyone can benefit from mindfulness in their daily lives.
We all know that stress in the mind can cause physical tiredness. By keeping the mind healthy our everyday activities and quality of life is bound to improve methinks. There is a lot information regarding mindfulness on the web for you to figure out if you want more information.
Snow 2016
I came to the DC area 20 years ago and that winter gave us close to 20 inches of snow. Who can forget the snowmaggdon in 2010 where the DC area again go walloped with about 20 inches of snow. We are again facing the prospect of just such a storm again. Like it happens with every snow storm bread, milk and toilet paper disappear from grocery store shelves. Unlike the Indian crowd which can subsist of rice and dal the rest of the folks need bread I guess.
As I am typing this with TV and radio with news only about the blizzard of the year with snow totals predicted to be in the 12-30 inches range. I am already cold and feel stuck in the house. So whoever on the eastern seaboard is in the path of the storm
stay warm
and don't get under your family member's nerves. I am trying my best not to! Snow is not my favorite things :(
Now on to the recipe,
Cabbage is one of those things that is not one of my favorite vegetables but I buy it regularly and and have it in the fridge almost always. When I am starved for ideas cabbage is almost always what I turn to. It can be paired with eggs in a stir fry -
Cabbage stir fry with Eggs
for a side, it is great in
noodles
and is great in any kind of fried rice.
This time I was contemplating one of the above when I decided to look at
Maayeka
, one of my favorite blogs for practical easy to cook Gujarati and North Indian recipes. It was here that I found a recipe for
Cabbage with Potatoes in a tomato based gravy
. Perfect because I wanted a side for chapatis. I had all the ingredients and it was done in just under 30 minutes.
Recipe in pictures,
Heat oil in a wide mouthed pan add the fenugreek and mustard powder, followed by the cabbage. Saute till it starts to brown.
Add the tomatoes and salt, cover and cook till the tomatoes are mushy. Add in the spice powders and the potatoes and a cup of water.
Cover and cook for about 6 minutes or so till the potatoes are fully cooked and soft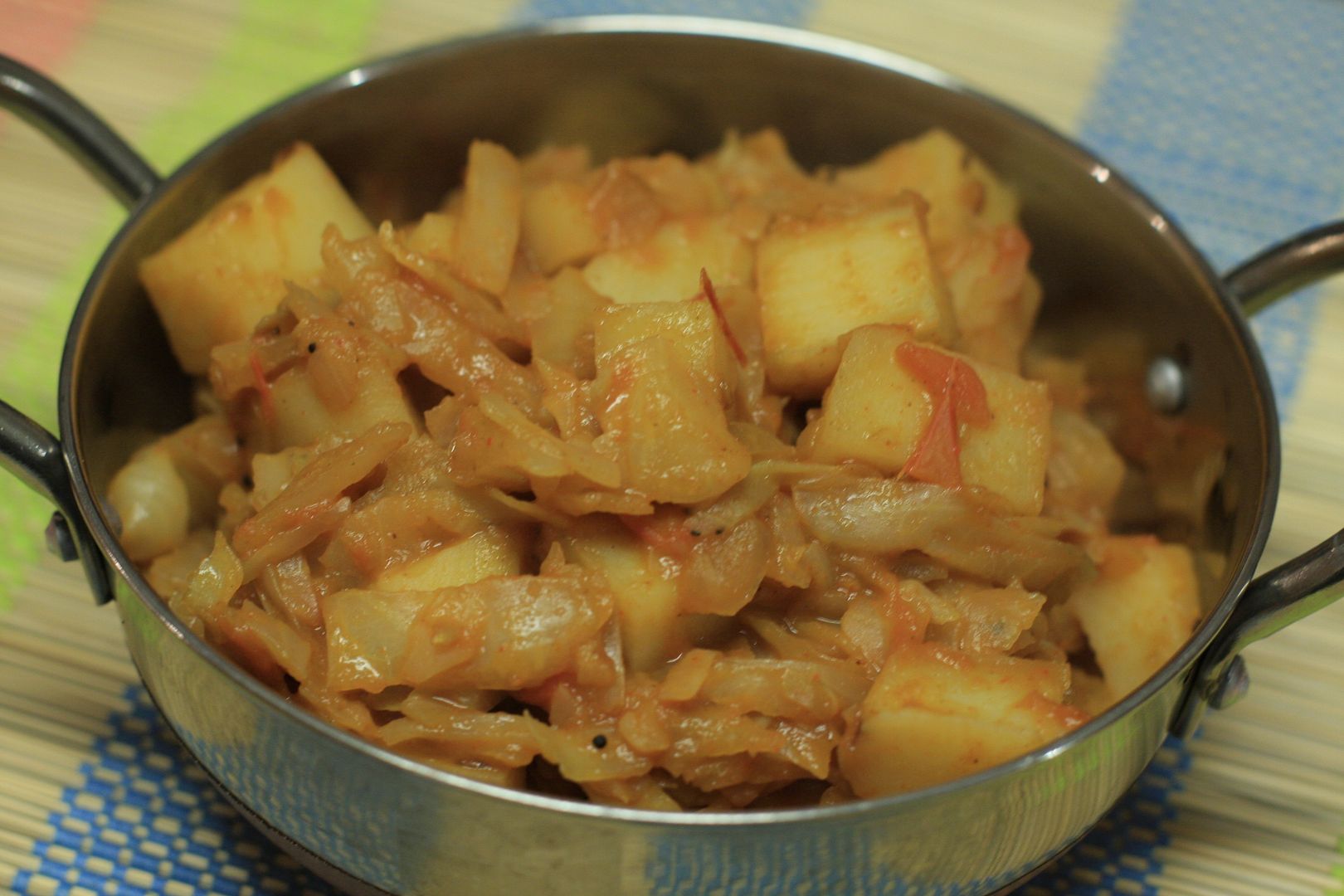 Cabbage and Potatoes in a tomato gravy
Preparation Time:10 minutes
Cooking Time:25 minutes
Ingredients


1/2 cabbage shredded or cut into thin strips
3-4 medium sized potatoes peeled and cubed
2 tomatoes diced (if you want more gravy add few more tomatoes)
2 tsp turmeric powder
1/2 tbsp red chili powder
1/4 tsp fenugreek + 1/2 tsp mustard seeds (use whole or roast and powder)
2 tsp coriander powder
salt to taste
2 tsp oil


Method


Roast the fenugreek and mustard seeds and powder them (optional).
In a wide mouthed pan heat oil and when hot add the roasted fenugreek and mustard seed powder or the whole spices.
Add the shredded cabbage and saute for about 6-8 minutes till the cabbage starts to brown.
Add in the chopped tomatoes with salt and saute till the tomatoes get mushy. Cover with a lid to fasten the cooking.
Add the potatoes, turmeric powder, red chili powder and coriander powder and mix it in well.
If required add about 1 cup of water. Cover and cook till the potatoes are fully cooked.
Serve with rice or chapatis.
Like what you are reading? Subscribe!