Okra is a favorite vegetable for a lot of people, cooked okra I mean. That does not necessarily mean a lot of people with it regularly. Like it's other name lady's finger, the tender pods are the tastiest. While nothing more than a
simple stir fry
is enough or
paired with a tuber like potato
or
taro
makes them even more tasty. I will be remiss if I don't mention my most favorite preparation of all the
tamarind gravy or pulikulambu
.
While the recipes mentioned above are the ones I fall back to whenever I cook with okra, the recipes with okra are by no means confined to that. Like most people I do not cook okra all that often because I am afraid of the slime. Unless the okra is fresh the slime tends to overtake and I need to change cooking vessels a couple of times before I am done. Last year I found a farmer's stand that sold fresh okra. This year I did the next best thing and decided to grow okra myself. What a difference fresh okra makes.
Don't get me wrong fresh okra has slime but it does not tend to stick to everything that comes in its way. I am reluctant to make North Indian or more precisely Punjabi style vegetables with onion and tomatoes that are a perfect side dish for chapatis or rotis mostly because the dish tends to become slimy. So when I got my hands on some super fresh okra this is the dish I wanted to give a try. I am so glad I did, the slightly tangy masala with the crisp but fully cooked okra with some super soft chapthi were a delight.
Wash and dry the okra and chop them into 1/4 inch pieces.
Add oil to a saute pan and saute the okra till it starts to turn color, set aside. Add more oil to the same pan, add seasonings and saute the onions till it starts to change color. Add the spice powders.
Add chopped tomatoes and cook till they turn mushy. Add tamarind pulp and cover and cook for 6-8 minutes.
Add the sauteed okra and cook for another 5 minutes or so till the masala becomes thick.
I used sambhar powder in this recipe, so it cannot be called Punjabi by any stretch of the imagination. So with that in mind let's checkout the recipe,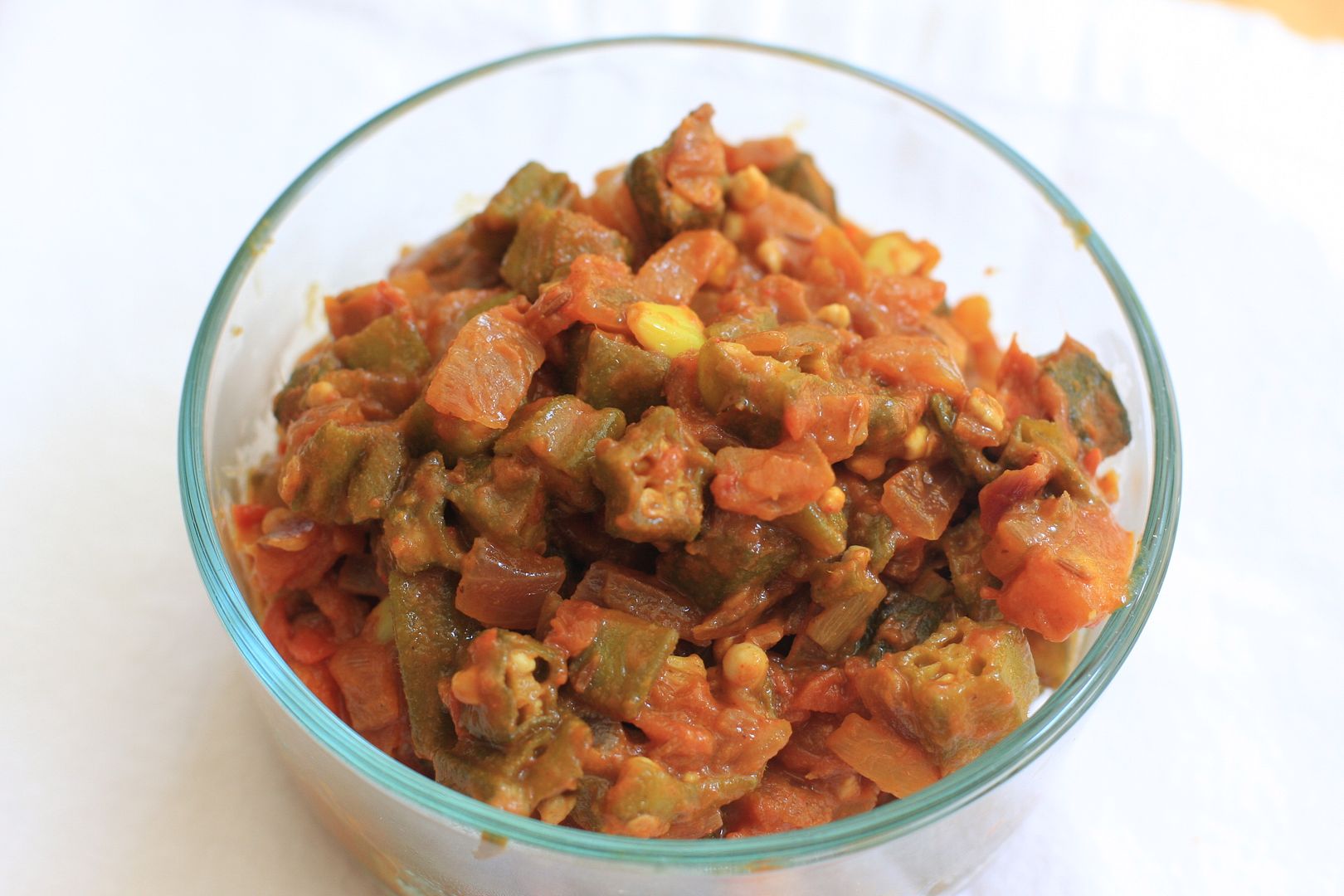 Spicy Okra Masala
Preparation Time:15 minutes
Cooking Time:25 minutes
Ingredients


About 2 cups of chopped okra
1/2 onion diced fine
2 juicy tomatoes (preferably tart) chopped fine
1/2 cup of tamarind water from about a small grape size piece of tamarind
2 tsp of sambhar powder
2 tsp of turmeric powder
2 tsp of red chili powder
salt to taste
seasonings: mustard, cumin seeds and curry leaves
2 tsp of oil
Wash the okra or lady's finger about a couple of hours or even the previous night and spread it on a kitchen towel to dry so the moisture is completely gone.


Method


Wash and pat dry the okra and let it air dry (see note:) and dice the okra into about 1/4 inch length.
In a saute pan add a tsp of oil and saute the okra till they start to turn brown on the outside. Set aside.
Wash the pan if it is dirty or else in the same pan add the rest of the oil and when hot add the seasonings.
When the mustard starts to pop add the onions and saute till it starts to turn brown on the edges.
Now add the powders, turmeric, chili and sambhar powder, give a good mix and add the tomatoes. Saute for a couple of minutes and add the tamarind pulp.
Mix, add salt and cover and cook for 5-8 minutes till the mixture is mushy.
Add the sauteed okra pieces and cook for 5 more minutes till the mixture thickens. Check and add more salt if required.
Like what you are reading? Subscribe!