I like the name ladies fingers for the vegetable much better than its name I refer to it most often now - okra. Okra has long been a favorite vegetable when stir fried just with onions and green chilies like this
recipe
or this one cut
lengthwise
.
Whenever I stir fry okra I think of my friend who moved from Maharashtra to my home town. Chapathis or rotis were not a popular lunch box item those days. While this friend always brought chapathis with these amazing side dishes but the one I remember most was the okra stir fry.
I was reminded of that when I started making this recipe. While the two recipes linked above will work perfectly with soft and airy chapathis today's recipe will be even better.
In a cast iron smear with oil and dry roast the okra till it is almost cooked. When the okra is sauteing in another wide mouthed pan heat oil, add seasonings followed by the green chilies and onions.
Cut the potatoes into small thin strips. Add to the sauteed onions and stir fry for 4-5 minutes.
Add the chili, turmeric, cumin powders and salt, followed by the tomato paste and saute so they are well mixed. Add 1/2 tbsp of water if required while the potatoes are cooking
Add the roasted okra and let the potatoes and okra continue to cook for another 7-8 minutes till both vegetables are cooked and it is nice and dry.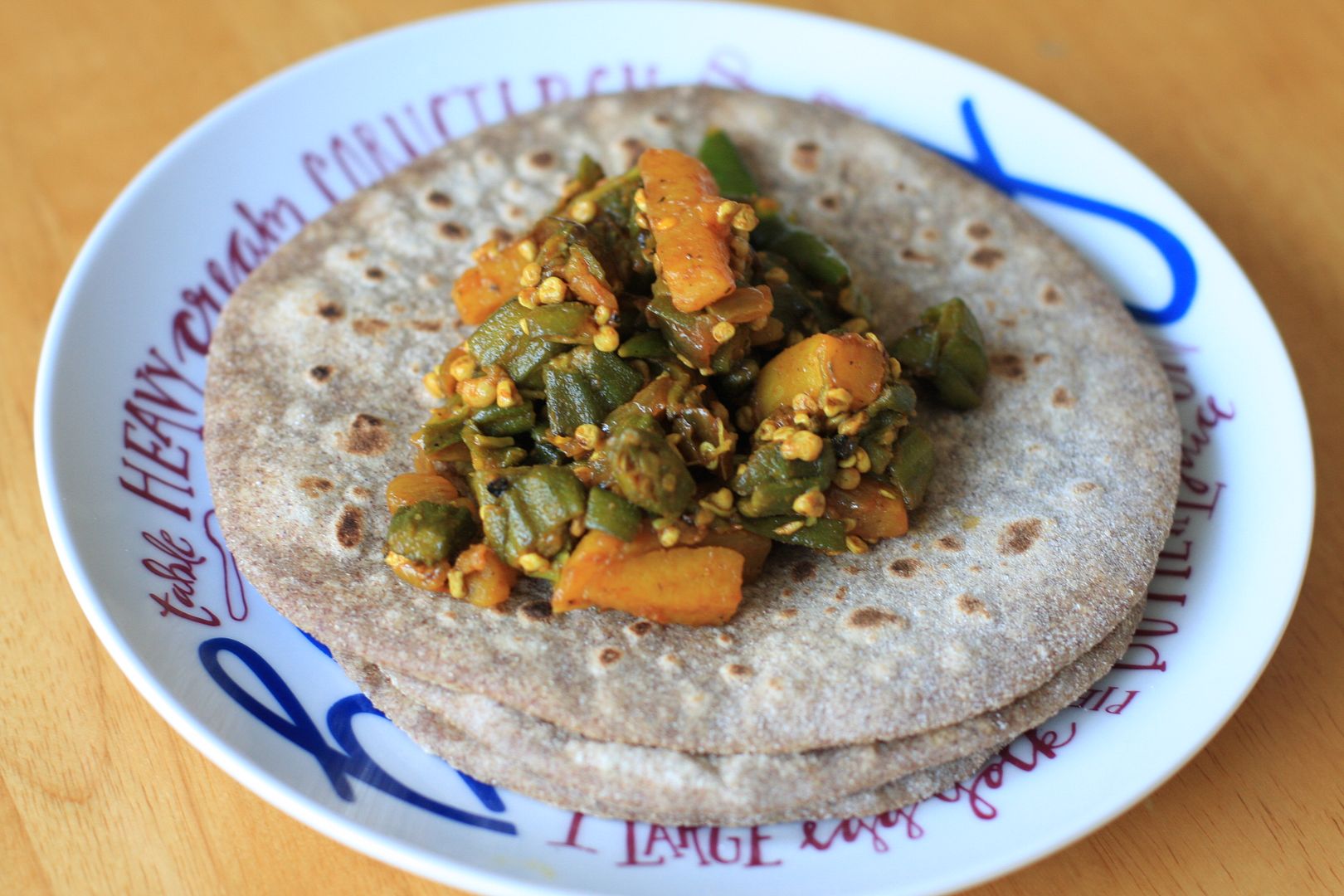 Okra with Potatoes -Stir Fry
Preparation Time:15 minutes
Cooking Time:30 minutes
Ingredients


1 lb of okra/lady's fingers, cut the tips outs and chop into small thin rounds
2 Potatoes peeled and cut into thin slices
1/2 cup of diced onions
4-5 green chilies slit
1/2 tbsp chili powder
2 tsp turmeric powder
1/4 tsp cumin powder
1 tbsp tomato paste
1/2 tbsp oil
seasonings: cumin and mustard seeds


Method


In thick bottomed pan or cast iron pan coat with oil and add the cut okra and saute with regular stirring till most the slime is gone and the okra is almost cooked 8-10 minutes.
While the okra is roasting heat another saute pan and add the remaining oil and when hot add the seasonings. When the mustard pops add the onions and green chilies and saute till they are translucent.
Add the thinly sliced potatoes and saute for another 4-5 minutes.
Add the turmeric, chili, cumin powders and salt, mix and add the tomato paste and mix again. Let it cook till the potatoes are almost cooked. Add 1/2 tbsp of water if required.
Add the roasted okra and continue to saute for another 7-8 minutes till everything is cooked and is nice and dry. Once the okra is added do not add any more water.
Serve as a side for chapathis or any rice dish.



Like what you are reading? Subscribe!