There is something about farm fresh that is hard to beat. Peas is one of those vegetables, especially if you live in the US you never bother/can't to find fresh. Frozen peas are plentiful and cheap and it is hard to find fresh peas even if you went looking for it. But during a short period in Spring if you are lucky you will find fresh shelling peas in farmer's market or if you grew them. We hit a jackpot last week and harvested a decent quantity of fresh peas. It is even fun to shell the peas if you get the kids involved in it.
When you cook with fresh peas, they don't get mushy and collapse in wrinkles like the frozen ones do. I wanted to make a simple curry dish with a classic pairing of potatoes and peas. It sounds much better when said in Hindi - Aloo Matar Sabzi. I am not a Hindi speaker but the word sabzi is perfect to describe vegetables with a bit of gravy in them. When I am planning to make some soft chapathis, these sabzis make great side dishes for them.
I wanted a smooth gravy so pureed the onions but a even more simpler version of this, just saute very finely diced onions and tomatoes in a pressure cooker. A variation with coconut also tastes great. Here is that recipe if you are interested -
Aloo Matar Gravy
.
Today lets go with a quick and simple recipe that is done in under 30 minutes and you can make some quick Indian breads to go with it.
I had bought a packet of Singhara flour on my last Indian grocery store visit. Singhara flour is flour made from water chestnuts. On a whim while preparing dough for chapathis I replaced half the wheat flour with singhara flour and the end result was some amazingly soft chapathis. The singhara flour becomes sticky when water is added, adding water a little at a time will help in bringing it together. So persist with it and you will be rewarded with some delicious soft chapathis. Rolling it once the dough is made is not all that hard.
Get the potatoes, tomatoes, ginger and garlic ready.
Chop the potatoes and keep the peas ready.
Saute the onions, ginger, garlic and cook the tomatoes along with the spices. Add the potatoes and peas and cook in the pressure cooker for 2 whistles.
Once the pressure subsides give a good mix and serve.
Here is the recipe for some quick but tasty curry,
Most people get a little taken aback when blending and gravy is involved. You don't have to be. Nothing can be simpler than this one.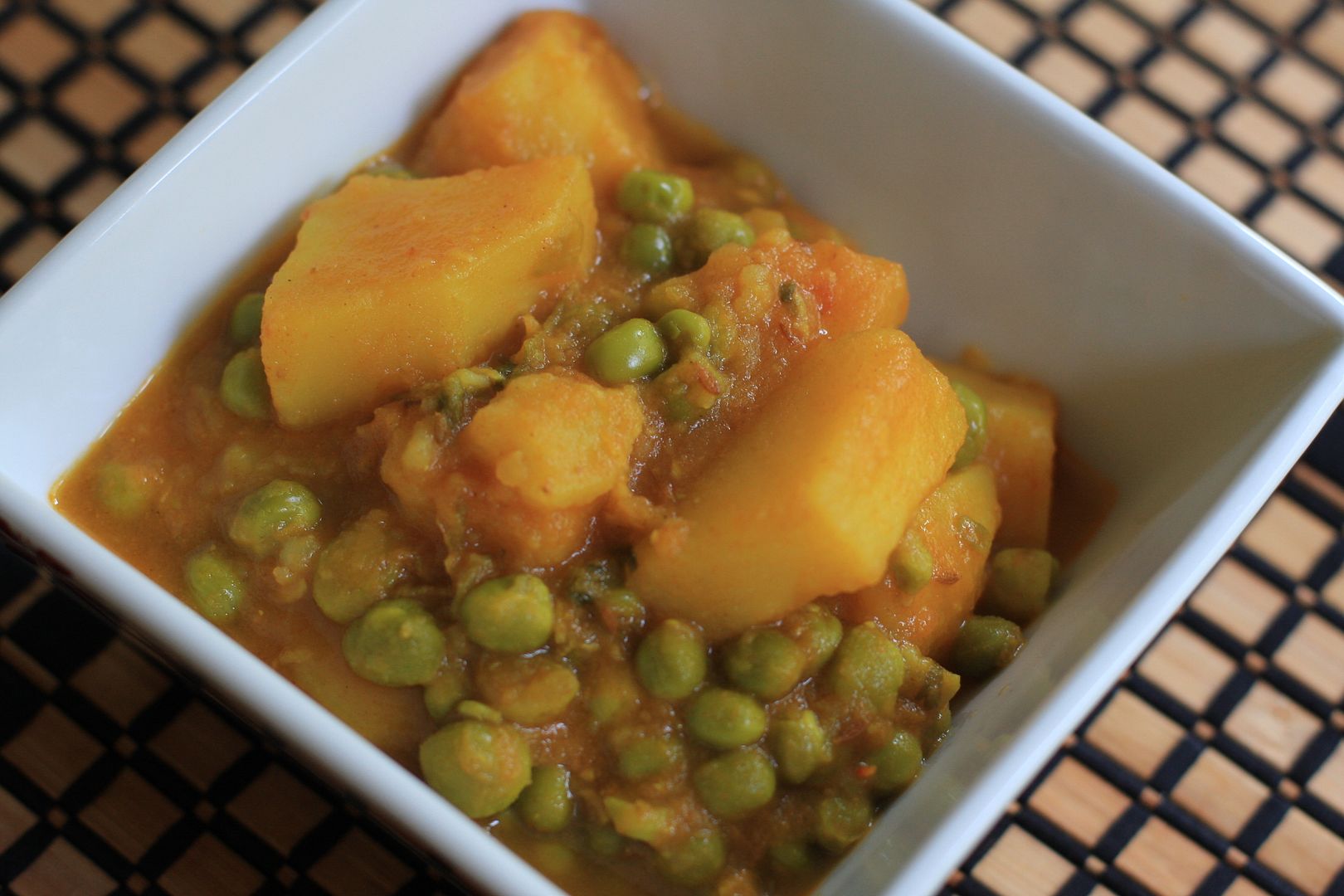 Potates and Fresh Peas Curry - Aloo Matar Sabzi
Preparation Time:10 minutes
Cooking Time:25 minutes
Ingredients


2 cups of fresh shelled peas (frozen peas works just as well)
3 medium sized potatoes peeled and cubed
1 onion roughly chopped
3 medium sized tomatoes
1 tbsp grated ginger + garlic (optional)
1 tbsp masala powder
2 tsp chili powder
3 tsp turmeric powder
salt to taste
1 handful of chopped coriander leaves
seasonings: cumin seeds
2-3 tsp oil


Method


In a sauce add the chopped onions and about 1/4 cup of water and parboil for 4-5 minutes. Drain water completely and blend to a smooth paste.
In a pressure cooker add the oil and season with cumin seeds. Add the blended onion paste and saute till it starts to brown. Takes about 6-8 minutes. One good thing about parboiling the onions is that it does not stick that much but still make sure to saute at regular intervals.
While the onions are sauteing blanch the tomatoes and blend to a smooth puree.
If you are adding the garlic and ginger add it right after the onions are sauteed, and saute for 2-3 minutes till the raw smell disappears. This requires constant stirring.
Now add the masala powder, turmeric powder and chili powder, give a quick stir and add the tomato puree. Let cook for about 2-3 minutes.
Add in the peas and potatoes, mix, add salt and chopped coriander leaves. Close the lid of the pressure cooker and cook for 2 whistles.
Serve with bread of choice or rice.
Like what you are reading? Subscribe!