There is so much going on around the world that for once I have nothing to say. Will stick to food and the comfort that brings.
Potatoes get a bad rap as being too starchy, carb overloaded, fatty and every other bad book you can throw at it. But it reigns supreme in my kitchen and is everybody's favorite in our house. It adapts itself beautifully boiled, steamed, roasted, curried, gravied whatever. As long as it is not double deep fried and ends up as a French Fry there is nothing really to complain about. This is the first real vegetable I learnt to cook as a youngster.
My office lunch room is no different. Potatoes take up different tasty avataars and there is not much I can do to keep away. This aloo matar recipe which I hear is a Punjabi classic took a detour to Andhra added on some more delicious characteristics and morphed into this delicious gravy. Perfect as a side for any kind of Indian flatbread.
I had some leftover soaked navy beans which was added to the mix. I usually saute the garlic before blending but you could blend them raw as well.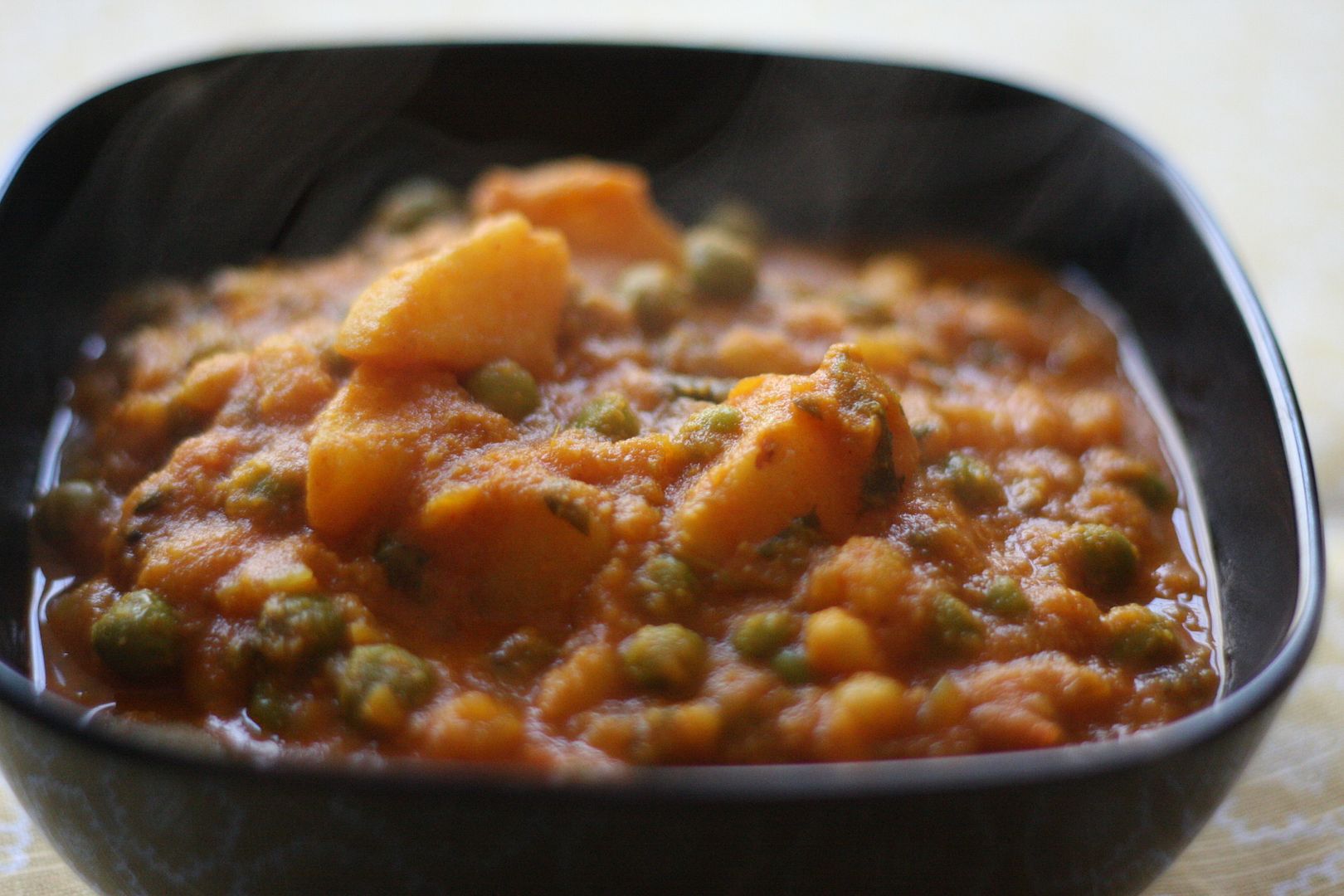 Aloo Matar (Potatoes, Peas in a tomato-onion-coconut gravy)
Ingredients
1. 4 medium sized potoes (3 cups more or less) peeled and cubed
2. 1 cup of peas
3. 1 cup of navy beans soaked overnight and precooked for about 8-10 minutes (optional)
4. 1 large red onion (1 1/2 cups) onion chopped fine
5. 4 tomatoes (1 cup) chopped fine
6. 2-3 tbsp of coconut
7. 5 cloves of garlic
8. 1 inch piece of ginger
9. 2 tsp red chili powder
10. 1/2 tbsp Kashmiri chili powder
11. handful of chopped coriander leaves
12. 1/2 tbsp of masala powder (I added Kitchen King chicken masala powder)
13. 1 tsp cumin powder
14. salt to taste
15. seasonings: fennel seeds and cumin seeds
16. 2-3 tsp turmeric powder

Method
1. In a pressure cooker/pan heat a tsp of oil. Season with fennel seeds.
2. Add whole garlic cloves and saute for a minute or two and fish them out and blend it along with ginger, coconut, cumin powder and the masala powder to a fairly smooth paste and set aside
3. To the oil in the pressure pan add the onions and saute till they are nice and brown
4. Add the chili powders and turmeric powder and give a good mix
5. Add in the cubed potatoes and the navy beans and saute for 3-4 minutes
6. Add the chopped tomatoes and let them cook till they are mushy
7. Add the blended paste, about 2 cups of water, peas and chopped coriander, salt
8. Close the presssure cooker and put the weight on. Cook for about 8-10 minutes or till the first whistle whichever comes first

Delicious with rotis or parathas. The aroma is what gets to you first.