Come September,October for Indian festivals followed by November and December for the festivals in the US - it is one long celebration. Add to that a few birthdays in the family there is sweet being made every other week. If the sweet can be made a tiny bit nutritious that will be a big success. Most times I do not make anything elaborate but settle on payasam which is both special and simple at the same time.
This year for Vinayagar Chaturthi we decided to make some sweet kozhukattai along with the
pink eye peas vadai/fritters
. The last time I made
kozhukattai(sweet rice wrapper dumplings)
was when mom was visiting. While the filling or poornam is traditonaly made with jaggery and coconut and roasted nuts this time the stuffing mom suggested with lentils was just as delicious.
Cook and drain the channa dal. Roast the nuts (cashews and almonds) and make a coarse powder.
In a wide mouthed pan heat the jaggery/palm sugar with water to melt the sugar and let it come to a boil. Add in the mashed cooked al and mix it into the sugar syrup and let cook till the moisture is fully evaporated.
Add the grated coconut and the powdered nuts to the mixture and make a fairly thick filling.
Make the wrapper for the kozhukkkati with rice flour. Shape the kozhukattai and add the filling.
Steam cook the kozhukatai and they are ready to eat.
This filling while it is deliciously used in kozhukattai can also be used in other sweets that require filling like this
opputtu
.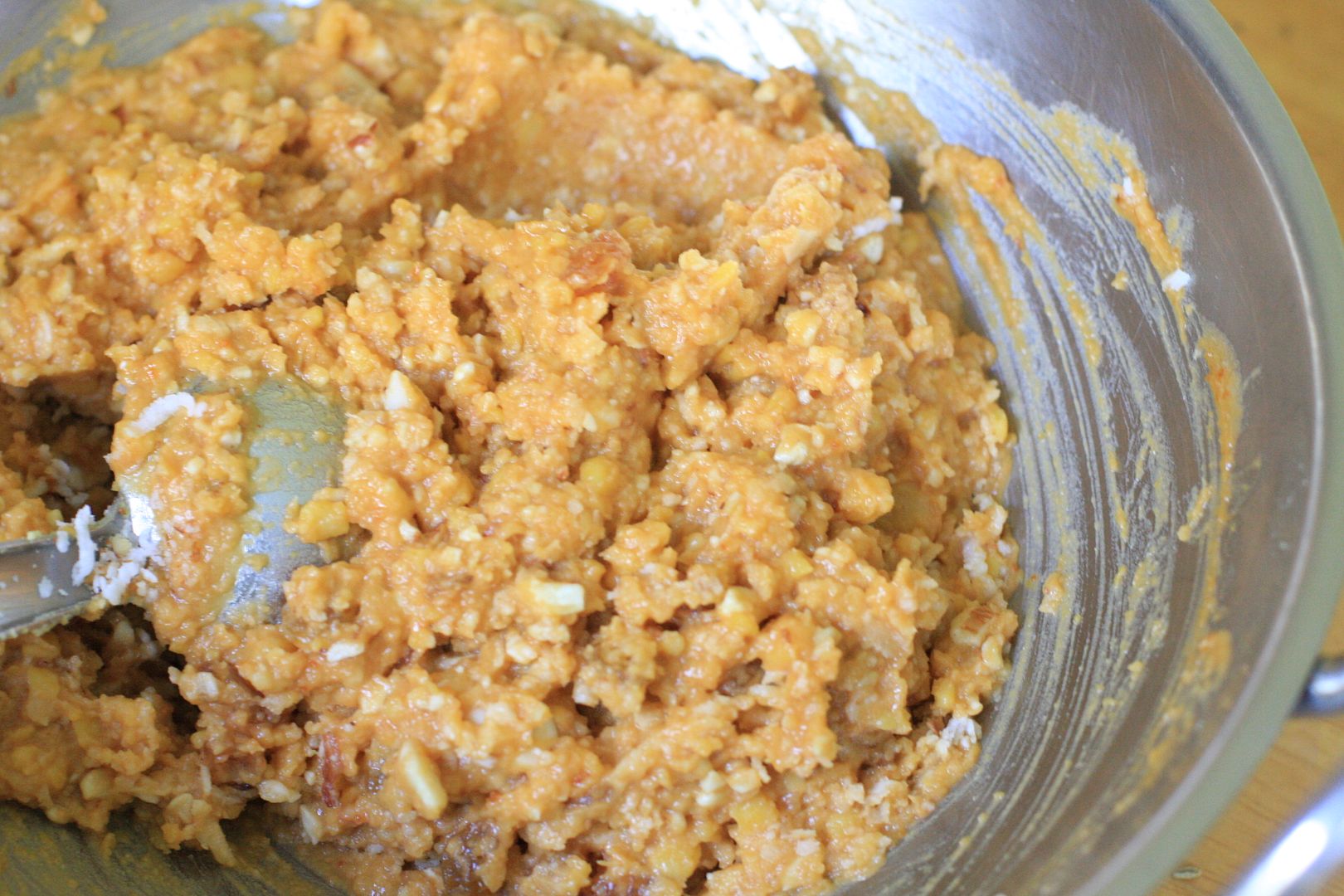 Kozhukattai Poornam - Sweet Lentil and Nuts filling
Preparation Time:5 minutes
Cooking Time:20 minutes
Ingredients


1/4 cup of channa dal (kadalai paruppu)
1/4 cup of roasted cashews and almonds
3 tbsp of grated fresh or frozen coconut
1/4 cup of powdered jaggery or palm sugar
2 tbsp of golden raisins
2 tsp ghee


Method


Cook the channa dal till is soft and mash-able. Drain out any excess moisture.
Heat the ghee and roast the nuts or dry roast and let cool and make a coarse powder.
In a wide mouthed pan heat the sugar with a tbsp of water and let it melt and come to a boil.
Mash the cooked dal/lentils and add to the boiling sugar. Cook for a couple of minutes.
Add in the grated coconut and the powdered nuts and raisins. Set aside.


Use the filling for opputtu or kozhukattai or eat with a spoon as is.


Like what you are reading? Subscribe!