Though festivals and religion go hand in hand IMHO the former brings people together while the latter pulls people apart. If people who regularly visit the temple or fast on certain days of the week or carry out rituals even in a foreign land are considered religious then I certainly do not fall into that category.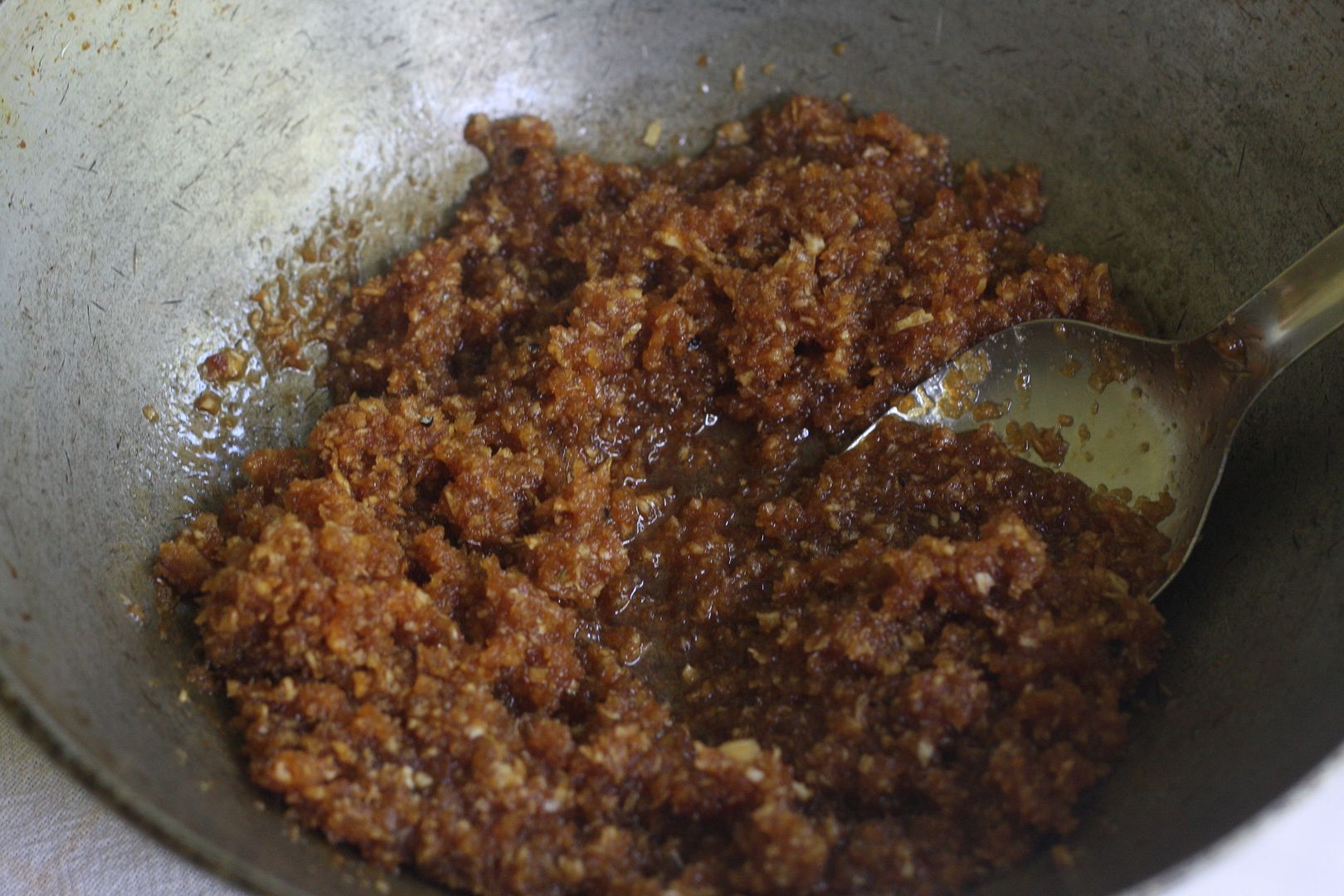 sweet filling
Don't get me wrong I am neither agnostic nor an atheist. I certainly do believe in a higher power. We take the kids to what could be called Sunday school for learning culture an offshoot of which is also learning religion and performing rituals.
I try to remember the one important tenet of Hindu religion. To be a good Hindu one need not visit a temple or perform rituals rather doing one's duty to the best of one's ability is itself considered prayer. There is God within each person and seeing God in everyone around us is worth many visits to the temple no?.
I am also of the belief that symbolism and rituals should have their place. Celebrating festivals and partaking in rituals besides bringing happiness and satisfaction also brings people together. Foods associated with festivals have a special place all their own. It often reminds me of good times had during childhood and also kindles a desire to recreate a small bit of that happiness for my kids. I don't always succeed but sometimes I do.
To tell you the truth all those years I lived my mom would have made kozhukattai perhaps less than a handful of times. I remember eating kozhukattai as with everything else at my grandparent's place and those tasty ones shared by friends.
This year my mom armed with recipes from her friend was determined to make kozhukattais both the sweet and spicy kind. DD2 just couldn't stop saying kozhukattai till she finally got a chance to see them being made and tasting them.
I had this notion that they were hard to make as the rice flour tends to become stick and hard very easily. None of my fears came to pass. The process was very simple and other than a few mishaps shaping them the kozhukattais for the most part turned out just fine.
We made the filling for the sweet ones with coconut and jaggery. The spicy one was made with urad dal (split white lentil) and the filling threatened to disappear even before the kozhukattais were made. I am hooked I am bet they will be made very often. I am sure they would be great in a usli like preparation with string beans.
Kozhukattai
Ingredients
1. 2 cups rice flour
2. 3 cups of water
3. 1 tsp of salt
4. 1/2 tbsp sesame oil
5. 1-2 tbsp all purpose flour

Spicy Filling
1. 1 cup split or whole urad dal
2. 8 green chilies
3. salt, asfoetida and 1/2 tsp cumin seeds

1. Roast the urad dal for a few minutes, don't let the dal change color. Let soak, drain and blend coarsely with the rest of the ingredients.

Sweet Filling
1. 1 cup of grated coconut
2. 1 cup of jaggery
3. 1 cardamom powdered
4. 2-3 tsp of ghee

1. Blend the coconut to slightly finer pieces. Powder the jaggery and mix it with the coconut.
2. Heat ghee in a pan and add the coconut jaggery mixture and saute for a minute. Add the powdered cardamom. Set aside

Method
1. Heat the water, add salt and oil and let it come to a boil. Turn off the heat.
2. Add flour a little at a time and mix it without any lumps. Cover with a damp cloth.
3. As quickly as possible the kozhukkatis have to be made without the flour gets too hard.
4. Make small round balls, flatten them in the palm of your hand or place them under a clear plastic paper and use a heavy vessel to flatten.
5. Place about a tbsp of filling and fold over. Alternatively make a depression in the dough and place the filling and pinch the sides so the flour covers the filling.
6. Place them in a steamer and steam for 6 minutes. I used the idli plates for steaming.