First time I tasted farro was from a food bar in a grocery store here. I think it was Wegman's. Apparently grocery stores these days make more money from their hot bars than actually selling groceries. Light and extremely tasty is how I remember it.
It took me a while but I finally cooked with
farro
that I had purchased. As usual it was a busy weekday evening and I wanted to cook something really quick. So instead of using an electric cooker or stove top I used my trusted pressure cooker and it made a quick job of cooking the farro.
Heat oil and saute the chopped green onions and garlic followed by the bell pepper.
Heat oil and saute the chopped green onions and garlic.
Once the water from the mushroom evaporates add the cooked farro. Mix well. Add more sat if required and turn off the heat in 4-5 minutes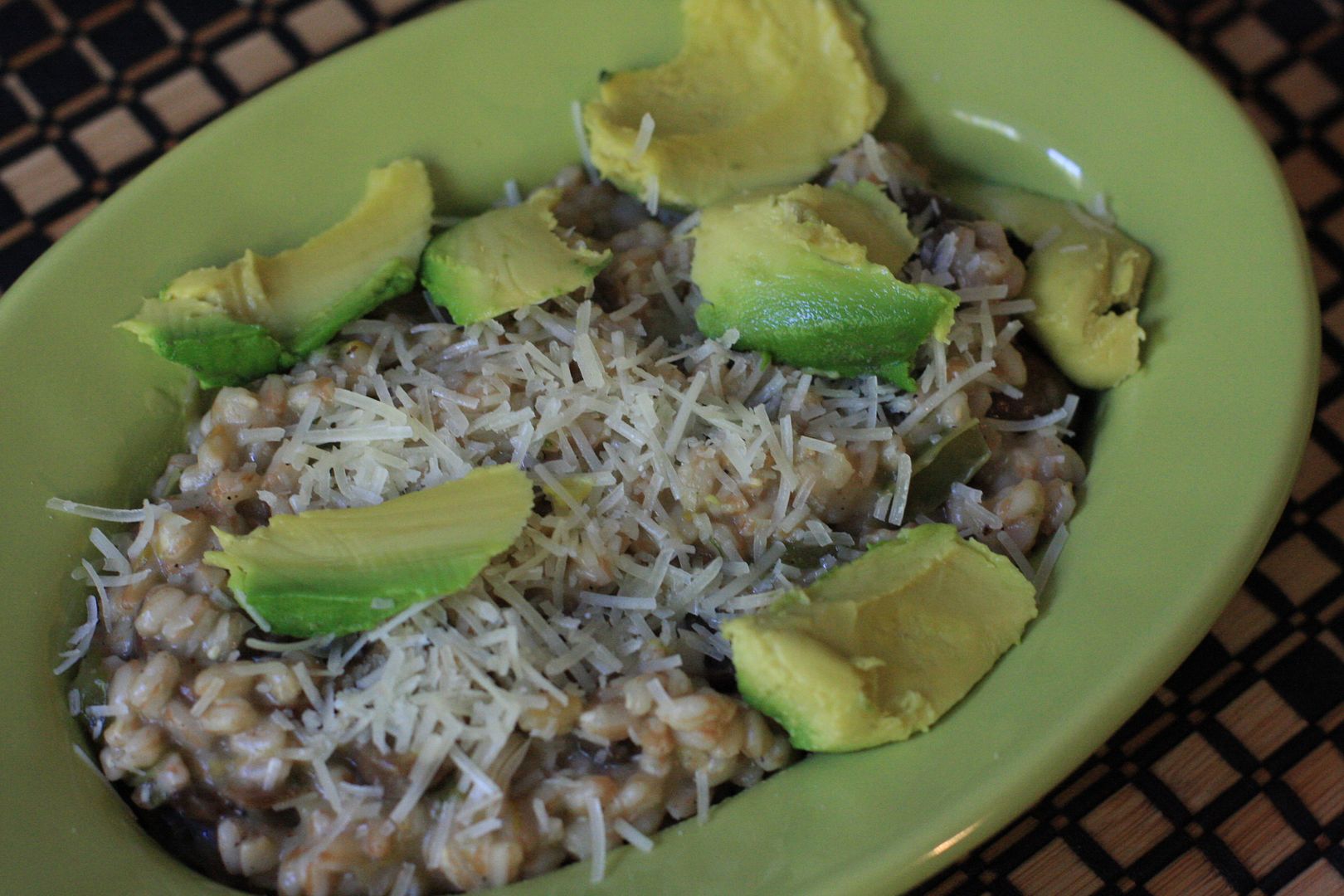 Mushroom Farro Risotto
Preparation Time:10 minutes
Cooking Time:30 minutes
Ingredients


2 cups of Farro
3 cups of cremini mushrooms sliced
1 green bell pepper cleaned and diced
1 bunch of green onions washed, ends trimmed and chopped
2 cloves of garlic choppe fine
1 tsp red chili powder
salt to taste
2 tsp of olive oil
For Serving
Avocado sliced
Shredded Cheese
Lemon juice


Method


Cook the farro in a pressure cooker with 3 cups of water for 1 cup of farro. see Note:
In a pan heat the oil and when hot add the green onions and chopped garlic. When the green onions have wilted add the diced bell pepper and let it cook for about5-6 minutes. Add in the red chili powder and salt. Now add in the mushroom and saute.
The mushrooms tend to leave a water. Let most of the moisture evaporate.
Meantime the farro should have cooked. I added more water than required so ended up draining some of the water out.
Mix in the farro with the sauteed mushrooms. Let it cook for about 4-5 minutes.
Note:For 1 cup of farro will need 2 cups of water. Unless you are making risotto 2 cups of water for a cup of farro is sufficient.


Serve with some cheese sprinkled on top, sliced Avocado along with a squeeze of lemon.
Like what you are reading? Subscribe!