Jullay! Hope all of you are doing good! Here goes my second installment and in this one I will try to talk about the food we ate. Food is after all an important part of any trip. The first part of the trip is
here
.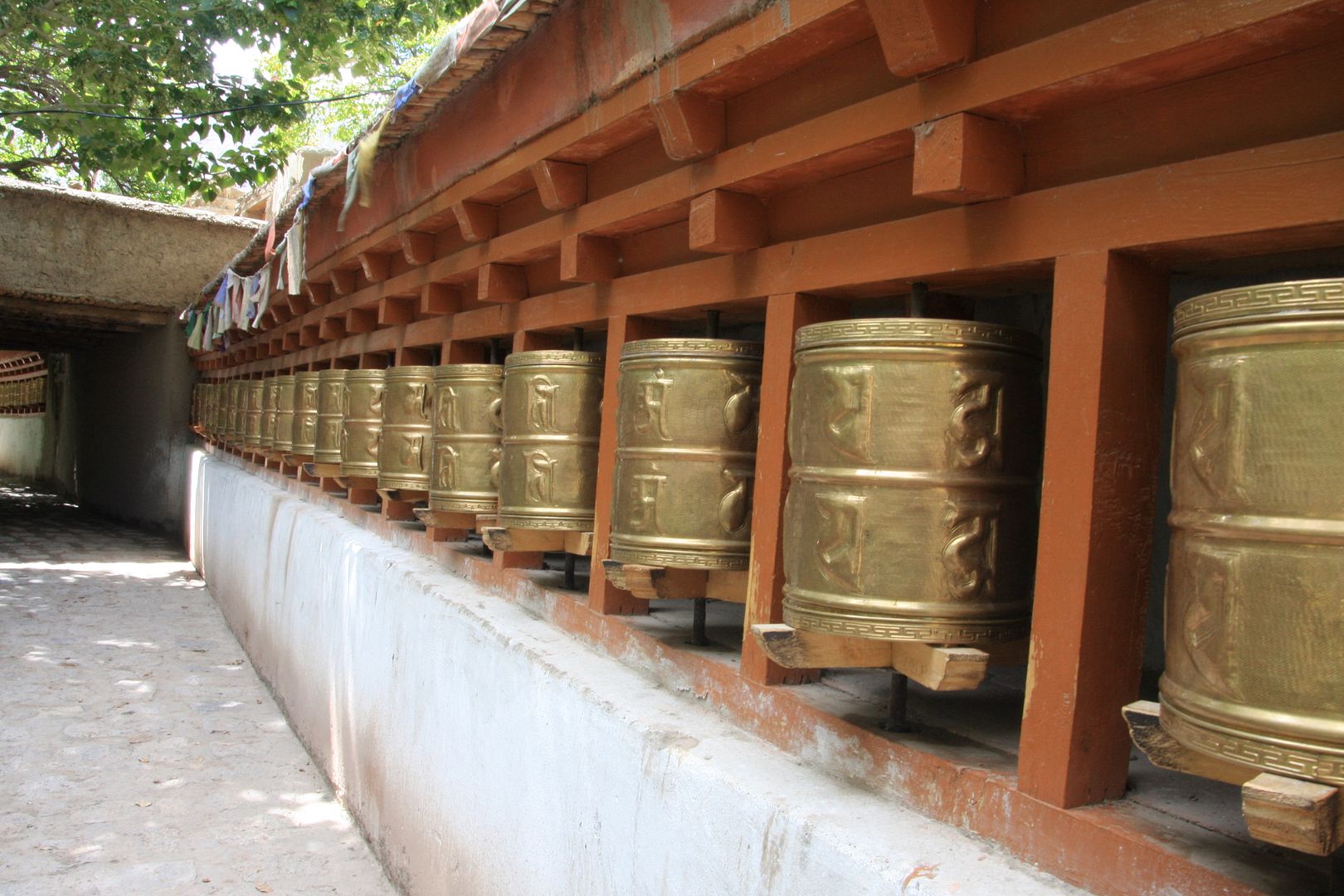 Prayer (Mani) Wheel
The end of the second day of sight seeing led us near the ancient Leh palace. This was indeed ancient and compared to the other monasteries (gompa as they are called in the local language) which are usually in the outskirts this one is in the heart of the city very close to the Leh market and the shopping area. In all of these gompas there are prayer wheels(or mani wheels as the locals call them) which we spin clockwise and the effect is supposed to be same as reciting the mantra (Oṃ maṇi padme hūṃ). All of us religiously spun these wheels which are lined along the walls of the monasteries as we climbed up.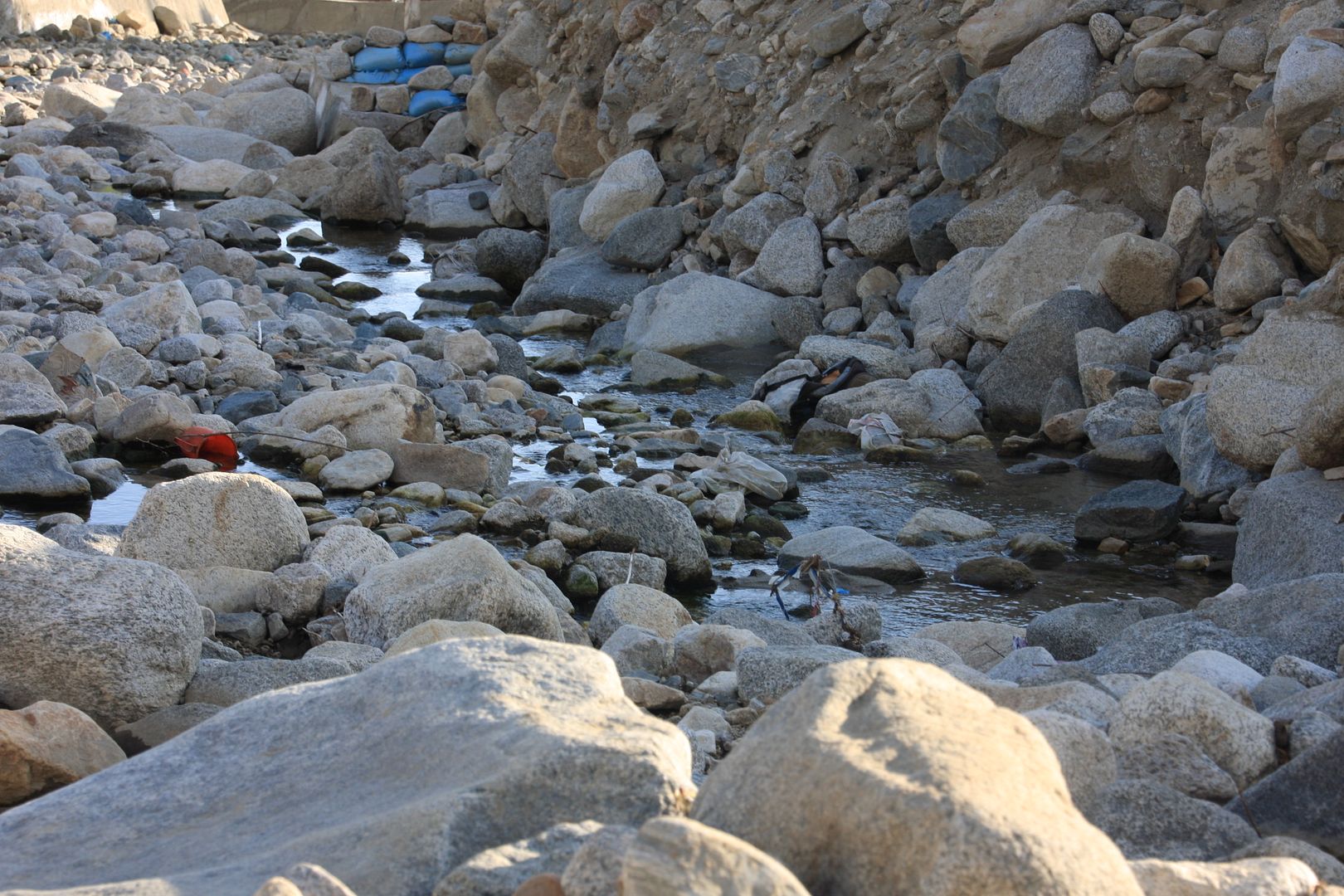 Stream running near the hotel
We did not spend too much time shopping as we had to return to the hotel to get ready for the 140Kms(one way) trip the next day. It is a journey which took us into the Himalayas on roads partially paved but mostly dirt roads. The journey was expected to take a good 5 hours provided there were no problems en-route. Mountain driving is arduous not so pleasant and for those with a queasy stomach down right painful. But let me tell you the views are breathtaking. For people used to driving in the US with clean rest rooms and food facilities along the way even in remote parts be aware this is not such a journey.
One of the many streams on the way to Nubra Valley
Remember my advice to carry toilet paper? It was for precisely this trip. While going behind a rock is perhaps the best possible thing but if you are averse you could stop at the villages on the way sure but there is no guarantee that the bathrooms are even usable and sometimes there is no water!.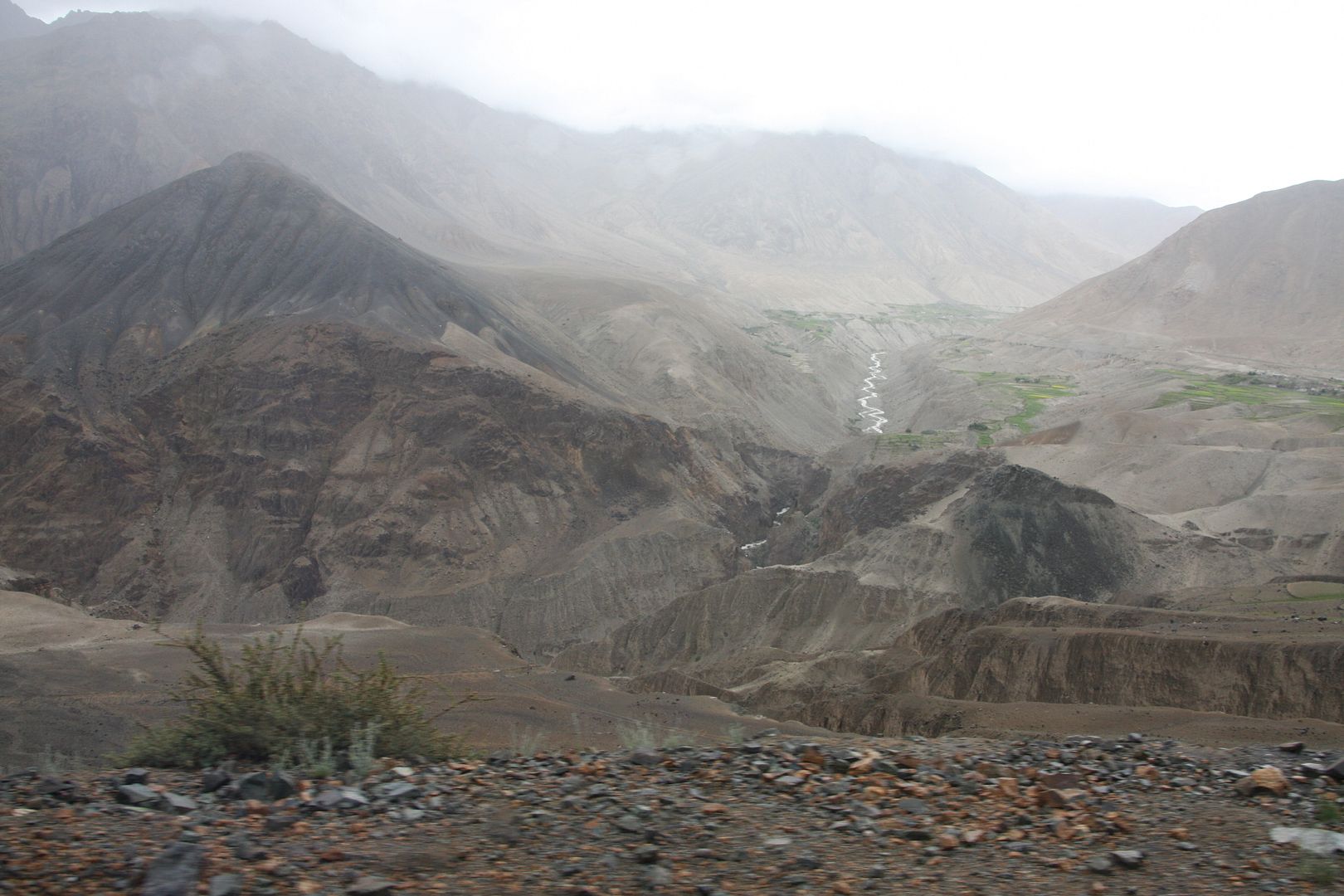 With the hard part of the journey out of the way we can talk about the good things now, namely our trip to Nubra Valley. The trip to Nubra Valley that took us on the highest motorable road in the World - Khardungla Pass and along the way gripping views of the muddy looking but speedily rolling Shyok river. Only a South Indian especially those of us from the parched areas in Tamil Nadu can truly understand the majesty and the power of a river. The silted water our car driver told us runs to Pakistan. Our car driver was a treasure trove of knowledge and being a Ladakhi he had a lot information about the area down to the last detail.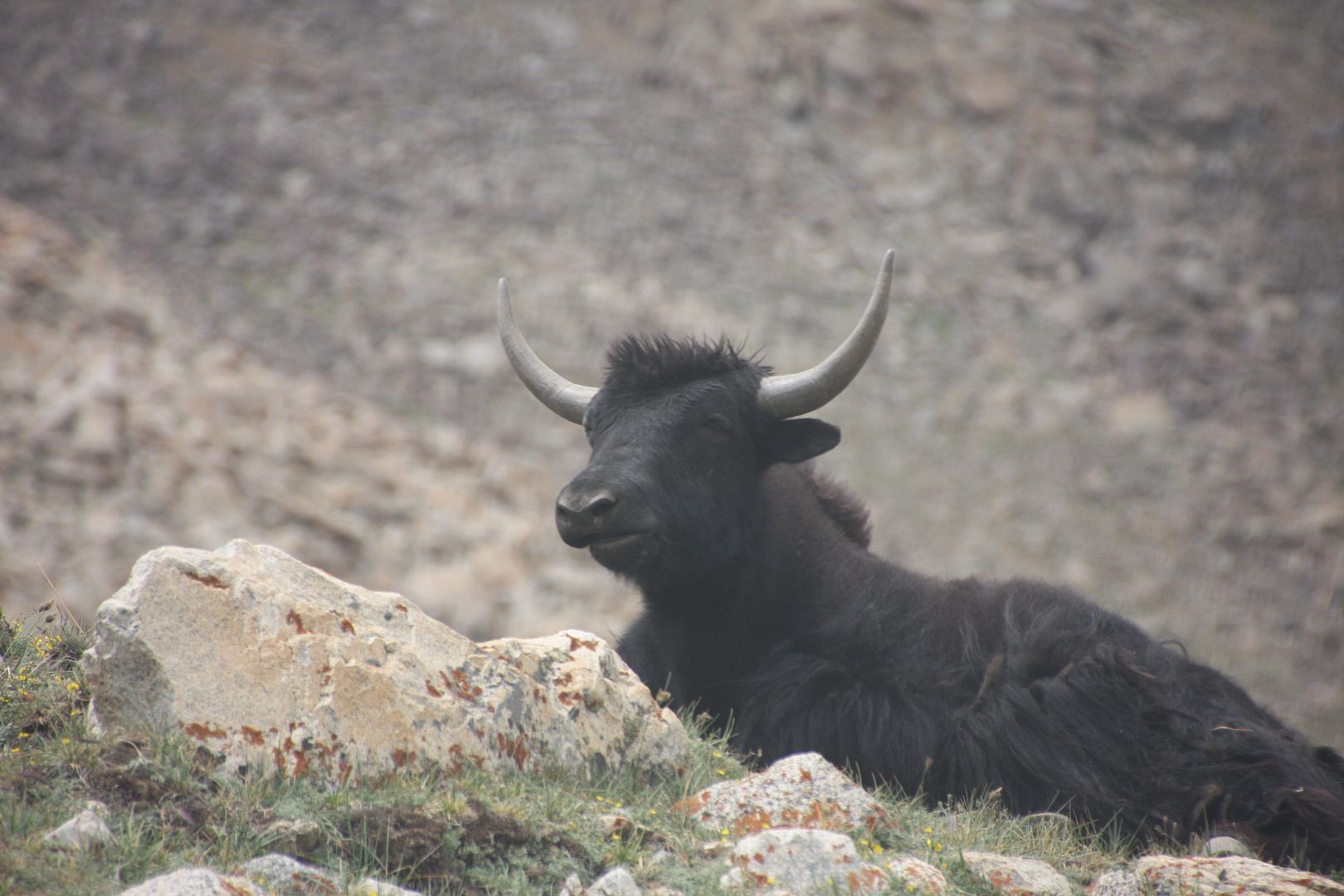 Yak!
We left a good hour later than we had planned and it hurt us quite a bit.
Advice
: Make sure you leave on time that is at first light which was 5:00AM there. This way you are not stopped by road construction which robably starts around 9:30 -10:00 AM I would assume. Weather is another matter altogether. If there is heavy fog or rain the roads are closed. Luckily our trip was not altered because of weather but there were tourists in the hotel who had to go and come back half way because of bad weather conditions. But en-route we were stopped for a couple of hours as they were dynamiting the rocks to clear way for road building. Road erosion was fairly common because of the runoff from the melting snow in the mountains. We drove through the streams running on the roads.
Nubra Valley!
We were tired, thirsty and hungry by the time we hit Khardungla Pass but lucky for us there was this tiny canteen selling hot green tea, steaming hot momos, maggie noodles - very popular around here. There was an alter for Shiva and DD2 the sweet addict she is figured out there was prasad in the tin in front. There were these tiny orange change or orange mittai as we called them. Alka of Sindhi Rasoi has a picture
here
. Once I saw that I had to run back and get some for myself. Of course I have not see those in a long time!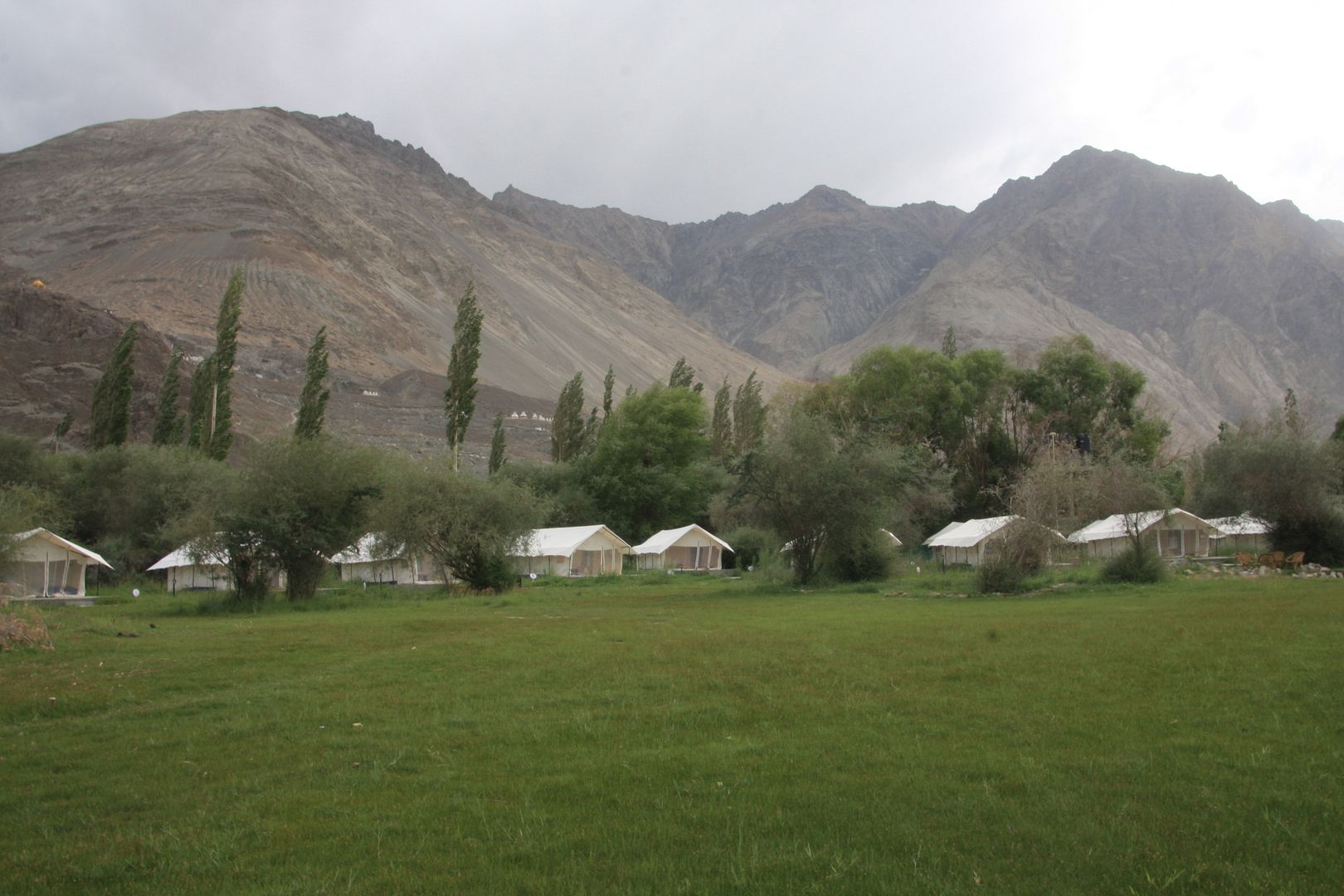 Tents in Nubra Valley!
All through the journey we got treated to the amazing views of the Himalayas in all its glory. The majesty and the beauty is hard to describe as I am not a poet! The first sight of it is enough to send any poet into raptures. The topography of the great Himalayan mountain range is that it not the same throughout. It changes it colors and features as we travel along. Throughout the hundred and something kilometers of the drive there was something new to see. The Himalayas being cold and arid after all the brown and grey it is a pleasantly refreshing to see a meadow with wild flowers and a stream flowing nearby. The flowing water and streams are where the villages and vegetation are.
Nubra Valley is like an oasis nestled among the desert. We stayed in a desert camp in fairly luxurious tents and we were very reluctant to leave the place when it was time to go. The path leading to this camp is exactly like traveling in a desert with sand dunes, sand storms and everything in between. It is in these sand dunes that we took camel rides which completed the desert experience. Standing in the valley overlooking the towering mountains all around is a perfect place for a Bollywood hero and heroine to break into a song and dance. We did not have that in our party so we played soccer, tug of war and wet our feet in the cool clear stream that flows nearby.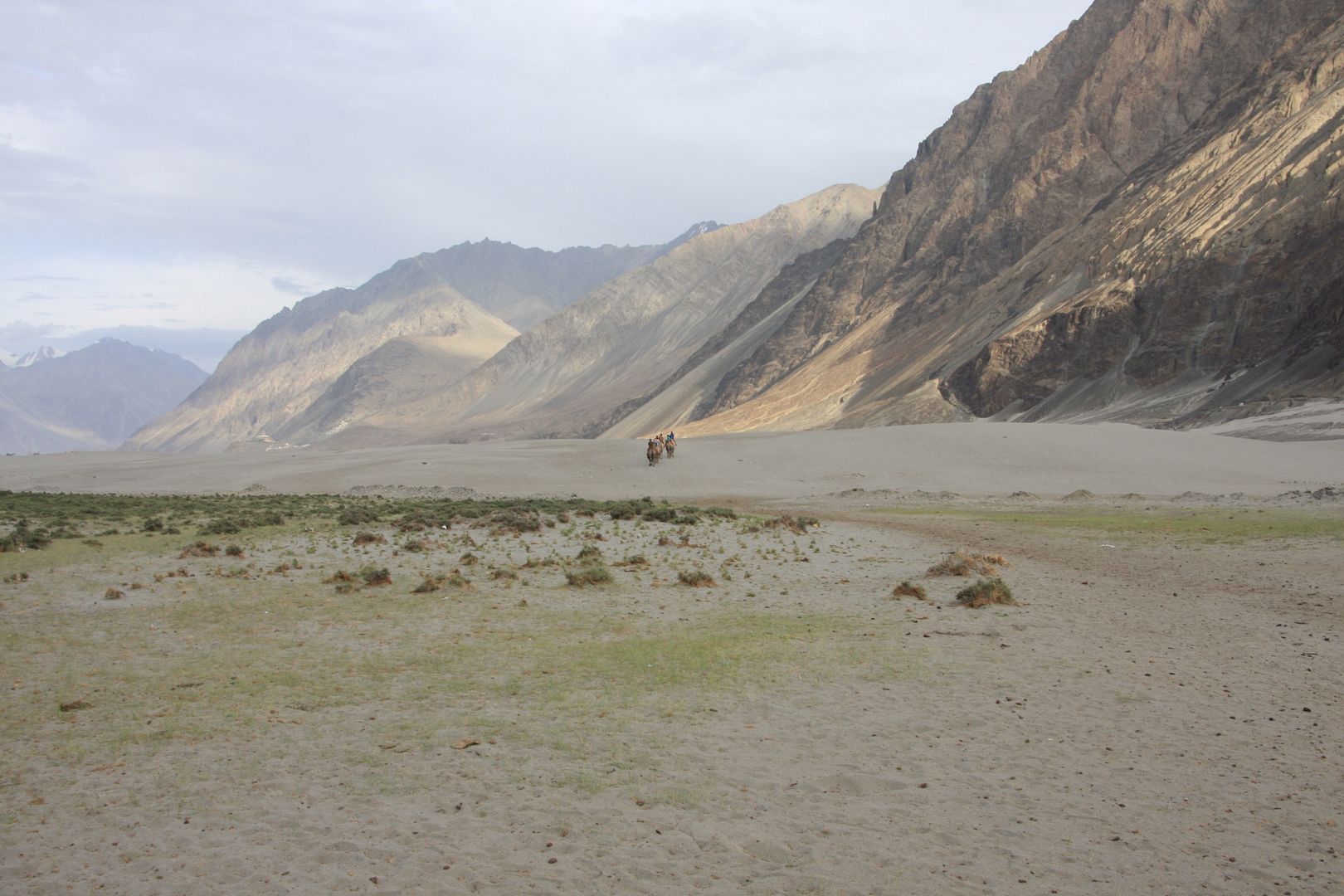 Camel rides on the sand dunes - Hunder!
It was starting to drizzle and the weather was getting iffy and our driver was getting restless. We skipped visiting the Diskit monastery with a life size sitting Buddha overlooking the Nubra valley. We had hit highest altitude on this trip and staying at an altitude higher than what we were used to at Leh. It was here that diarrhea hit for a couple of us, maybe it was the late lunch or the altitude itself we are not sure. Our party by then tired and raggedy was not in a physical condition to climb up to the Diskit monastery and the ominous looking skies told us not to delay any further. Remember I had talked about the skill of our driver without that we would have very well be stuck on the mountains. He was sure footed on a foggy, rainy, snowy and less than 25 feet visibility on treacherous mountain roads. As we climbed down the mountain to reach Leh, the sun peeked out and the sky was blue and bright again albeit a bit chillier than when we had left. As we reached the hotel we knew we were lucky to have made it down without stopping on the way. Those who were leaving from Leh to Nubra, Pangong Lake or catching a flight out were all turned back because of the roads and the airport was closed. We had luckily missed all of that.
Food in Leh
As we getting ready to leave for Leh my cousin advised me to carry a few boxes of noodles. It was really good advice but in the rush I forgot to buy some. Watery hot Maggie noodles tastes delicious once you have spent about 10 minutes climbing a steep hill or numerous steps to get to where you want to go. Carrying food is not necessary. Like anywhere in India restaurants are plentiful and so are different kinds of food. Our trip package included breakfast and dinner. Lunch was our responsibility. During lunch time we were out and about and so getting lunch was not a problem and it actually gave us all kinds of experiences. Lunch one day at a local eatery which served steaming hot momos. Noodles, momos and soups were all done excellently anyplace which advertised local food. Another day we ate a restaurant which offered Indian, Indo Chinese (very popular around those parts) and local Ladakhi fare. We ate soups, fresh grilled fish, fried rice and the like. The kids ordered something called sabagleb which was listed as Ladakhi food. It was stuffed fried bread and tasted delicious. The restaurant was run by a group of Nepalese who lease the place during the summer months. One of those days we had some excellent lunch at a Gurudwara which was maintained by jawans and kept spic and span. After a long drive down from the mountains on another relatively hot days we stopped at a Punjabi dhaba and had ourselves some hot rotis and plated lunch.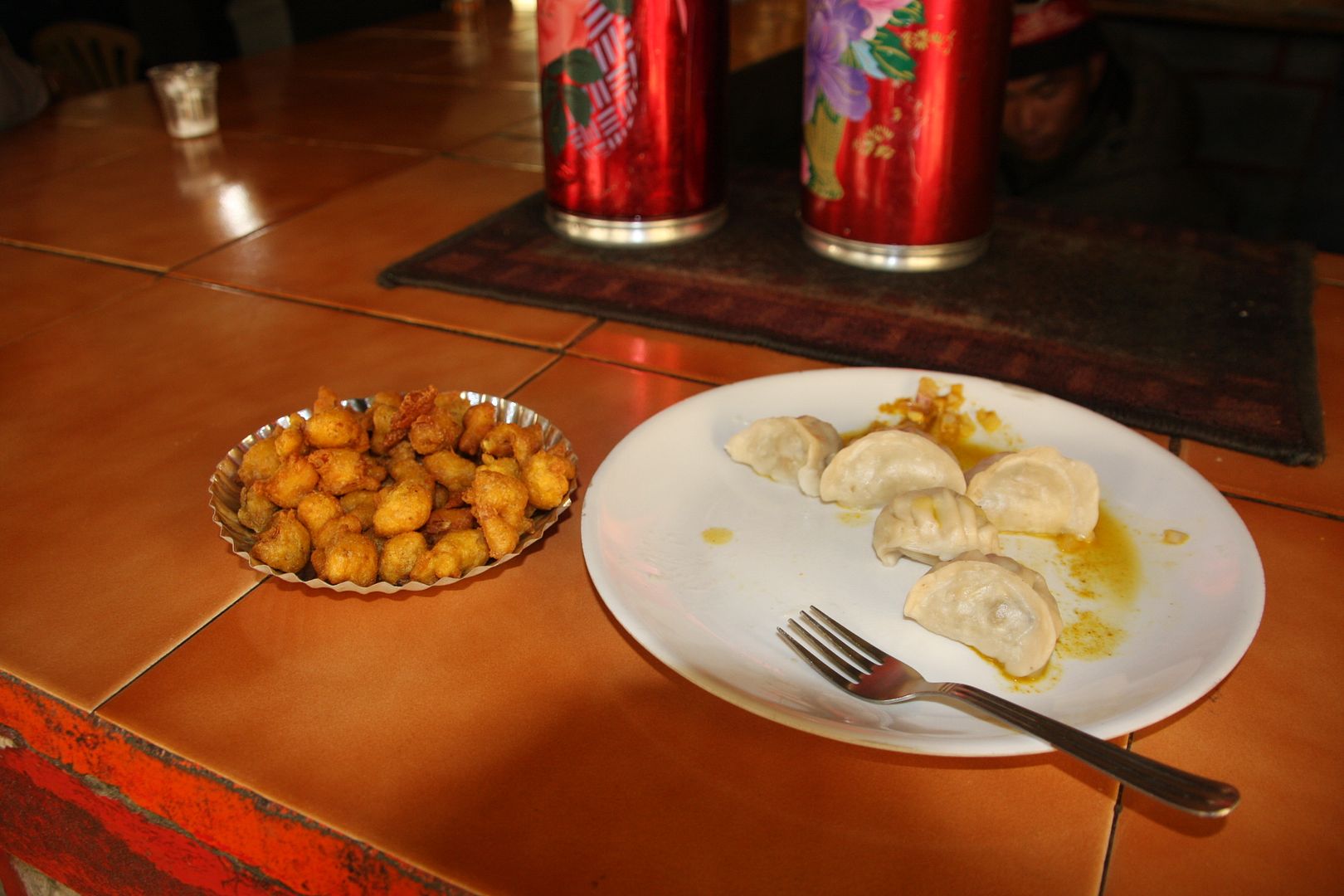 Steaming hot food in Khardungla Pass
Most of our meals were at our hotel was a lot of North Indian fare so much so that my Paneer Butter Masala loving DD can't bear the sight of it anymore. We had poha, tomato and cheese sandwiches, all kinds of vegetable gravies, some fantastic chicken curry, mustard masala fish. The food tasted great and those stuffed parathas were delicious but we had a smell problem meaning all the food was cooked with mustard oil. After the first couple of days the smell started getting to us. I know I am going to offend everyone north of Vindhyas by saying this. But I hate the smell of mustard oil. The smell seem to permeate everything - clothing, hair and anything we came in contact with. We were even served idli and sambhar when we were in Nubra valley. Still we all craved for home made rasam and sambhar. We called MIL as we boarded our plane from Leh asking her to make some spicy hot rasam! Other in this series