Zucchini and summer time go together. It seems easy to grow and I have read and heard stories of people running away from their neighbors and friends because of the generosity that comes when you have a bumper crop. For the rest of us who do not have Zucchini wealthy neighbors we can always buy fresh ones from the grocery stores or farmers market especially this time of the year. The good thing is Zucchini can be grated and they are perfect added to pancake batter for some savory pancakes. For those of you who are not pancake fans add them to dosai batter and they are really tasty in them too. I make pancakes a couple of times a week. While the rest of the family enjoys them with maple syrup, apple sauce or jams, I eat them with
idli podi
- for each his/her own. Anyway this recipe was to satisfy my savory tooth and also to use up the zucchini I had around.
I added harissa which works well with pancake but if you do not have it red chilli powder or pepper powder would be good alternatives. I used pre made pancake mix. I usually Red Mill Whole Wheat/Buck Wheat pancake mix mostly because it has ingredients that I recognize.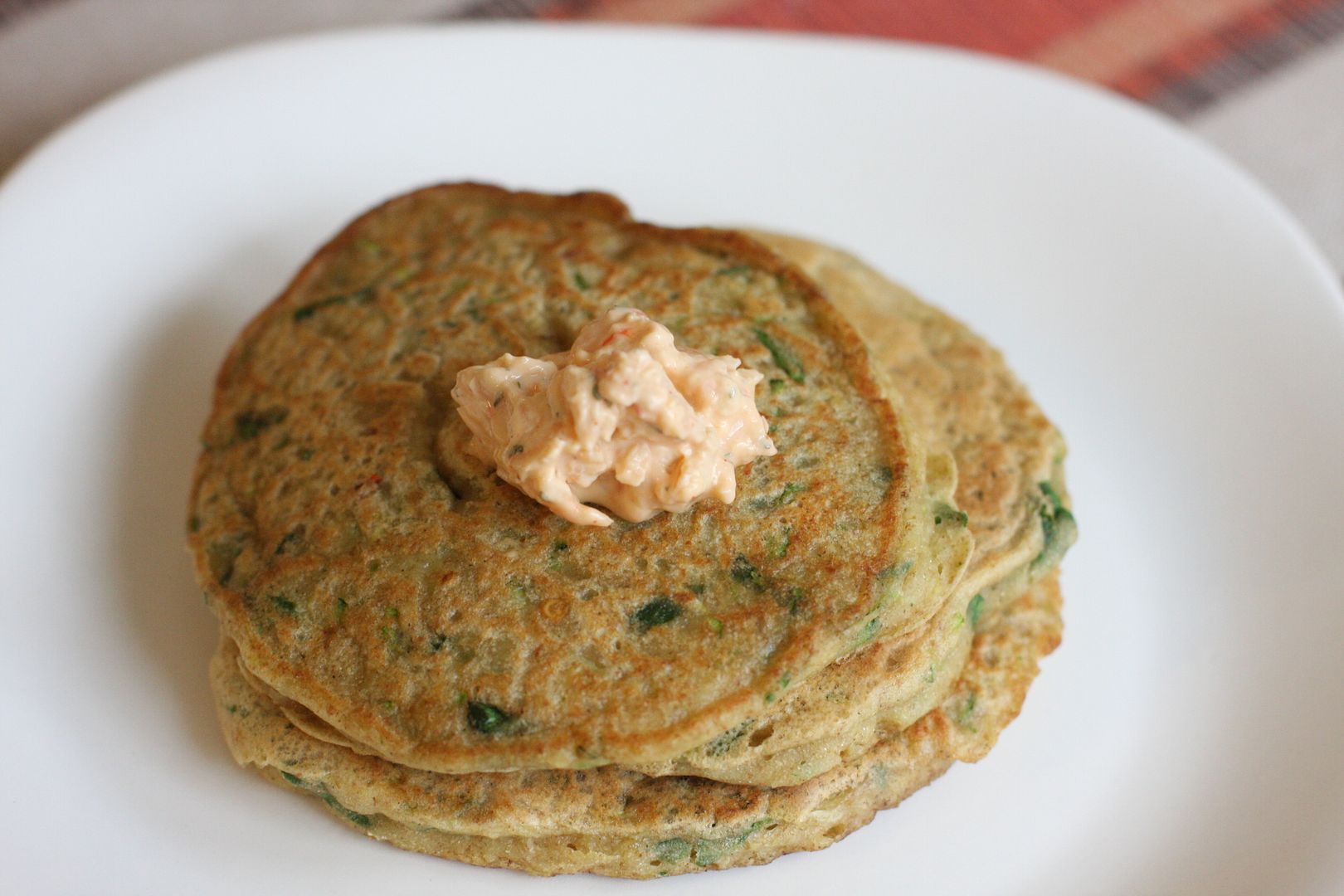 Zucchini and Spinach Savory Pancakes with Harissa Preparation Time:15 minutes Cooking Time:25 minutes Ingredients

2 cup of pancake mix
2 cups of packed spinach leaves chopped fine
1 -2 cups of grated zucchini
1/2 cup of milk + 1 1/2 cups of water more or less
a pinch of salt
1-2 tbsp of harissa
oil for cooking the pancakes

Method

Mix the grated zucchini and the spinach leaves with the pancake flour. Add the milk, water, salt and harrisa and mix it into pourable consistency but slightly thicker than the usual pancake batter.
Heat a griddle or a wide mouthed saute pan, spray with oil and then pour a laddle of batter. Cook on one side and then the other side. Also check to see if the insides are cooked with a knife or tooth pick.
Note:
Do not make the pancake batter too watery, the insides will be moist and feel uncooked.

Serve with some flavored cream cheese or just plain butter.