I had some dried figs in the pantry leftover after making this
Fig Fruit Cake
. Chanced upon a perfect way to use it when I came across this
tasty recipe on a beautiful blog - Lite Bite
. The kids eat a lot of cereal bars but filled as they are with sugar I wanted something that has a little bit less sugar like these
Lara Bars
which I have tried with blueberries and cherries.


blended dried fruits
cooked fruit paste halfway done


These fig bars are somewhat similar but requires cooking because of the water used in blending the soaked fruits. I used blueberries but any dried fruit - apricots or dried cherries would all work good. I made the nuts close to a powdery side for texture leaving a few bigger pieces. These bars serve as 2 in 1 as energy bars and as a tasty treat.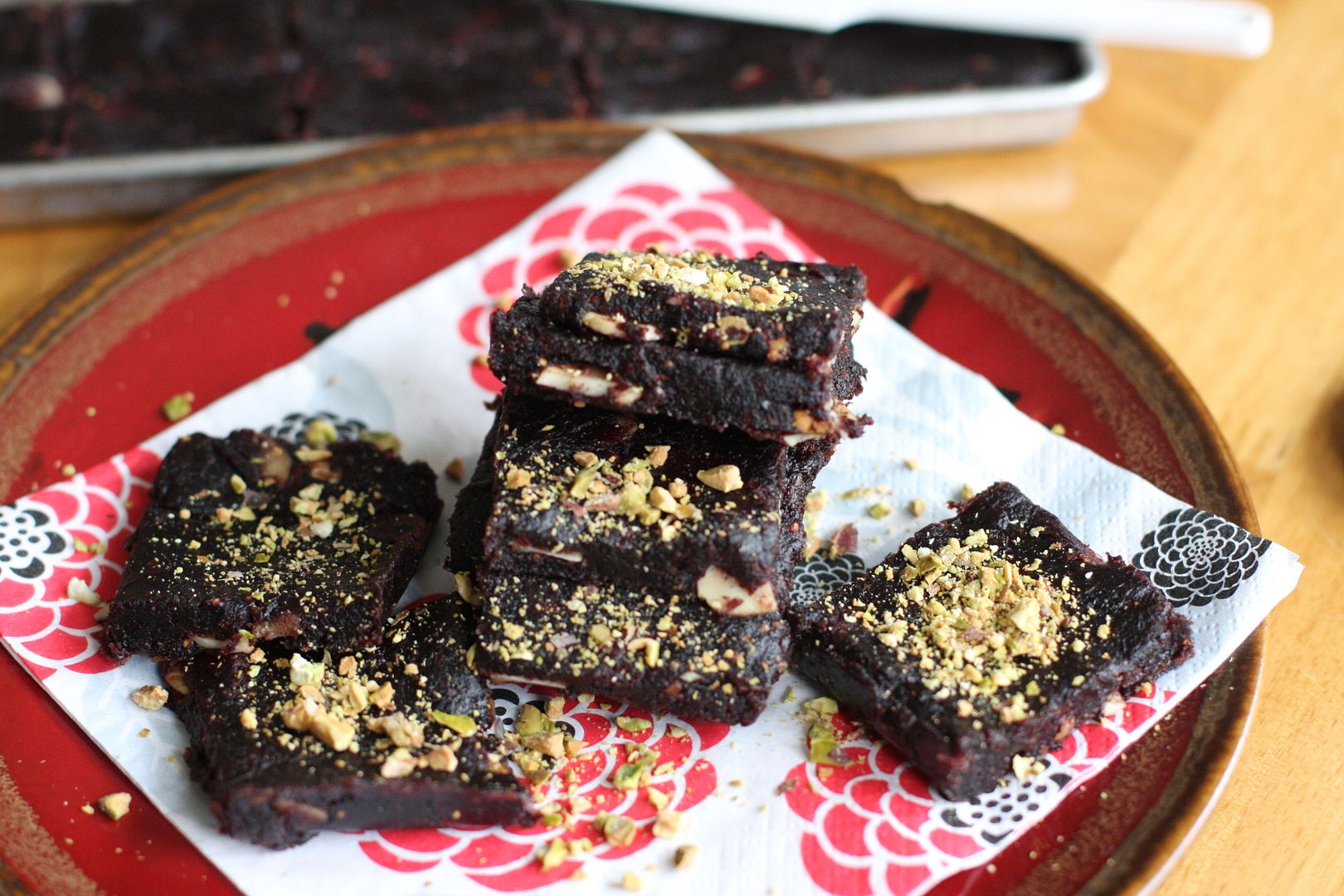 Recipe Source:
Lite Bite - Raisin and Dried Fig Fudge
Dried Figs and Blueberries Fudgy Bar Preparation Time:20 minutes + overnight soaking Cooking Time: 30 - 45 minutes Ingredients

1 cup dried figs
1 cup dried blueberries
1/2 cup of slightly roasted and nuts (pecans, almonds and pistachios) chopped coarsely but closer to the powdery side. Set 2tbsp aside for garnish.
2 tbsp of palm sugar + 2 tbsp of turbinado sugar or brown sugar (I used brown sugar)
2 tbsp of ghee

Method

Soak the figs and blueberries in as little water as possible preferably overnight and blend to a smooth paste.
In a pan heat half of the ghee and add the blended paste and cook it till comes together about 25 minutes or so.
Add the sugar and the chopped nuts and continue to cook till the sugar is incorporated into the fruit mixture and cook for another 20 minutes or so till it reaches soft ball stage.
Pour the mixture into a prepared pan which has been greased with some ghee. Spread the mixture evenly in the tray.
Let cool and cut into square bars. Sprinkle powdered nuts on top.