Fruit cakes have a bad reputation in this country for reasons I don't understand. I have asked several people why they don't like them. Answer invariably comes down to, too many fruit cakes this time of the year and everybody seems to giving those as gifts.
Thick batter!
I for one would have loved to get fruit cakes for gifts. The only kind I am not fond of are the really boozy kind which leaves an after taste. The
Washington Post Food Section
from a couple of weeks ago had at least 7 recipes for fruit cakes. I picked this one because I had most of the ingredients on hand and they were not many. It seemed like it would lend itself to variations easily as far the nuts and dried fruits went.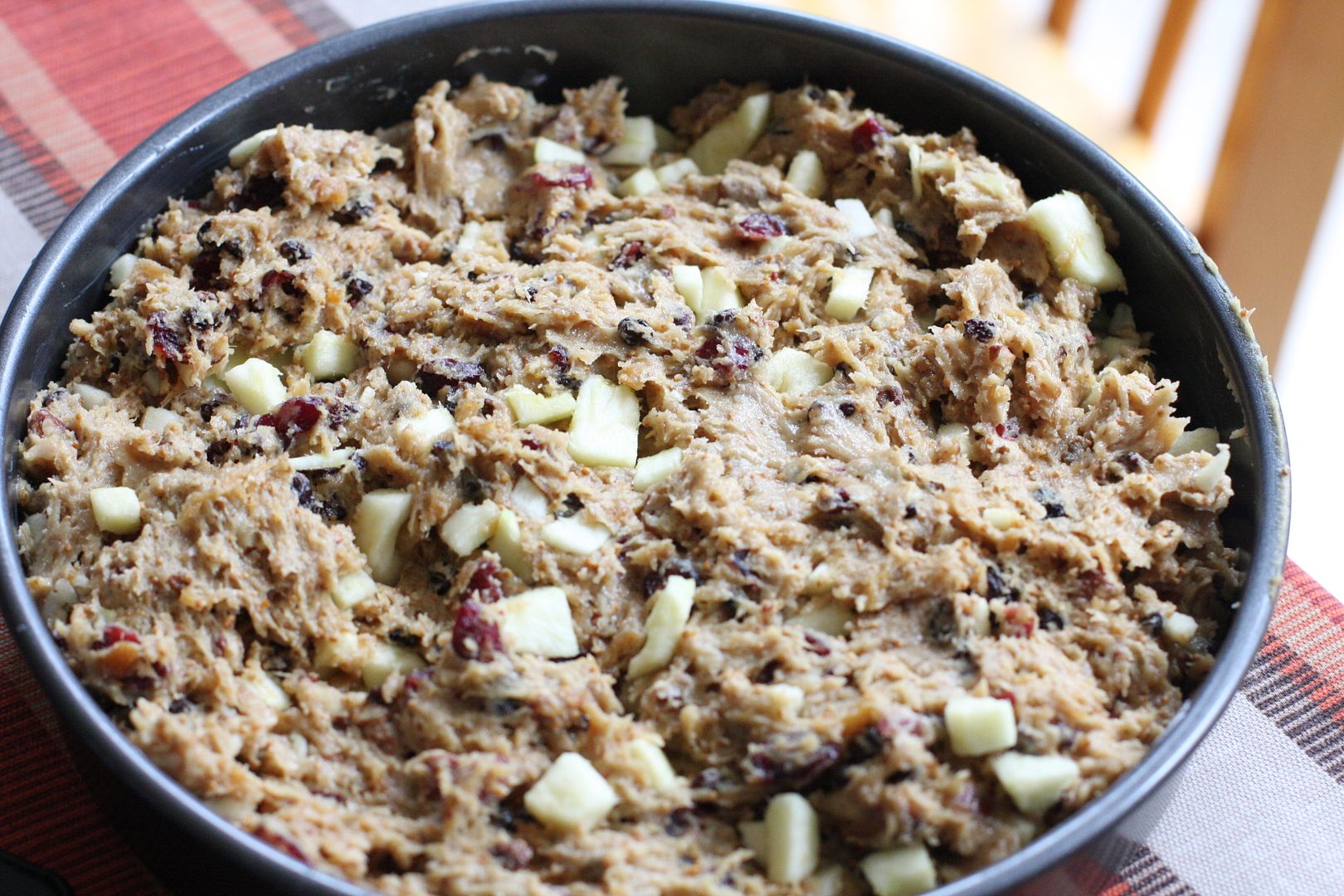 Ready for the oven
The recipe called for mixing of the batter with hand which is new for a cake recipe for me anyway. The other interesting thing there is no fat - oil or butter. Nope! If you do not have figs I think a combination of dates and dried cherries would work beautifully. I am not used to adding cloves and cinnamon for sweet things so skipped them but of course as per your preference go ahead and add them. It is one of those very easy to make cakes with no whipping and fluffing so even for baking challenged like me it was easy. It is a shame that these fruit cakes are made only during Christmas. These are a great after school or a lunch box snack.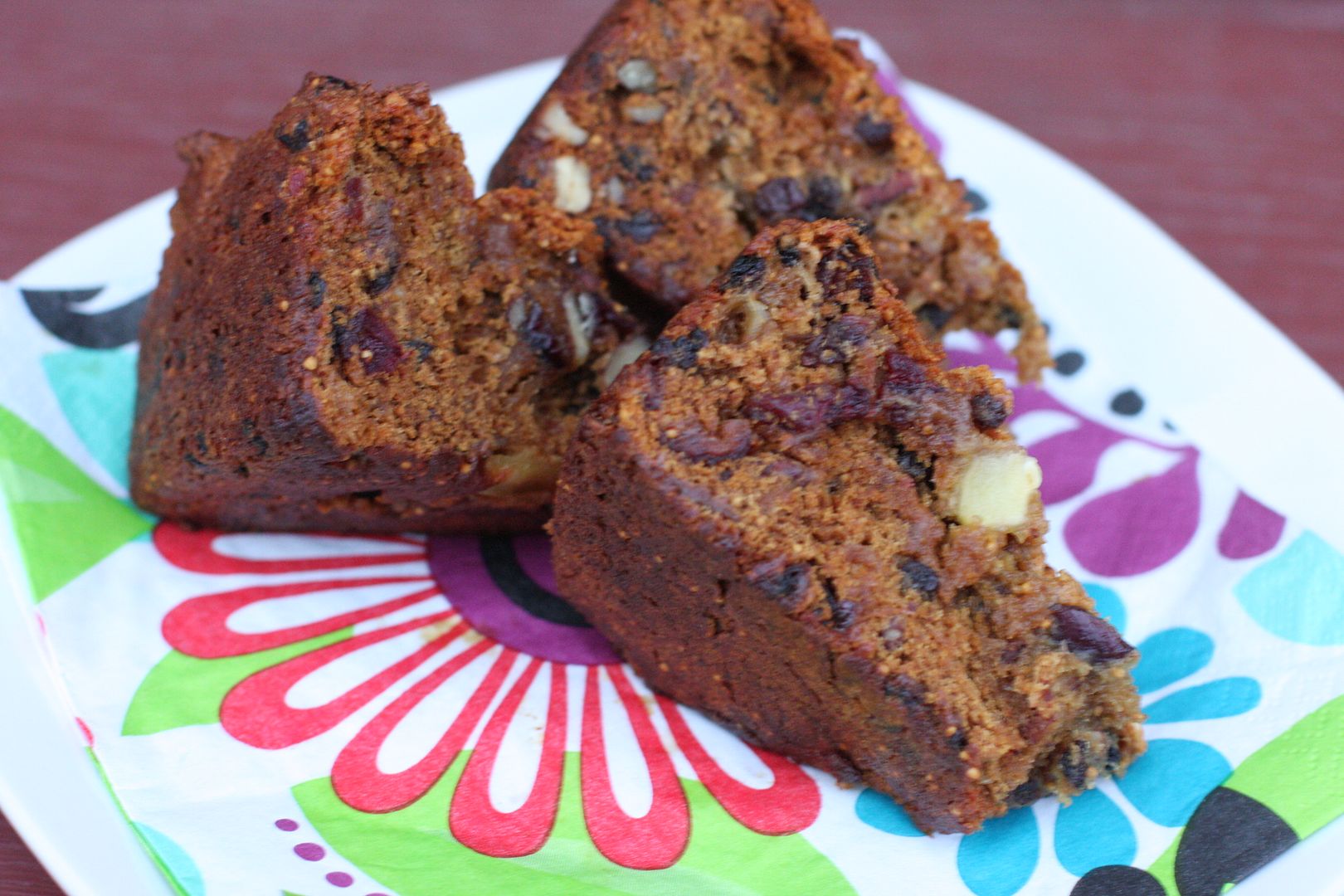 Arkansas Fig Fruit Cake Ingredients

2 cups all purpose flour, I used 2 cups of white whole wheat flour
10oz dried figs
1 Golden Delicious apple peeled, cored and finely diced
1/2 cup dried raisins
3/4 cup dried currants
1 cup pecans roughly chopped (skip for nut free version and substitute with a cup of chocolate chips perhaps or coconut flakes)
1 cup sugar + 3 tbsp more
2 cups of water + 2 tbsp more if neeeded
1/4 tsp salt
2 tsp baking soda
1/2 tsp ground cinnamon + 1/2 tsp ground cloves (optional, I did not add them)

Method

In a saucepan add the figs, 3 tbsp of sugar and 2 cups of water and bring to a boil, lower the heat to just below medium and cook for about 30 minutes till the figs are soft. Let cool and using a hand blender make a puree.
Preheat the oven to 300F.
To the fig puree add the raisins, currants, pecans and apples.
In a mixing bowl large enough to hold all the ingredients take the flour, sugar, salt,baking soda, spices if using and mix them together.
To the flour add the fig puree and mix it together. It would be hard at this point to mix with a spatula so hands work best. Add a couple of tbsp of water if it is too dry.
Grease a 9inch cake pan (with butter or spray) and transfer the batter and smooth the top with a spatula.
Bake for 50 -60 minutes or till a skewer inserted in the center comes out clean.
Cool for 30 minutes.

Note: A tube pan would make it festive. Loaf pan works too. Reduce the amount of sugar by a quarter cup if you are using dates and do not add teh sugar while cooking it.