Have you heard of the ANDI score?
"ANDI stands for "Aggregate Nutrient Density Index." An ANDI score shows the nutrient density of a food on a scale from 1 to 1000 based on nutrient content. ANDI scores are calculated by evaluating an extensive range of micronutrients, including vitamins, minerals, phytochemicals and antioxidant capacities"
DH came across ANDI scores for vegetables while shopping at the Whole Foods Market. The ANDI system itself was designed by Dr. Joel Furhman, Eat Right America founder. The chart that follows has also been developed by his organization/him.
Picture from
Fooducate Blog
We have been trying to eat a lot more green leafy uncooked vegetables. As most Indians can attest I am not particularly fond of eating uncooked anything. Anyway we have active children in the house, DD does 13-15 hours of active sports every week and starting to look all bones and skin. Eating predominantly carbohydrates is not going to be enough. We(read DH) made a conscious decision to include more green leafy vegetables which means more salads and with the right salad dressing I am slowly developing a liking towards them too. This has in turn caused a different kind of problem with the kids eating but I will not go there for now. This is where ANDI scores come in. Who does not like a big bang for their buck? Kale is a powerhouse it seems with high ANDI scores. So we have been trying to come with ways to use Kale. Kale leaves are tough so eating them raw is out of the question. I was debating if to make something like this -
greens and toor dal
or make a simple stir fry with onions and red chilies. On a whim decided to make some soup. Beans would have been nice but I only had a bag of cracked wheat and that simply had to do. It is very simple recipe and one that was much loved. Some home made croutons and some shredded cheese make a great accompaniment. Rub whole wheat breat with butter or olive oil and broil in the toaster oven for couple of minutes on each side.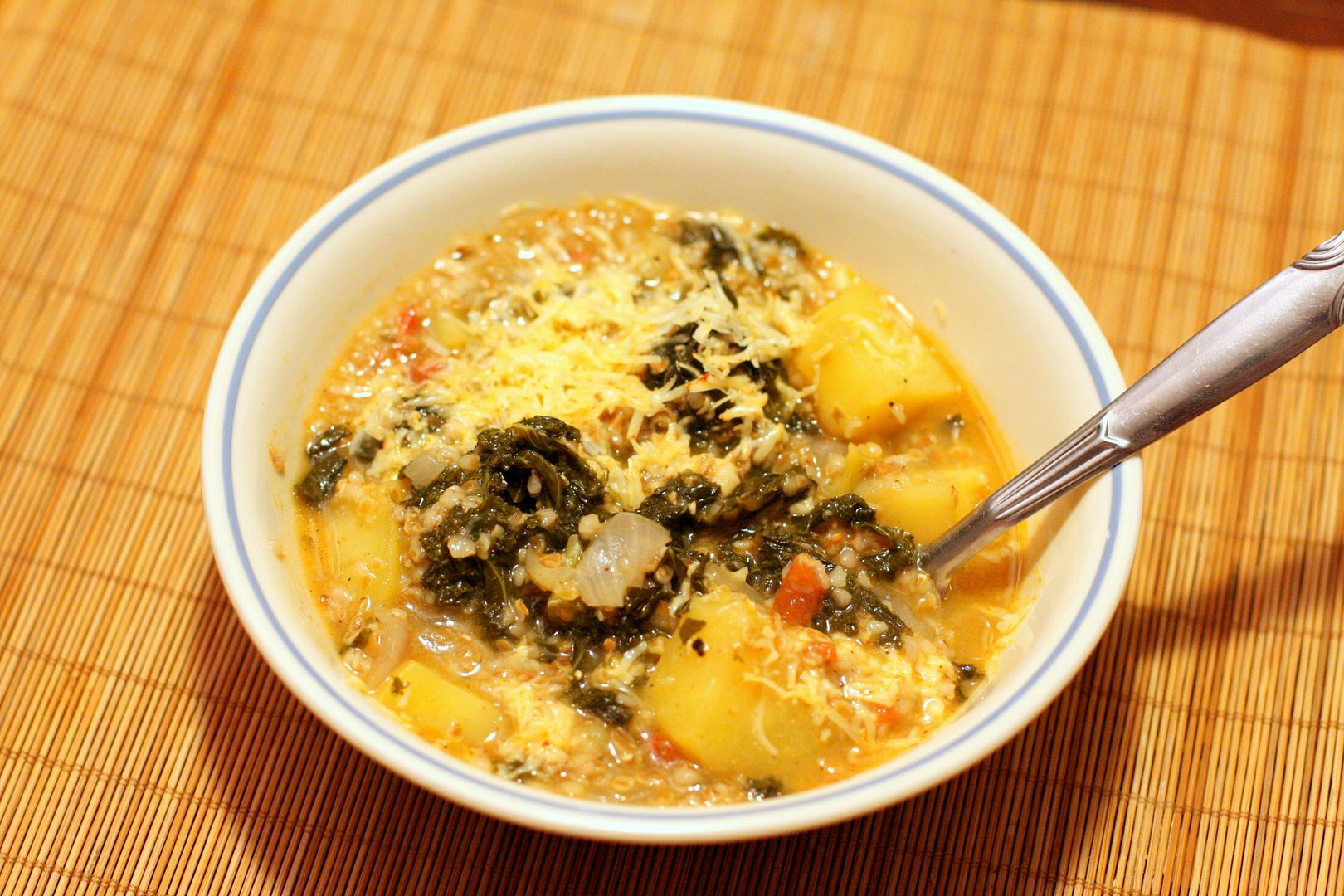 Kale and Potato Soup with Cracked Wheat Ingredients

6-8 stems of kale leaves about 4-5 cups of leaves loosely packed
2 Potatoes scrubbed, peeled and diced into fairly big cubes
1/4 - 1/2 cup of cracked wheat (it swells to almost 4 times when cooked) soaked for 30 minutes
1/4 cup of chopped onions
4-5 garlic cloves crushed and chopped
2-3 tbsp of finely diced tomatoes
2 tsp cumin powder
2 tsp of pepper powder + 2 tsp of red chili powder
salt to taste
1 tbsp olive oil

Method

In a dutch oven or a thick bottomed pan heat the olive oil, add the garlic and onion and saute till they get to be translucent. Add in the chopped tomatoes
Continue to saute till the tomatoes are mushy
Drain the water from the soaked wheat and add it to the pot and saute for 3-4 minutes
Add the potatoes and saute them for a minute or two
Add the cumin and chili powders and saute for a minute more
Add 8 cups of water (or more if you want a thinner soup) and bring to a boil
Add the kale leaves mix it in a bit and cover the lid and let cook for 20-30 minutes checking in between.
The soup is done when the wheat and potatoes are cooked

Note: 1. Vegetable or Chicken broth can be added. Chicken bouillon cubes can be added.