Back home I was familiar with 2 greens and they were the ones that were cooked most often. One was
thandu keerai (Amaranth green) and the other was manathakkali keerai (Nightshade greens)
. There were a lot of other greens which were cooked every now and then whenever they became available.
Once here the 2 greens mentioned above were not readily available unless I grew them. For a long time spinach was the only green and that was till I discovered Chard leaves. Now chard leaves are one of my favorites. I never quiet like spinach all that much but we have learn to live with it.
So the other day I found myself face to face with a bunch of fresh collard greens. Collard greens are tougher than both spinach and chard leaves and not slimy like spinach tends to become when cooked. Being tough it lends itself to be cooked a bit longer and not get mushy. This recipe is quick and it turned out far better than I expected. A great week night recipe if you ask me.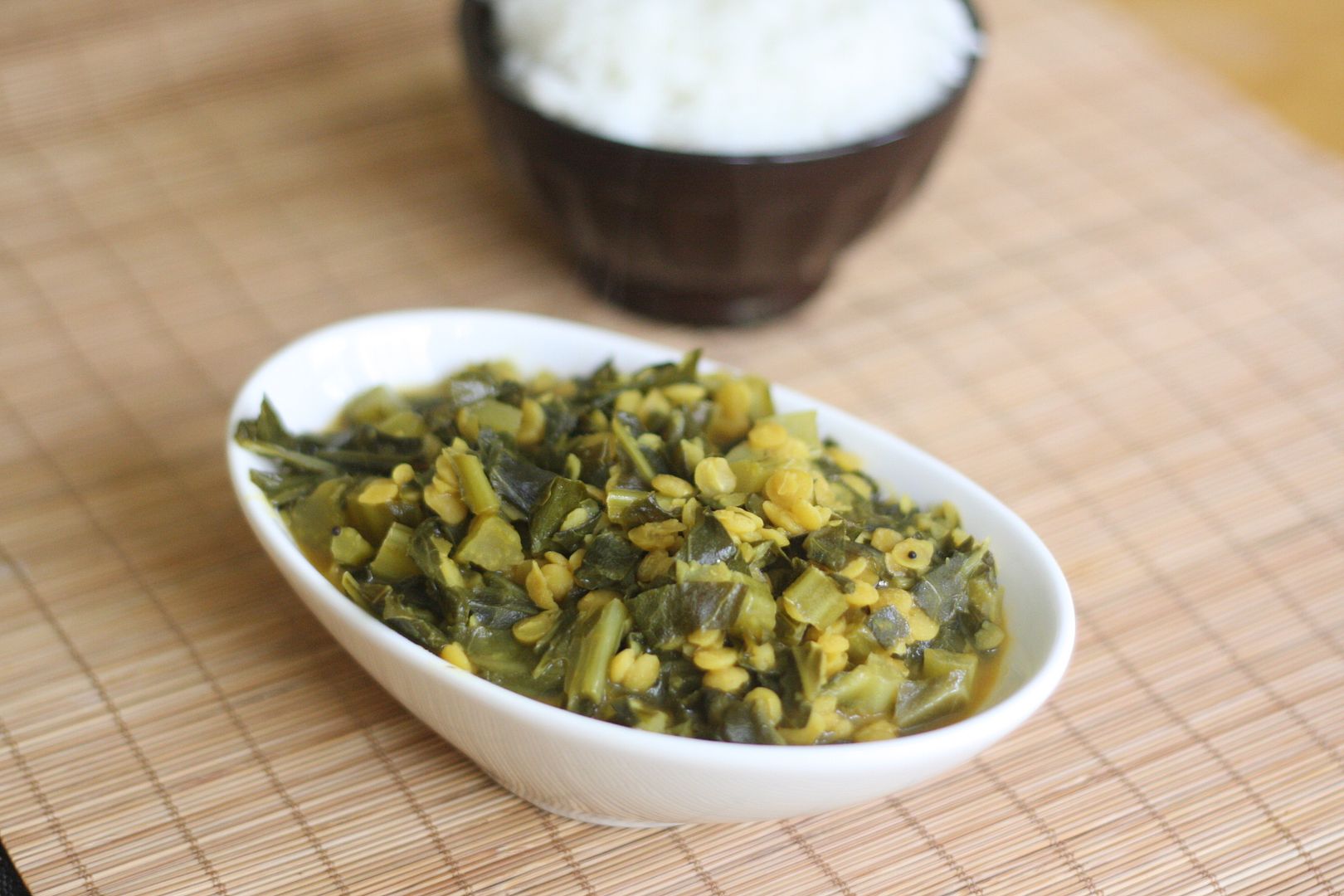 Collard Greens with toor dal
Ingredients
1. 1 cup toor dal
2. 4 cups of packed collard greens chopped with stems
3. 1/4 cup onion chopped
4. 1 garlic chopped (optional)
5. Juice from half a lemon
6. 1 tbsp sambhar powder or 1/2 tbsp chili powder
7. salt to taste
8. seasonings: cumin seeds, mustard seeds and curry leaves

Method
1. In a Pressure cooked add the dal, collard greens, onions, garlic if using and sambhar powder with 1 1/2 cups of water (see note).
2. Cook for 2 whistles or on a stove top till the dal is cooked but not falling apart.
3. Open the pressure cooker and on a slow flame add salt and lemon juice.
4. In a small pan heat 1/2 tsp of oil and add the cumin seeds, mustard seeds and when it starts to pop add the curry leaves and pour over the cooked dal and turn off the heat.

Serve over rice.
Note
1. Add just enough water to cook the dal. It should not be mushy like for sambhar. The cooked dal should retain its shape.

PS: Who else is having problems with the Compose window after the blogger upgrade?. I agree the overall upgrade does have some good features. But they messed up big time with the Compose tool and it is like a generation behind what was already there. 3 thumbs down Google on that one.