Like most Indian kids I grew up snacking a lot. My snacking habit was helped along by my maternal grandmother's cooking skills. She still makes those snacks though well into her 80s, active and cooking as she was 40 years ago. Those days she not only made them but packed them for her daughters which would be my mom and aunt and hence our constant supply of snacks. When we visited the village
murukkus
and
gulab jamuns
were always there in her snack cupboard.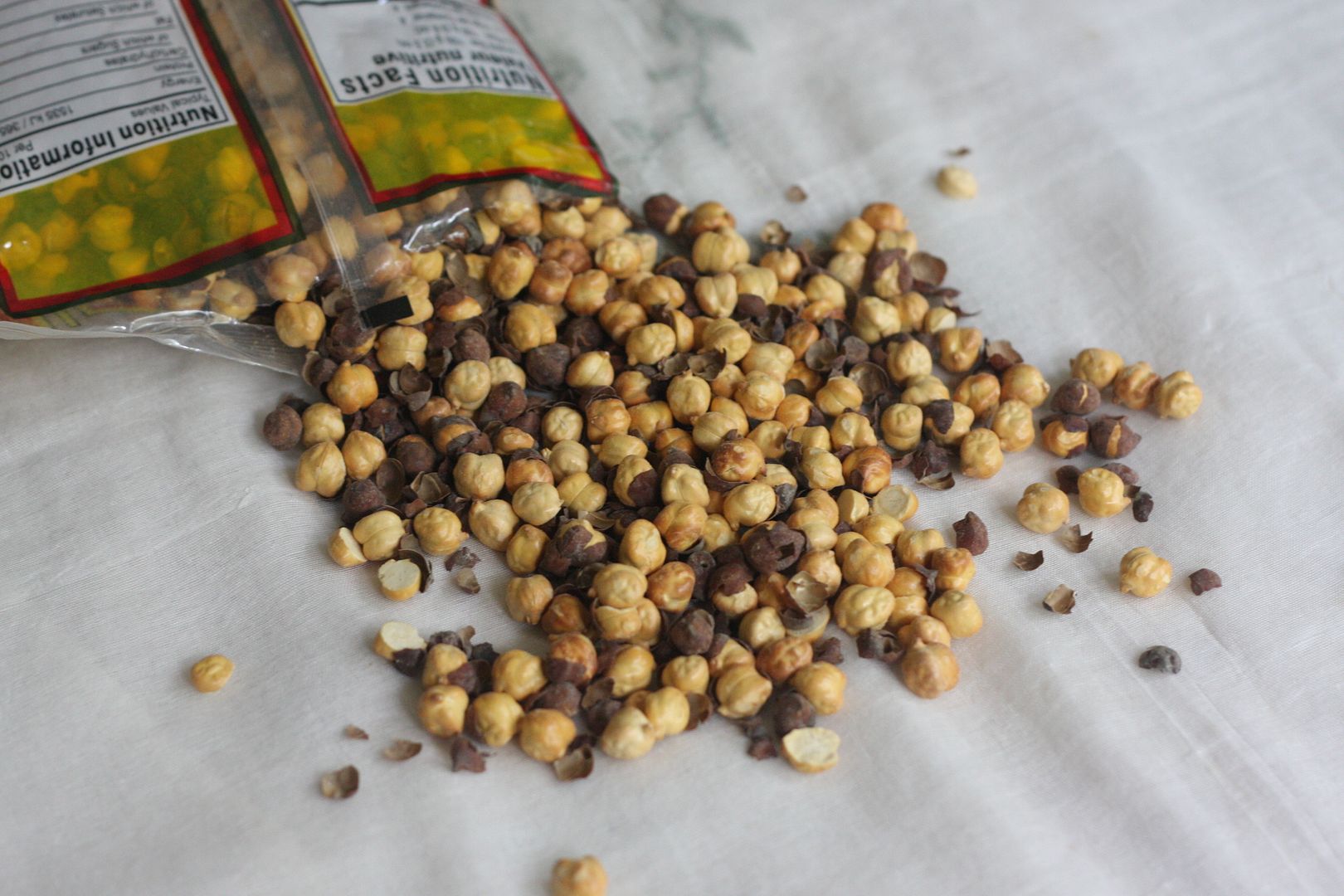 Roasted Chickpeas
As if grandmother's snacks were not enough we had a Nilgiris(Cakes and pastries, puffs) where we satisfied our cake cravings. We were also regular customers at Agarwal Sweets and Snacks(Samosas, Pakodas, mixtures) which had the best samosas ever and crunchy onion pakodas.
It was a time when buying snacks was not a everyday affair and most pre-made snacks were considered to be made with bad oil and not healthy. Hence the snacking was on predominantly home made snacks.
Fast forward to here, as sweet, salt, spicy - snacks in any form were acceptable to me and I did not discriminate much I had a several different snacks to choose from. I was young, weight or health were not on my mind. And moreover I was naive about the stuff that went into making these snacks. No one need spend time making snacks when you had a gizzillion of them available to choose from all cheap and easy. Making Indian snacks were time consuming and not easy or fun and first I had to get familiar with cooking so buying junk just happened.
I have a sedentary job that makes matters worse. I snack when hunger hit mid morning and couple of hours after lunch. Rushing to the vending machine or carrying the same chips and cookies with me and snacked on them. I slowly (the dud that I am) realized this was becoming the Achilles heel aiding in my middle and butt expansion.
Roasted Asparagus
The kids were starting to snack on very same stuff. Not that they insisted on them it is just that they were readily available. I realized I had to do a few things that will fix this problem. Moreover the kids are very active and if they did not get proper nutrition they were going to end up with malnutrition is what goaded me into action.
Pinto beans Sundal
Taught DD how she can quickly grill vegetables like asparagus, Zucchini, broccoli or sweet potato and she realized that they tasted a lot better than simply par boiling them. Sundal which is sauteed beans in some mild spices is a very good snack which is quite filling.
I am very reluctant to use the word healthy because every single thing we eat doesn't have to be healthy but the least it has to be real food.
Here a few snack ideas.
Carry along snacks
1. Cut Carrots and cucumbers
2. Roasted chick peas
3. Roasted Green Peas
4. Sundal
5. Cut Fruit Slices
Quick Evening snacks
6. Grilled Vegetables (asparagus, Zucchini, broccoli, sweet potato)
7. Sliced bread sprinkled with cheese and toasted
8. Bread/chapathi/torilla - spread with sliced cheese and toasted till the cheese melts.
9. Boiled tapioca, sweet potato, potato - boil slice and sprinkle with some salt and pepper and toasted for a few minutes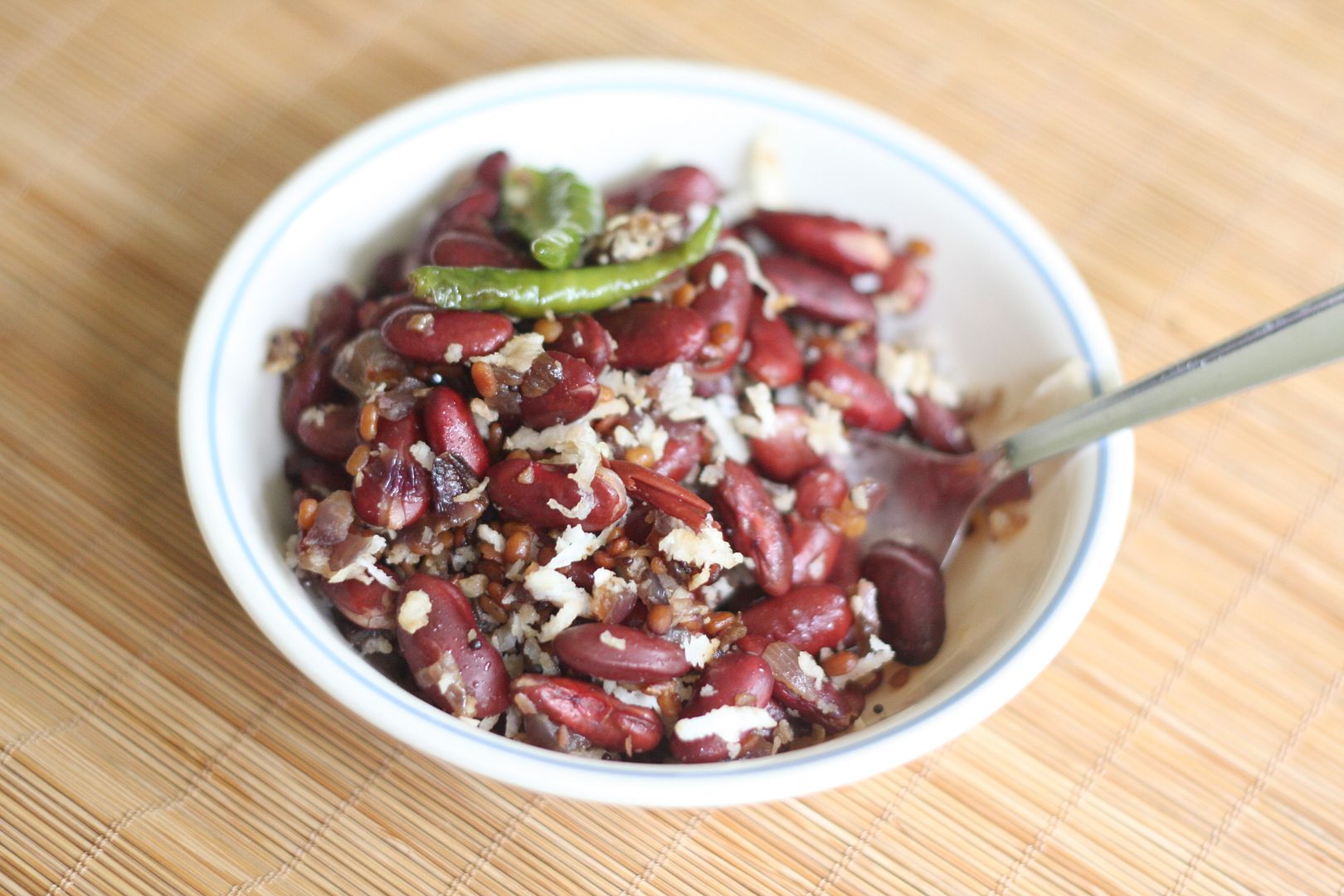 Red Kidney Beans Sundal
Red Kidney/Pinto Beans Sundal
Ingredients
1. 1 cup of dry Red Kidney Beans/Pinto Beans (soaked overnight)
2. 1/4 cup of chopped onion (any kind) or shallots
3. 1 1/2 tbsp of grated coconut (fresh or frozen)
4. seasonings: 1/2 tbsp split urad dal (white dal), mustard seeds and curry leaves
5. 6-8 broken red chilies
5. Salt to taste
6. 1 tsp of oil

Method
1. Cook the beans on the stove top till soft. Take care to keep the beans whole. Drain and set aside.(see Note)
2. In a wide mouthed pan heat the oil, add the urad dal and when it starts to brown add the mustard seeds and when it starts to pop add the curry leaves and red chilies.
3. Add the cooked beans and salt and saute for a few minutes.
4. Add the grated coconut towards the end and turn off the heat.

Note:
1. The beans can be cooked in the pressure cooker but it is hard to turn off at the right time. Soaked beans cook pretty fast on the stove top (about 20-25 minutes).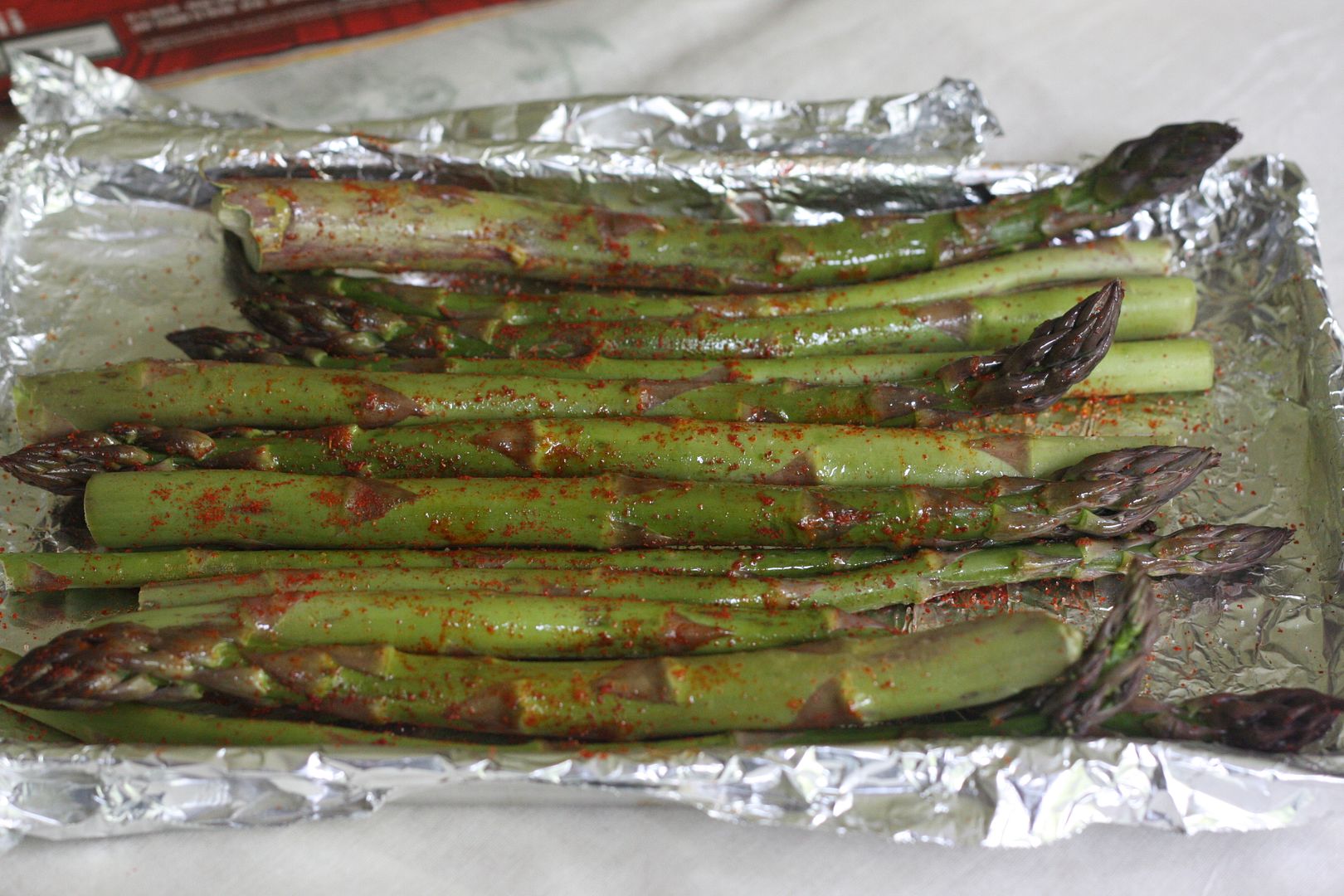 Ready to Roast
Roasted Asparagus
Ingredients
1. 15 stalks of asparagus
2. salt and red chili powder/ black pepper
3. oil spray or 1 tsp of olive oil

Method
1. Mix the salt and red chili powder and sprinkle them on the asparagus. Add a few drops of the oil and mix it into the asparagus.
2. Spread them on a tray and roast them in the toaster oven for 10-15 minutes.