In the northern part of India Khichdi usually means a
rice and lentils in a one pot rice dish
. In my neck of the woods in TamilNadu the southern most state in India, khichadi is a savory dish made with cream of wheat, vegetables and seasoned with turmeric for the tell tale yellow color. Similar to upma but with added masala khichadi can be called a masala upma if you will. Khichidi- Kichadi similar sounding dishes but totally different.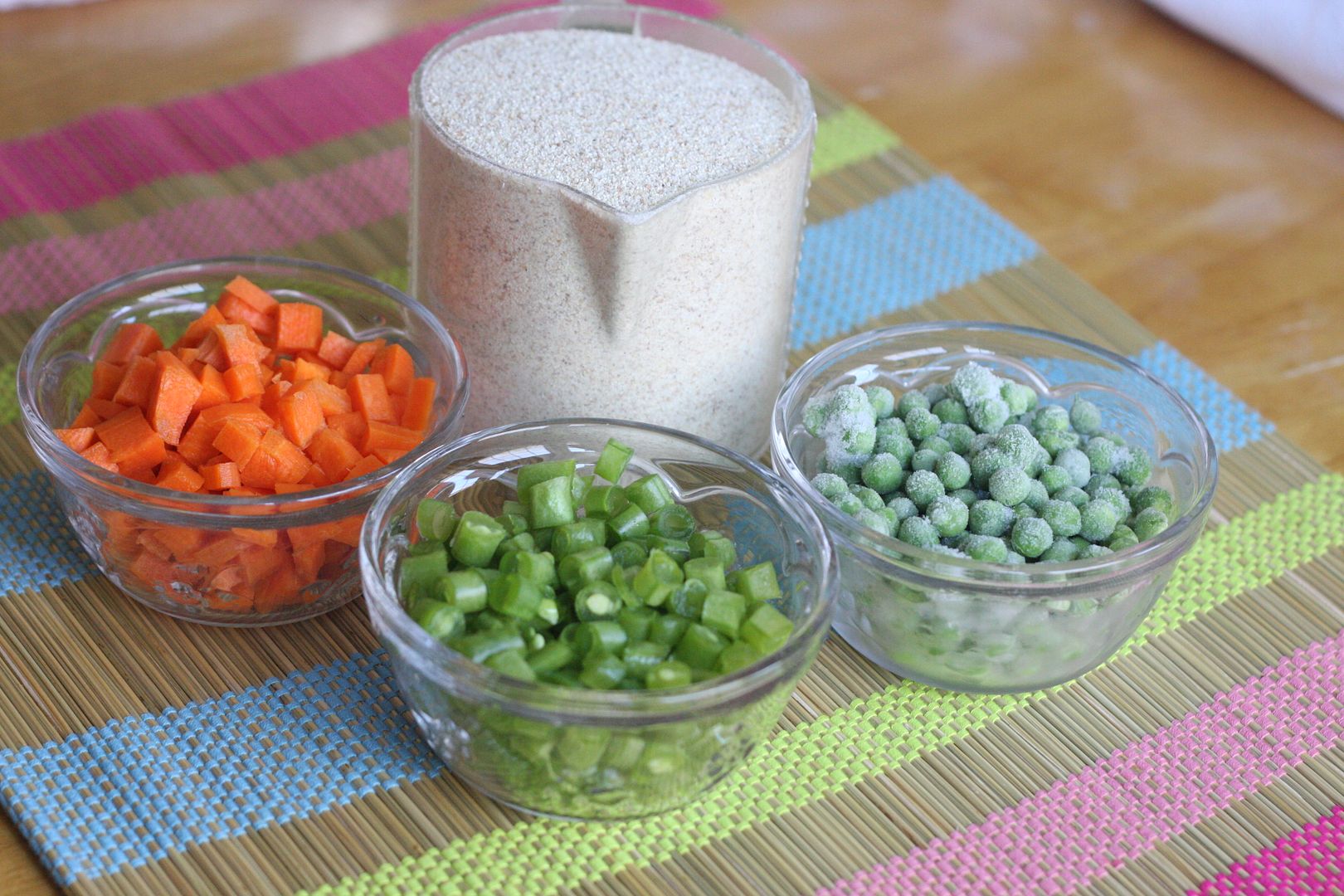 This recipe was what I decided to make for a potluck at a friend's house. She had decided on theme for the event - chaats (snacks). For my contribution she helpfully suggested gol goppa, other than hearing the name a few times I wasn't sure what it was. She translated it to as pani puri which I have tasted and enjoyed a few times but making it was a different story all together. Doubtful about my pani puri making abilities I was debating on taking the easy route and buying the pani and the puri. Maybe that came through on the phone call. Anyway we finally decided on Upma in a second phone call when she felt that there were too many fried items on the menu. I am glad she did and saved me the embarrassment of a failed pani puri.
Khichadi has to be fluffy to be liked, soggy pasty khichadis is what made me run away from them for a long time. Khichadi was much appreciated and everyone wanted to know how it was fluffy and soft. People had to part with a valuable for me to giveaway that little secret. Kidding guys the answer is simple - the rava has to be roasted.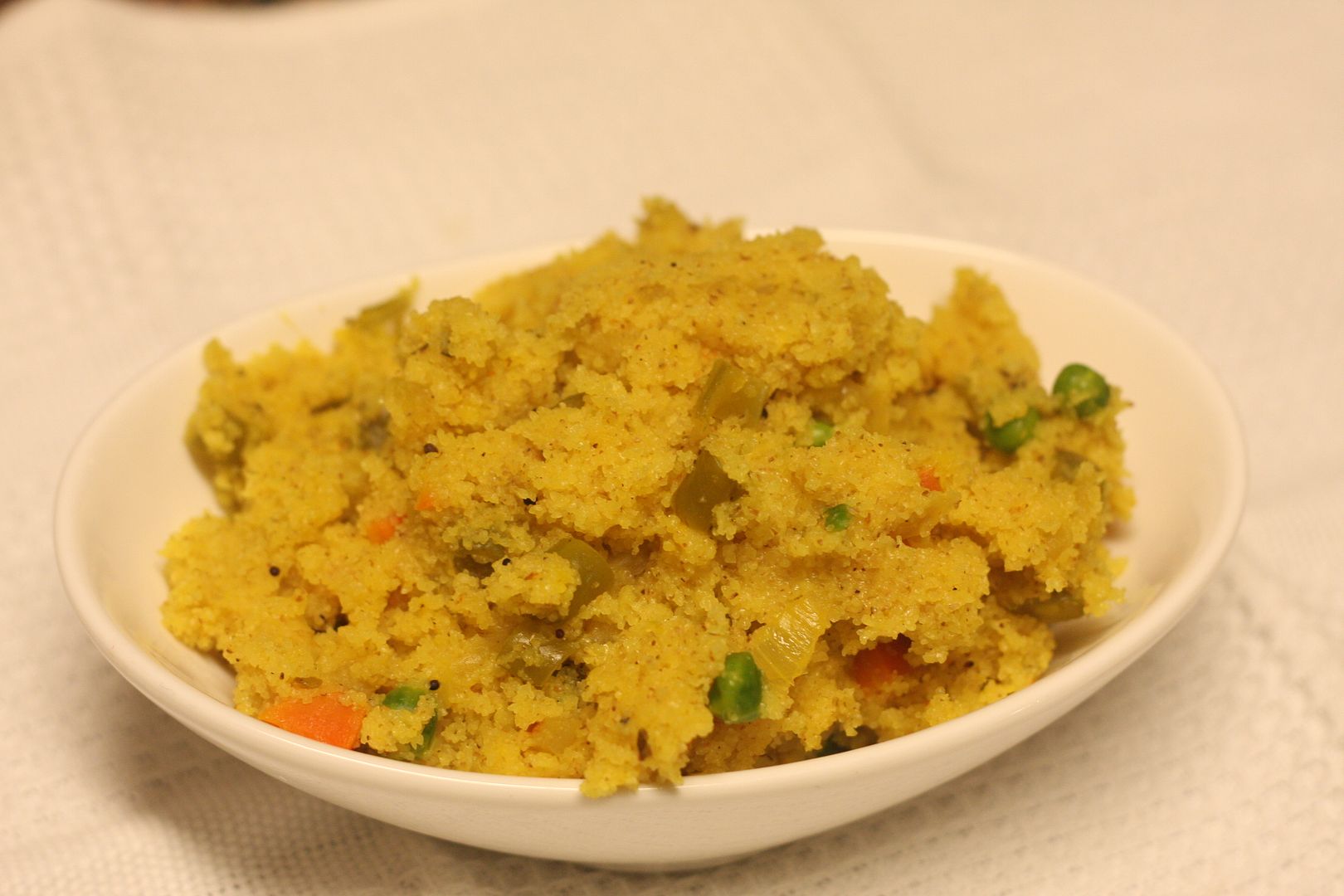 Khichadi - Mixed Vegetables Masala Upma
Ingredients
1. 2 Cups of cream of wheat (I use 1 : 2 1/4 ratio cream of wheat : water) (see Note)
2. 1 1/2 cups of mixed vegetables (I used carrots,beans and peas)
3. 6-8 green chilies slit
4. 1 tbsp of finely chopped mint + 1 tbsp of finely chopped coriander
5. 1/2 -3/4 cup of chopped shallots or red onion
6. 1 tbsp grated ginger
7. 1 tomato chopped fine
8. 2 tsp turmeric powder
9. 1 tsp red chili powder (optional)
10. seasonings: curry leaves, mustard, cumin
11. salt to taste
12. 4 1/2 cups of water
13. 2 tsp of oil
14. roasted broken cashews (optional)

Method
1. Roast the cream of wheat till it turns a slightly brown color about (10-15 minutes). Set aside to cool. In the meantime put the required amount of water in a sauce pan to boil.
2. In a large sauce pan or kadai heat oil and add the seasonings cumin first, mustard and when it starts to pop the curry leaves.
3. Add the slit green chilies and onion and saute till the onions are starting to get translucent.
4. Add in the ginger and saute for a few more minutes.
5. Add in the turmeric powder and salt. Mix well.
6. Add the tomatoes and saute till it becomes mushy and soft.
7. Add the green beans and carrots and saute for a couple of minutes. Mix in the chili powder if using. Add a 1/2 cup of the boiling water and cover and let cook till the vegetables are soft.
8. Now add the remaining water and the peas (I used frozen peas hence added them here otherwise add them along with the other vegetables).
9. Let the water come to a rolling boil. Turn the flame all the way to low.
10. Now add in the cream of wheat, all the while stirring to avoid any lumps.
11. Place the lid and let it be in the heat (do not turn up the flame) for 4-5 minutes.
12. Turn of the heat, add the cashews and fluff with a spoon.

Serve with coconut chutney or a spicy onion chutney.
Note: I use the Quaker Cream of Wheat and not the Indian sooji and the proportion of water is for that.