Here is another book suggestion for Middle or High School age kids and why not I liked the book a lot so adults go for it. If you are worried that your book worm is devouring too many fiction books here is your answer. It is a fast paced and as interesting as a crime fiction novel but it is a true story. Some of you might have heard of the name of the lady about whom the book is about. If you have not heard of her should still be thankful to her because without her cell research on diseases might not have been possible.
I heard of the book on a show on NPR where book recommendations for summer were given out. I put a hold on the book at the library for DD. I was 158th on the waiting list and it took almost a year for my turn. Once DD got hold of the book she could not put the book down. She was fascinated and told me it was as fast paced very interesting but a bit sad as well. I read the book in one sitting.
Without further adieu the book is '
The Immortal life of Henrietta Lacks
'.
For the recipe of the day, most of the ingredients are store bought. It is one for those cold windy days where the brain fails to work but the stomach does not understand and the scratchy throat (the entire household had) needed something hot and watery.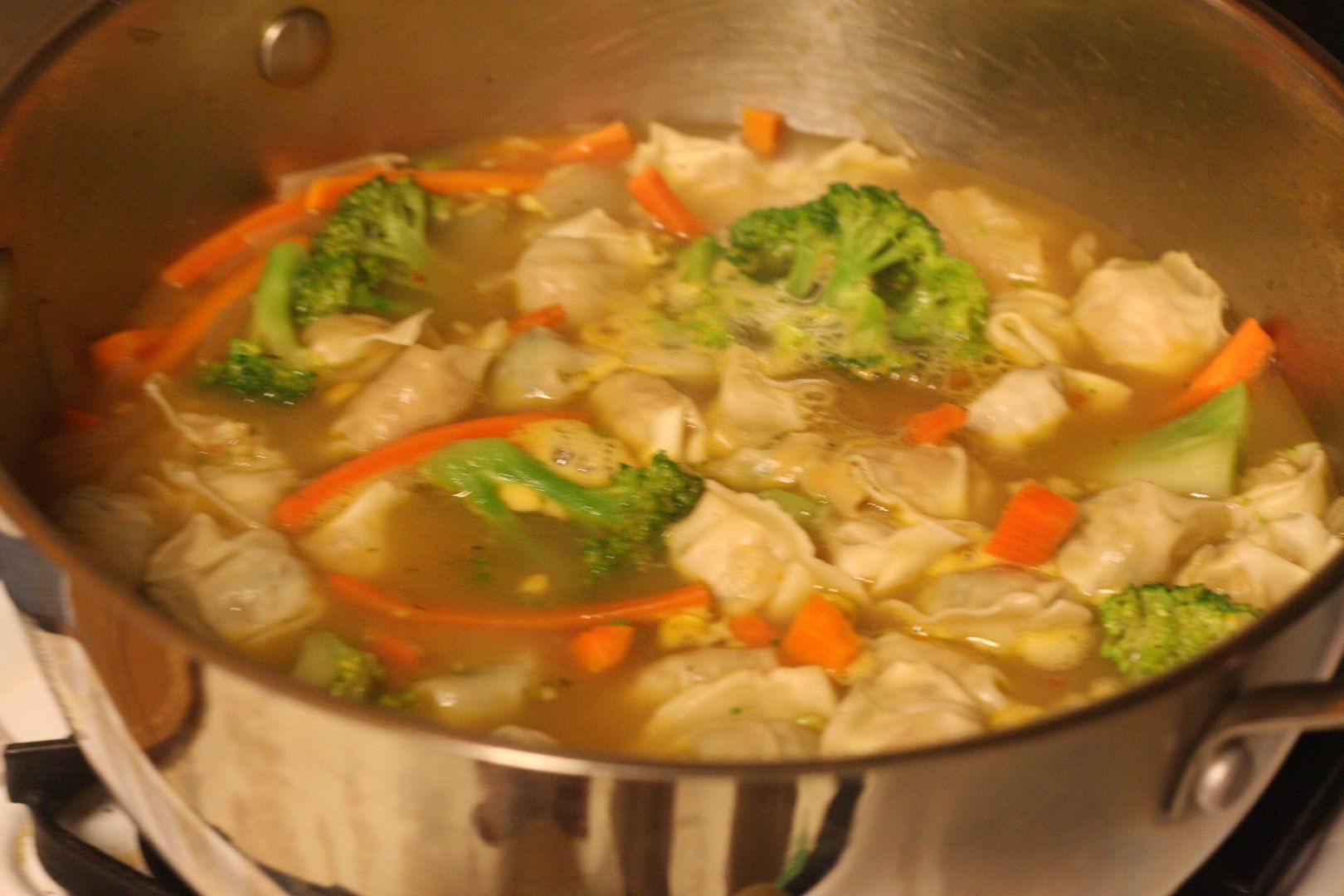 Soup with Vegetables and Premade Dumplings
Ingredients
1. 1 32oz carton of Chicken Stock
2. 1/2 onions sliced
3. 4 garlic cloves minced + 1tbsp ginger grated
4. 1 tbsp or more pepper powder
5. 1 pack of Knorr Sweet and Sour Soup Mix (optional, can skip this if you do not want it, see Note:)
6. 1 head of broccoli separated into florets
7. 3 carrots peeled and cut into strips
8. about 2 cups of mini wantons (Annie Chun's brand) optional substitute with cooked chicken or tofu
9. salt to taste
10. 2 tsp of oil

Method
1. In a soup pot heat oil and saute the onions, garlic and ginger till onions start to turn slightly brown.
2. Add in the soup mix and saute for a minute. Add the carrots and saute for a couple of minutes.
3. Pour the chicken stock and let it come to a boil
4. Now add the wantons and let it boil for 3-4 more minutes.
5. Now add the broccoli and boil for 2 minutes more and turn off the heat.
Note:
1. In place of the soup mix add a bit of red chili powder, chilli garlic sauce for some extra taste.